This fun "treat box" is a great gift for the special Dad in your life. A few Advanced Strength Dots makes this project fast, easy and mess free.
Designed by: Grace Tolman
Time: Approximately 20 minutes
Level: Moderate Handiness
Size: 8" x 8" x 6"
Here's what you need:
Square punch

Hole punch

Craft Knife

Scissors

4 candy boxes and 1 candy strip *Pick boxes that are the same height and thickness. If you can't find 4 that have the same size, choose 2 sets of 2 boxes that have similar size proportions.

Thin Cardboard

Pattern papers- Lawn Fawn Let's Polka in the Meadow

Alphabet stickers

Twine- Denim, The Twinery
Here's what you do:
Add Advanced Strength Dots to one edge of a candy box. Adhere to another candy box to create an L shape. Repeat the process until you've made a cube shape with all 4 candy boxes.
Measure one open side of the cube and cut out cardboard to that same specification.
Adhere Advanced Strength Dots to the edges of the cardboard and attach to the candy box cube on top to create a bottom for the gift container.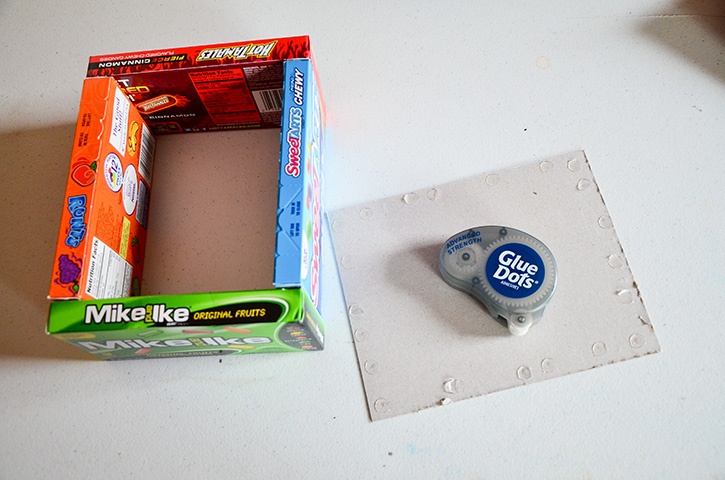 Add Advanced Strength Dots to the edges of the candy strip. Place the strip inside the candy box, bending it to create a handle.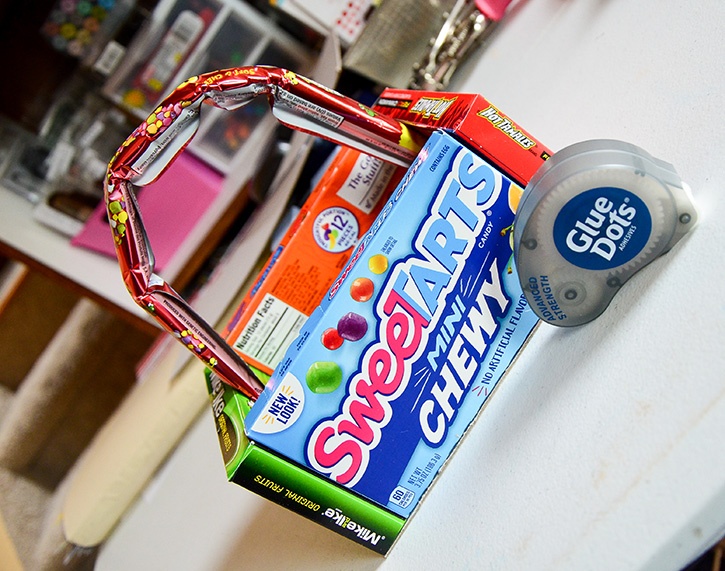 To make the title banner, cut out 5 pieces of 1 ½" x 2" strips from pattern papers.
Create the perfect "banner notch" on one end by placing the strip of paper at an angle through one corner of a square punch. Punch out to create the perfect "v" shape.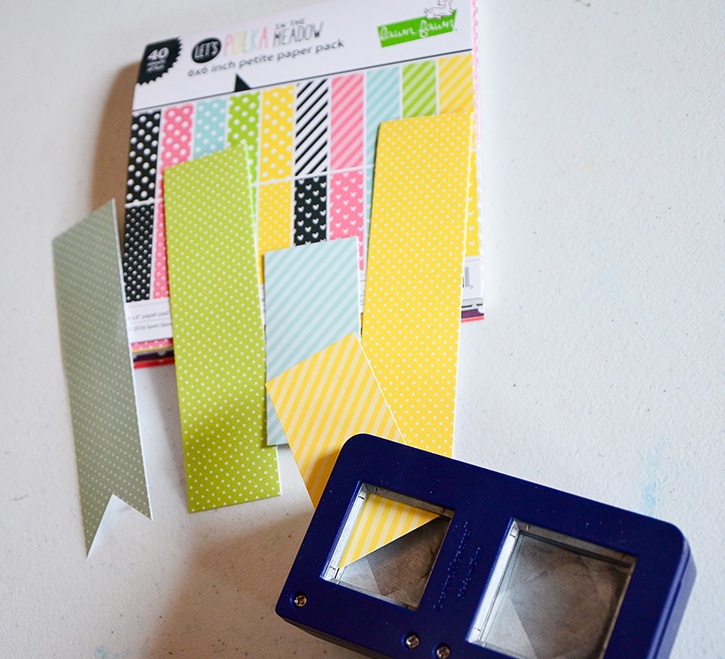 Punch holes on the top two edges of the strip. Add the letter words and stickers to the banner strips. Thread the twine through all of the banner pieces.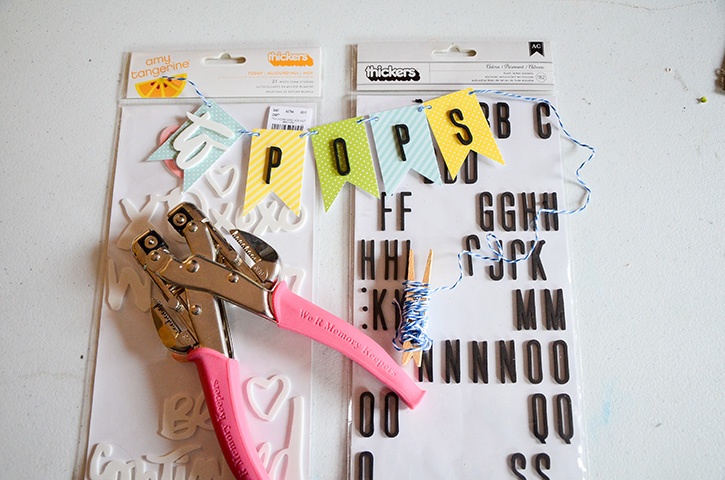 Place Craft Dots to the back side of the banner pieces and adhere to the front of the gift container.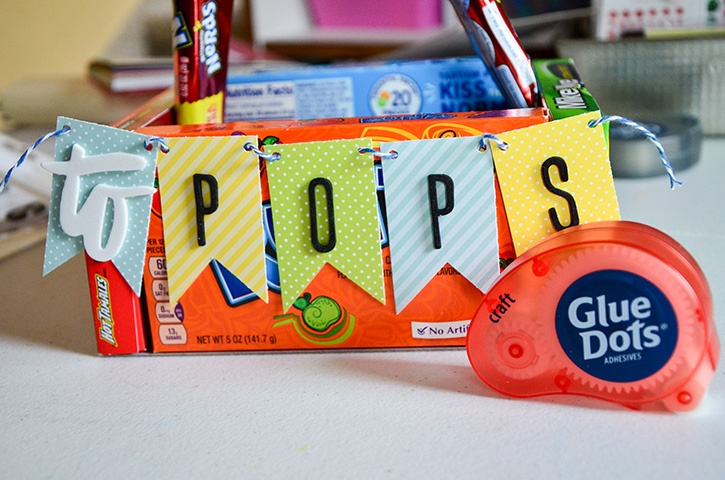 Fill the box with some "pop-related" gifts like Soda, Bubble gum and Popcorn.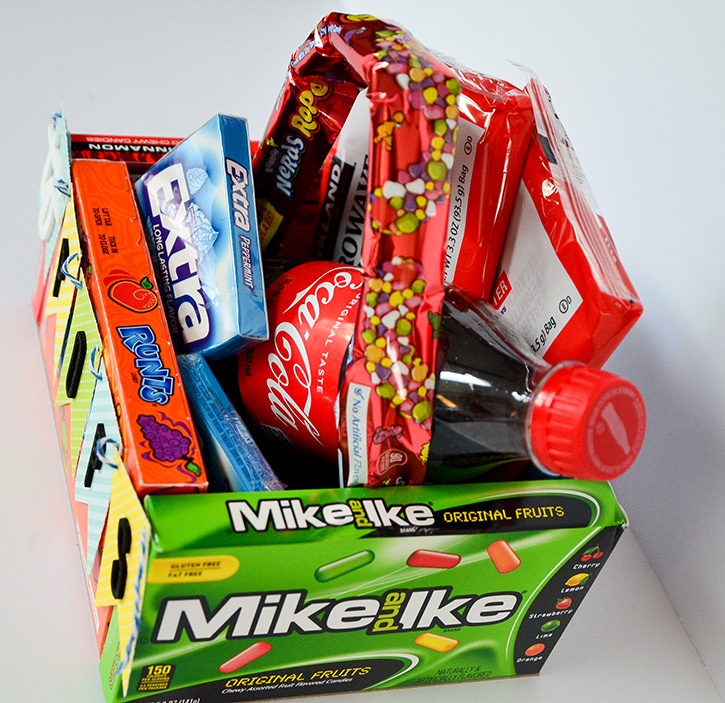 ~ Grace

I'm a mom to a 10 year old boy and an 8 year old girl. Therefore my life is usually filled with learning, new discovery, bribery and driving to and from all of our activities. I have a loving and very supportive husband of 11 years. When the kids have gone to bed at night, my time is spent crafting while catching up on my favorite shows and movies. I also enjoy reading, window shopping, knitting and perusing blogs for inspirations. Three years ago we moved to Colorado from California and we are enjoying our new environment. I feel very inspired with my new home, my new scrapbook space and the mountain views. Although I've been doing some type of scrapbooking since grade school, I only started to scrapbook seriously after my son was born. When he was born I knew I would be staying at home with him but coming from a fast paced sales job I was afraid I would ran out of things to do during the day. Little did I know that with newborns you won't have any time to do anything else. Anyways, after going through a basic scrapbooking class I was hooked and haven't stopped scrapping since.