A wide range of applications rely on adhesive solutions to attach parts to each other. Adhesives come in a wide variety of forms, including adhesive tapes, hot melts, and Glue Dots (that's us).
Determining the correct adhesive solution for your needs relies on taking into account a number of properties, including thickness, pattern, bond strength, and tack level. Understanding these differences is necessary to identify which adhesive works best for your requirements.
Adhesive Tapes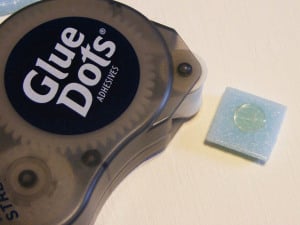 Manufacturers and customers widely consider adhesive tapes to be the industry standard because of durability and cost effectiveness. They exist in a variety of tack levels to suit diverse design preferences and applications. Adhesive tape's ubiquity and ease of use mean that it appears across a wide variety of applications.
However, unlike other adhesive solutions, adhesive tape tends to leave sticky residue upon removal, and jams in dispensers require ample time for correction. Furthermore, adhesive tape's varying strength capacities and their external application render them unreliable for long-term use.
Glue Dots
Glue Dots are nontoxic, pressure-sensitive adhesives that provide a clean and residue-free finish. Customers value Glue Dots for their ability to stick on any surface and provide stress-free, targeted adhesion for a variety of applications.
Glue Dots come in a broad range of adhesive strengths, patterns, and thicknesses, and workers can apply them either manually or with specialized tools such as the Dot Shot Pro and Quick Dot Pro. They also require no curing time for proper adhesion, allowing quicker application on complex products. Although Glue Dots do not work well with plasticizers and are not intended for use in high-UV conditions, they perform well on metal, wood, and plaster surfaces.
Applications
Both Glue Dots and adhesive tapes appear across many industries. Packaging, printing, and post-press facilities as well as office applications use adhesive tapes for a variety of purposes. Glue Dots appear in industries including packaging, manufacturing, printing, and post-press.
Retailers use adhesive tapes to assemble point-of-purchase displays, attaching corrugated cardboard panels to boardstock frames. These tapes create three-dimensional aesthetics for the displays.
A broad range of businesses rely on Glue Dots for promotional mailers, including brochures, foldable pages, cards, and coupons. Glue Dots seal items during shipping and delivery and also provide innovative ways to incorporate smaller items such as coupons into larger media like magazines.
Which one Should You Use?
Both Glue Dots and adhesive tapes require no training for proper application, but each process offers its own benefits. Adhesive tapes work best for high-speed, large-volume projects, whereas Glue Dots perform better for more personalized, artisanal applications. Other factors, such as FDA compliance, UL certification, and ease of assembly and disassembly must be taken into account when selecting the best adhesive solution for you.
Learn More
With over 20 years of experience in delivering adhesive solutions for a wide range of applications, Glue Dots Brand Adhesives offer a simple, convenient, and versatile alternative to liquid glues, hot melts, and double-sided tapes. With various tack levels, patterns, thicknesses and application methods available, you're sure to find an adhesive solution to any problem you come across.
For more information about our adhesive offerings, contact our team today.