In evaluating the best adhesive solution, packagers and manufacturers must consider properties such as tack level, bond strength, thickness and pattern. It's also important to consider how your adhesive application will affect customer experience.
Hot melts and Glue Dots are two of the most commonly used adhesive solutions in the industry. Below, we outline their differences to help you select the best adhesive solution for your application.
Hot Melts
Hot melts, as the name implies, are adhesives that are heated to a molten temperature so that they can be precisely applied to a wide range of porous material such as foams, fabrics, plastics and metals. Hot melts provide a cost-effective solution compatible with many different substrates and facilities can easily automate their application, rendering them suitable for large-volume and high-speed projects.
However, hot melts use valuable time to reach the high temperatures needed for operation. The equipment used to heat and dispense the glue also require regular maintenance, driving up costs and affecting turnaround speed. Industrial hot melt processes also require trained employees for successful use, due to the risk of burns and repetitive motion injuries.
Glue Dots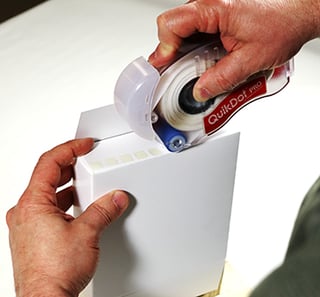 Glue dots are pressure-sensitive adhesives that can be applied either manually, semi- or fully-automatically to a wide range of surfaces. These nontoxic adhesives require minimal training for successful use, and simplify takedown processes, leaving behind little to no residue or squeeze-out. Additionally, Glue Dots require no curing time, allowing speedy and precise application for complex projects.
Although Glue Dots do not perform well on plasticizers and are not intended for use in high-UV environments, they adhere well to wood, metal, and plaster.
Applications
Hot melts are best suited for high-volume industries such as transportation, printing, and packaging. Their ability to quickly bond with a wide range of materials makes them optimal for assembly line processes such as manufacturing mass-produced furniture, book binding and attaching samples and labels to large-volume projects.
Glue Dots attach coupons, small parts or products, and shipping information to larger materials during transport. For example, Glue Dots typically secure gift baskets before they are shrink wrapped for transport, thus maintaining their presentation upon delivery. Glue Dots's FDA approval also renders them useful for food-processing applications.
Which Adhesive Should You Choose?
Glue Dots and hot melts have overlapping applications, but each adhesive type's specific attributes will benefit your product in different ways. Hot melts perform better in large-volume, assembly line projects that place premiums on speed. Glue Dots work best for more individualized or complex packaging needs, and their FDA approval allows their use across a wide variety of food and beverage products.
Additional considerations such as your staff's level of training, preferred application methods, desired curing time, and required overall setup must be considered. Whether Glue Dots or hot melts, it is best to think of the effects of these adhesives in terms of productivity, cost effectiveness, and product quality.
Learn More
With over 20 years of experience in delivering adhesive solutions for a wide range of applications, Glue Dots Brand Adhesives offer a simple, convenient, and versatile alternative to liquid glues, hot melts, and double-sided tapes. With various tack levels, patterns, thicknesses, and application methods available, you're sure to find an adhesive solution to any problem you come across. For more information about our adhesive offerings, contact our team today.