Everybody loves s'mores in the summer. This s'mores box is a fun way to gift a treat to a friend or family
member. Make a few to bring to any summer BBQ's or bonfires you're invited to.
MADE BY: SAMANTHA TAYLOR | TIME: 20 MINUTES
LEVEL: BEGINNER/INTERMEDIATE | 5" x 5" x 3"
---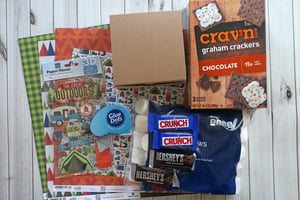 Supplies:
5"x5"x3" Box
Patterned Paper (I used Great Outdoors from Paper House Productions)
Embellishments
Graham Crackers
Large Marshmallows
Mini or Fun Size Chocolate Bars
Directions:
Cut patterned paper to the with of your candy bar, and long enough to wrap around once (my trips of paper are 2 ½" x 3 ¼"). Wrap paper around a candy bar and secure with Permanent Glue Dots®.)





Fill box with wrapped candy bars, graham cracker squares, and marshmallows.





Create a wrap for the box by cutting two 10" x 1 ¼" strips of patter

ned paper. Attach the two

pieces together by overlapping about 1" of the ends and securing with Permanent Glue Dots®.

Wrap the long strip around the box and secure on top with Permanent Glue Dots®.





Embellish the box wrap

at the spot

where the seams overlap

with stickers or ephemera. Attach

ephemera

with Permanent Glue Dots®.



Often, the adhesive on embellishments isn't as strong as I'd like. I usually add Glue Dots® to embellishments even if they have their own adhesive.

If you want to make these boxes a few days ahead of time, place the marshmallows in a cellophane bag to keep them from going stale.

Customize boxes by using different candy bars, flavored marshmallows, or flavored graham crackers.

My name is Samantha Taylor and I have a passion for combining crafting and creativity to beautify life. I live in a small town in rural Iowa with my husband and 2 boys (all 3 of whom you'll see featured in my projects). I'm a paper crafting fanatic who also loves photography. I enjoy making lay outs, cards, mini albums and home decor items, party decorations, and crafting with my kids. My favorite thing about crafting is getting to connect with so many people all over the world who also love creating pretty things and preserving memories. You can find more from me at www.taylorstamped.blogspot.com. I am so excited to share with you my love for the many uses of Glue Dots®!