I love making my own décor pieces to hang on my front door or put in my living room. This USA décor piece is on trend with its circular shape, and the foiled stars add a touch of pizzaz.
MADE BY: SAMANTHA TAYLOR | TIME: 30-40 MINUTES
LEVEL: ADVANCED | SIZE: 12" ROUND
---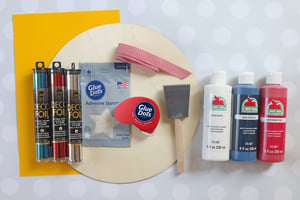 Supplies:
12" Round Piece of Wood
Red, White, and Blue Paint
Paint Brushes
Stencil, Stencil Material, or Painter's Tape
Heat Transfer Foil in Blue and Silver (popular brands include iCraft DecoFoil, We R Heatwave Foil, and Heidi Swapp Minc Foil)
Ribbon
Scissors
Directions:
Paint the entire 12" round piece of wood white. Let dry completely. You may need 2-3 coats of paint.


Place a stencil on the wood and paint "USA" in red and the top portion of the wood piece blue. You may need 2 coats of paint. *If you do not have a stencil or a way to make a stencil, use painter's tape to create a line across the top 1/3 of the circle. Paint the smaller portion blue. Free hand "USA" with red paint.


Remove stencil, and allow the paint to dry completely.



Add Adhesive Stars to the circle and foil them using the following procedure (I used blue foil

between USA and silver foil on the stars on the blue section of the circle):




- Peel the liner off of the Adhesive Star.




- Stick the Adhesive Star to the wood circle.




- Place heat transfer foil onto the Adhesive Star (wrong side down) and press gently. Pull the foil sheet off. The foil will now have transferred to the Adhesive Star.






Tie a bow from ribbon, leaving one long tail.






Use Craft Dots™ Dot N' Go® to attach the bow to the top of the wood round, and down the

border between the white and blue painted sections. Trim the ends of your bow with a sharp

scissors.




If you don't have heat transfer foil, you can use glitter instead for this project.


My name is Samantha Taylor and I have a passion for combining crafting and creativity to beautify life. I live in a small town in rural Iowa with my husband and 2 boys (all 3 of whom you'll see featured in my projects). I'm a paper crafting fanatic who also loves photography. I enjoy making lay outs, cards, mini albums and home decor items, party decorations, and crafting with my kids. My favorite thing about crafting is getting to connect with so many people all over the world who also love creating pretty things and preserving memories. You can find more from me at www.taylorstamped.blogspot.com. I am so excited to share with you my love for the many uses of Glue Dots®!