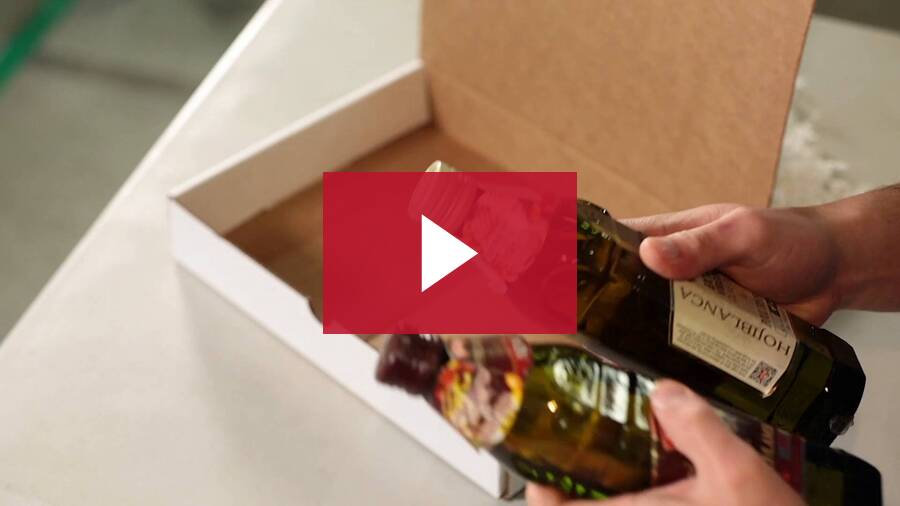 The best solution for projects that require cost-effective, use-anywhere adhesive and application methods, Glue Dots brand adhesives and application equipment are a flexible and reliable option for a wide variety of industries and applications, which include:
Packaging - Secure product orientation prior to packaging or shrink wrapping, attach samples and create multi-packs.
Repack & Repair or Reverse Logistics - Repack and repair hot melt failures, use for reverse logistics, or use for quick end-of- or on-the-line repairs.
Pharma - Secure medical product information sheets or outserts.
Printing & Mailing - Attach promotional items & gift cards, close brochures or use as an alternative to wafer seals.
Gift Basket Assembly - Secure product placement and create or bridge gaps.
Manufacturing & Assembly - Hold components in place before assembly.
Everyday Office - Assemble business presentations, hang lightweight signs, put sales kits together, secure samples, or attach business cards.
Why Glue Dots vs. Competitor Methods
Glue Dots have been a favored adhesive solution in many industries because they outperform competitive methods. Double-sided tapes, liquid glues and hot melt adhesives simply don't offer you the same benefits or versatility.
Glue Dots vs. Double-sided Tape - Unlike double-sided tape, Glue Dots adhesives provide a clean, instant bond, with no residue. Plus, Standard Glue Dots are available in five different tack levels and three different profiles and Custom Glue Dots can be configured to your specific application, which means you don't have to settle for the one-size-doesn't-always-fit-all adhesive solution offered by double-sided tapes.
Glue Dots vs. Liquid Glues - The benefit of Glue Dots versus liquid glues can be summed up in one simple word: With no drying or curing time and by eliminating excess squeeze out, Glue Dots adhesives allow you to control almost every aspect of the adhesive process. Liquid glues simply cannot promise this level of consistency.
Glue Dots vs. Hot Melt Adhesives (HMAs) - Glue Dots Brand Adhesives are everything that HMAs are not. Glue Dots provide more adhesive tack levels and size options, have no setting or curing time, eliminate all the mess associated with hot melt adhesives and will never cause burn injuries.
Glue Dots® – A Better Adhesive

Two decades of experience has taught us that providing the right combination of adhesives tack level, bond strength, pattern and profile for your specific project – at an effective price – ensures that you have the right adhesive solution, every time.
Ultimately, no other preformed, instant-bonding, pressure sensitive adhesives on the market can offer you the same level of features and benefits of Glue Dots, which include:
Faster application

– there is no drying or curing time, Glue Dots bond instantly right out of the package.

Meet the needs of any project

– offering a dynamic range of removable and permanent formulas means we meet the needs of virtually any project.

Adhesive waste elimination

– offering a preformed adhesive provides consistent coverage, which eliminates excessive waste.

Reduced investment costs and faster ROIs

– our product and applicators are cost-effective, require minimal training and are designed to be very low-maintenance, which enables you to invest less and see a faster return on your investment.

Safer adhesive options

– Glue Dots eliminate burn risks and are non-toxic adhesives that are offered in FDA-compliant formulas, allowing them to be used in any work environment on any project.
Versatile, Quick and Effective Adhesive Application Options
Virtually maintenance free, with a low cost of entry and requiring minimal training, each piece of Glue Dots application equipment was designed to not only make applying Glue Dots brand adhesives easy and affordable, but to also cater to your end-users, work environments, productivity standards and budget. There is a Glue Dots applicator that can be used for any production process.
Glue Dots Adhesive Application equipment includes: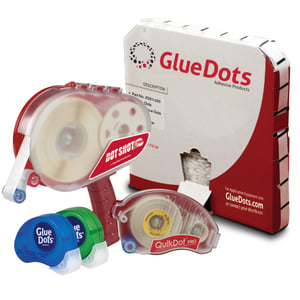 Manual Applicators
Dispenser Box – Available with up to 4,000-count rolls (depending on adhesive size and pattern) Glue Dots' dispenser box makes manual application simple and effective.
Dot N' Go® - The easiest, most convenient way to apply Glue Dots adhesives anywhere you need a clean, instant bond, the ultra-compact Dot N' Go applicator is a one-time-use, preloaded hand-held applicator for simple, fast and easy applications.
QuikDot™ Pro –A durable, compact adhesive applicator, engineered to instantly apply the right number of adhesives every time, the QuikDot Pro is refillable, pocket-sized and offers a new level of flexibility and convenience.
Dot Shot® Pro – The portable, handheld Dot Shot dispenses one or more Glue Dots Adhesive Patterns at a time and can accommodate a multitude of patterns allowing it to be used for multiple projects.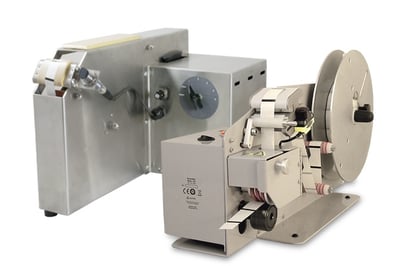 Semi-Automated Benchtop Dispensers
EconoDot® - Designed for both short and long-term projects, the Econodot makes the application of Glue Dots adhesives quick, easy, and cost effective with no waste, mess or lost time.
Auto Dot™ Pro – Designed for semi-automated dispensing the Auto Dot Pro dispenses Glue Dots adhesives quickly and easily with the right speed and positioning to suit your application needs.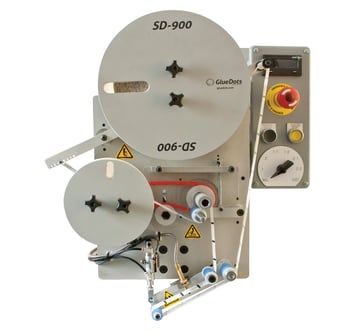 Fully-Automated Applicator
SD-900 - Designed for both continuous or intermittent applications, the SD-900 seamlessly integrates into existing production lines. The SD-900 applies Glue Dots' double-sided adhesives quickly, cleanly and accurately, while reducing operating and maintenance costs and increasing safety.
Discover What Glue Dots Can Do for Your Next Adhesive Application
Glue Dots Brand Adhesives and application equipment are the right combination to make your next project's adhesive solution fast, easy and very affordable. Glue Dots' experienced account specialists are incredibly skilled and can help you find the right adhesive for your specific application. Call 1-888-688-7131 or email us at info@gluedots.com with your adhesive questions and we will quickly help you find the right adhesive solution(s) and application method to meet your specific needs.