Decorating for the 4th of July is always so much fun. I wanted to make some light-hearted home décor wood blocks to brighten up my space for the holiday. The best part about these blocks is you only need one type of adhesive to attach paper to wood and paper to paper; All Purpose Glue Dots® do it all!
MADE BY: SAMANTHA TAYLOR | TIME: 1 - 2 HOURS
LEVEL: ADVANCED | 4" x 4", 4" x 6", 5 ½" x 5 ½"
---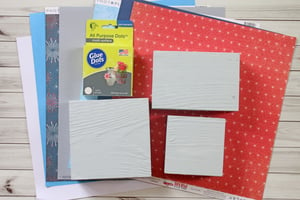 Supplies:
3 Wood Blocks in Sizes: 4" x 4", 4" x 6", 5 ½" x 5 ½"
1 Sheet White Card Stock
Patterned Paper
Card Stock that coordinates with the patterned paper
Electronic Die Cutting Machine (Silhouette, Cricut, etc.)
Optional – paint or stain
Directions:
You may paint or stain the wood blocks or leave them natural. I usually use scrap wood, so I chose to paint the blocks gray to cover up any bad spots on them.




Cut white card stock to ½" smaller than the wood blocks (3 ½" x 3 ½", 3 ½" x 5 ½", 5" x 5")


Create your word file inside of a square the same size as the white card stock pieces on your electronic die cutting machine and cut from patterned paper.



Create icons (coffee cup, Statue of Liberty, map of the USA) on your electronic die cutting

machine and cut from coordinating card stock.





Use All Purpose Glue Dots® to attach the patterned paper to the coordinating piece of white card stock.





Use All Purpose Glue Dots® to attach the icon to the coordinating patterned paper.





Use All Purpose Glue Dots® to attach the item from steps 5-6 to the coordinating wood block.




You can use Craft Glue Dots® in the place of All Purpose Glue Dots® for this project.

If you'd like your project to be a little more traditional, use sayings like "1776", "USA", "Land of the free, because of the brave", or "Land that I love."

If you have a larger space to fill, use larger wood blocks, you may just need an extra sheet or two of white card stock to complete the project.

If you don't have an electronic die cutting machine, you could find journaling cards in similar sizes to layer on top of the patterned paper instead.

My name is Samantha Taylor and I have a passion for combining crafting and creativity to beautify life. I live in a small town in rural Iowa with my husband and 2 boys (all 3 of whom you'll see featured in my projects). I'm a paper crafting fanatic who also loves photography. I enjoy making lay outs, cards, mini albums and home decor items, party decorations, and crafting with my kids. My favorite thing about crafting is getting to connect with so many people all over the world who also love creating pretty things and preserving memories. You can find more from me at www.taylorstamped.blogspot.com. I am so excited to share with you my love for the many uses of Glue Dots®!