These hanging gift pockets are perfect for a Mother's Day brunch or to leave as a surprise on a friend's door. They're simple enough to make in bulk or have kids help with, yet elegant enough to be the star of the show.
MADE BY: SAMANTHA TAYLOR | TIME: 20 MINUTES
LEVEL: BEGINNER | SIZE: 4" x 8"
---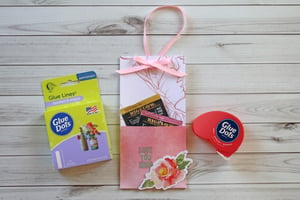 Supplies:
Double sided patterned paper

Paper scorer




Hole punch




Ribbon or twine

Embellishments

Tea, candy, or seed packet
Directions:
Cut a piece of patterned paper to 12" x 4".


Score at 3 ¾" and 3 7/8".


Fold along the score lines and use Glue Dots® Glue Lines to secure the edges (leaving the top
open).



Use Craft Glue Dots® to attach embellishments.




Punch 2 holes on the top side. Thread ribbon through the holes, tying a bow in front and leaving




a large loop on the back side for hanging.






Stuff with a small gift.






Using Glue Lines along the edge of the pocket gives a strong and secure hold that won't pop open when a bulky gift item is placed inside. These pockets are the perfect size for a few tea bags, a seed packet, or a small candy treat.


My name is Samantha Taylor and I have a passion for combining crafting and creativity to beautify life. I live in a small town in rural Iowa with my husband and 2 boys (all 3 of whom you'll see featured in my projects). I'm a paper crafting fanatic who also loves photography. I enjoy making lay outs, cards, mini albums and home decor items, party decorations, and crafting with my kids. My favorite thing about crafting is getting to connect with so many people all over the world who also love creating pretty things and preserving memories. You can find more from me at www.taylorstamped.blogspot.com. I am so excited to share with you my love for the many uses of Glue Dots®!