Who knew putting Glue Dots and wrapped candy together would create a cute sweet treat? Designer Dawn did and she shows you how to make a chocolate candy mouse with Glue Dots and a few embellishments.

Made by: Dawn Mercedes Barrett
Time: 15 minutes
Level: Beginner
Size: 3" x 3.5"
One way to show others we care about them is to make hand-made gifts. This sweet craft is a cute valentine for kids or adults to share with each other!
Here's what you need:
Patterned Paper (Authentique: Delightful Collection)
Valentine Sentiment Stamp
Memento Black Ink
2 small googlie eyes
2 Hershey Kisses®
3" pink/white baker's twine
Spellbinders Nestabilities Hearts and Scalloped Hearts
Sizzix BigShot
1/2 circle punch
Scissors
Ruler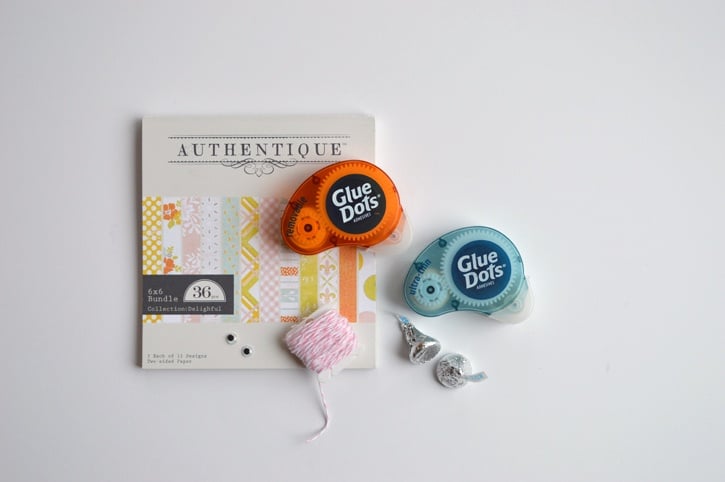 Here's what you do:
Select the two coordinating papers from your paper collection. Cut out a 3.5 " scallop heart using Spellbinders' Nestabilities: Scalloped Heart die. Cut out a 3.25 " heart using Spellbinders' Nestabilities Heart die.
Punch out two 1/2" circles using a circle punch. Tip: Use daubers and pink ink to sponge a little color to the edges of the circles. This will give your mouse ears a little definition and interest.
Tie a knot at the end of the pink baker's twine. Cut off a length of twine that is about 3" long.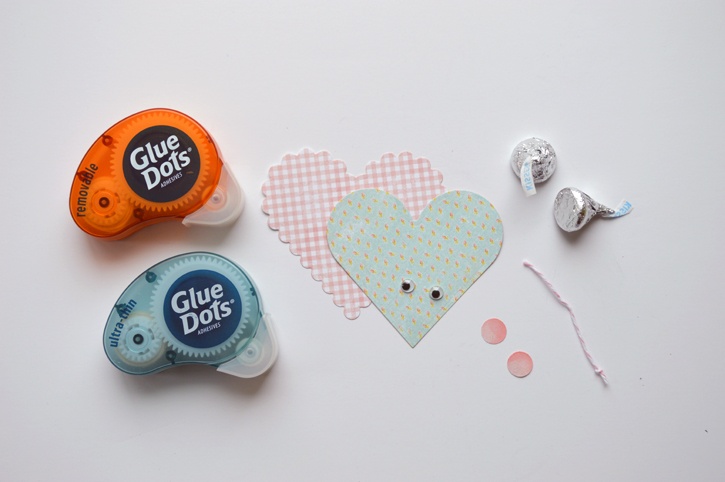 Apply 3 Ultra-Thin Glue Dots to the base of one of the chocolates. Add the ears and then stick the second chocolate, base to base, to form a mouse shape. Use Mini Glue Dots to add the googlie eyes and baker's twine tail.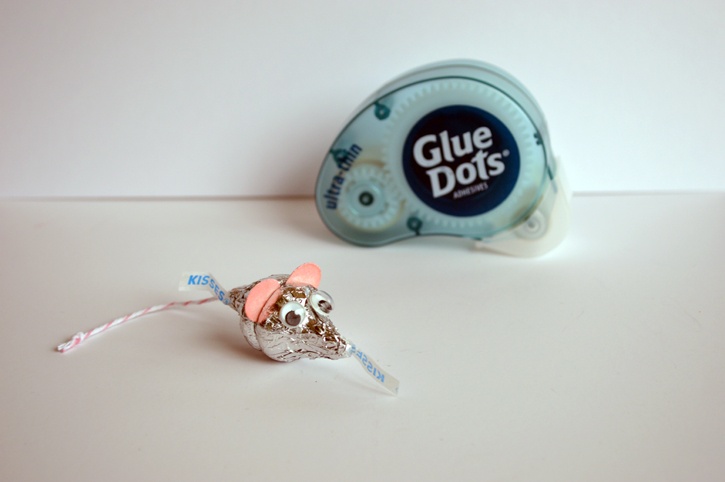 Stamp a valentine sentiment on half the heart using Memento black ink. Use Ultra-Thin Glue Dots to layer the 2 hearts on top of each other. Tip: This is a good time to write a note on the back of the heart, if desired.
Use Removable Glue Dots to adhere your mouse to the top of your valentine.
This is a fun way to create a valentine with a little bit of chocolate on it and a whole lot of cuteness too!
~Dawn

Dawn Mercedes Barrett is a designer who enjoys juggling a number of activities. Whether it is creating a card or object for home decor, whipping up a batch of fresh cookies for kids that drift through the house, or learning to enjoy the rigors of strengthening her body through running, she is your go-to crafter for help, ideas, and encouragement. Who says you (or your style) have to grow old and moldy? Dawn's up beat style and silly comments will keep you smiling and chuckling.