Bow ties are cool at any age, so Designer Grace decided to make a few projects for a bow tie themed baby shower. Get your patterned paper and Glue Dots, you'll want to make these for your upcoming event, even if it's not a baby shower.
Make cupcake toppers with Glue Dots, the best adhesive for paper crafts.
Designed by: Grace Tolman
Time: 25 minutes
Level: Beginner
Here's what you need:

Sandwich picks
Scissors
Ruler
Black pen
Grey cardstock
Yellow cardstock
Rhinestones
Die cut machine
Scallop die cut
Circle punch
Here's what you do:
Create scallop circles from grey cardstock using a scallop die cut and die cut machine.
Punch circles from yellow paper to fit inside the scallop circles. Adhere to the center of the scallop circles using Craft Glue Dots.
Add pen stitching to the inside edge of the yellow circle.
Create bow ties to add to the circles. Start with a strip of paper measuring 3/4" x 4 1/2". Fold one end to the center of the paper strip and adhere with Mini Glue Dots. Repeat the same fold for the other side.
Starting from one edge, make a cut towards the center of the folded piece. Do not cut all the way; leave the center about 1/2" wide. Repeat the cutting process for the rest of the edges.
Cut a strip of the same paper measuring 1/2" wide and 1" long. Wrap the small strip around the center of the bow and adhere the ends on the back using Mini Glue Dots. Trim any excess.
Finish by adding rhinestones to the center of the bow ties with Mini Glue Dots.
Adhere the bow ties to the center of the layered circles with Pop Up Glue Dots.
Add Mini Glue Dots to one end of the sandwich picks and adhere to the back of the circle.
Repeat the process until you have enough bow tie toppers for the cupcakes.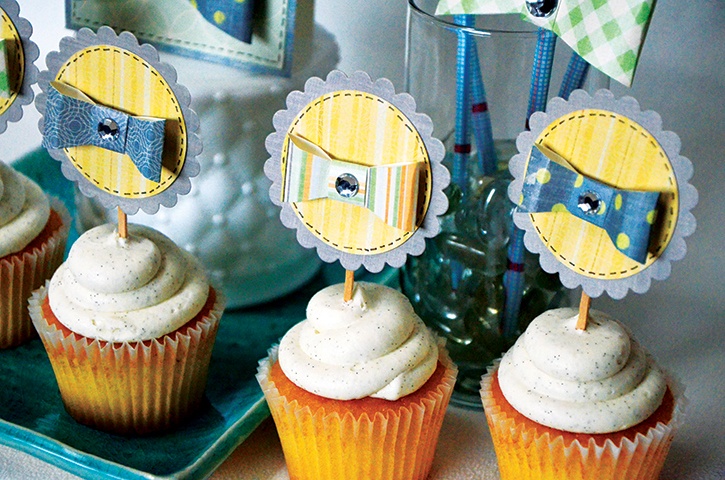 One thing we love about this project is that it can be adapted for so many events! Make black bow ties for wedding treats or a James Bond themed movie release party! How about for Father's Day?
~Grace

I'm a mom to a 10 year old boy and an 8 year old girl. Therefore my life is usually filled with learning, new discovery, bribery and driving to and from all of our activities. I have a loving and very supportive husband of 11 years. When the kids have gone to bed at night, my time is spent crafting while catching up on my favorite shows and movies. I also enjoy reading, window shopping, knitting and perusing blogs for inspirations. Three years ago we moved to Colorado from California and we are enjoying our new environment. I feel very inspired with my new home, my new scrapbook space and the mountain views. Although I've been doing some type of scrapbooking since grade school, I only started to scrapbook seriously after my son was born. When he was born I knew I would be staying at home with him but coming from a fast paced sales job I was afraid I would ran out of things to do during the day. Little did I know that with newborns you won't have any time to do anything else. Anyways, after going through a basic scrapbooking class I was hooked and haven't stopped scrapping since.