Sometimes the most stressful part of hosting Thanksgiving is having kids run around the house if they don't have a dedicated place to play. Grace Tolman is on our blog with her third and final project for the kids table at Thanksgiving.
The final project for my Thanksgiving kids table is an interactive "grateful" centerpiece. Not only will you have a nice talking point with the kids about all of the things they are grateful for, but you'll be able to keep them occupied while dinner is being made.
Time: Approximately 25 minutes
Level: Beginner
Supplies:
Scissors
Paper Trimmer
Ruler
Cardstock (red, dark red, mustard yellow, purple, dark purple, lavender, dark green, glittered gold)
Pattern Papers (brown chevron, purple damask)
Empty clean mason jar
Small letter stickers
Shape punch
Blue marker
Yarn
Twigs
Hole punch
Directions:
Cut a 2" strip from the brown chevron paper and adhere to the center of jar, wrapping it around the container using Glue Dots Advance Strength Dispenser. Cut a 1" strip from the purple damask paper and layer it over the brown chevron paper. Secure the ends with Advance Strength Glue Dot.
Wrap some yarn over the top of the jar using some more Advance Strength Glue Dots.
Punch out the shape for the jar title using gold cardstock. Add the letter stickers to spell out the title. Adhere to the center of the jar using some Pop Up Glue Dots.
Use your favorite template for a leaf or create your own to trace the shape onto the colored cardstock. Cut out the leaves and punch out a hole on the top of the leaves. Have the kids write down things that they are grateful for using the blue marker. Thread the yarn through and tie the ends into a knot.
Place the twigs inside the jar and hang the "thankful" leaves through them.
All of the projects for the kids table have a similar supply list so you only have to make one shopping trip! Be sure to check out my napkin ring holder and treat bag to complete the table.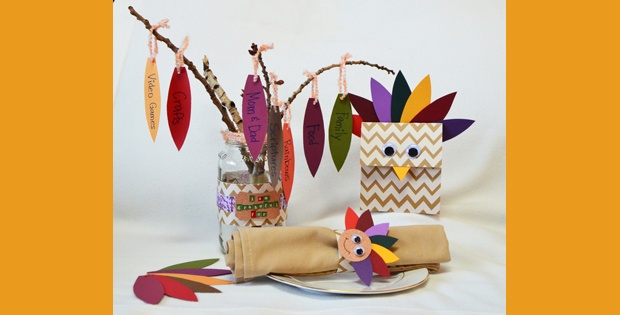 Have a happy and safe Thanksgiving everyone!
~Grace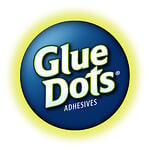 The Team at Glue Dots consists of three highly creative individuals who find new ways and uses for Glue Dots products for every day life. We hope you like what we create. :-)