Pretty colored leaves are one of the very best things about fall. This fun fall leaf décor piece brings the outside colors inside by making a large leaf shape from small layered leaves.
MADE BY: SAMANTHA TAYLOR | TIME: 30 MINUTES
LEVEL: INTERMEDIATE | SIZE: 12" ROUND
---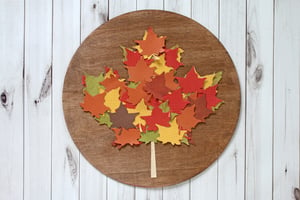 Supplies:
Piece of Wood (I used a 12" round piece of wood)

Paint or Stain

Patterned Paper or Card Stock in Fall Colors

A way to make small leaves (die cutting machine, template, or stencil)
Paint or stain your piece of wood and set aside to dry while you cut leaves. I used a walnut stain.



Cut small leaves from paper. My small leaves are about 2" each. I cut 10 – 15 leaves from 4 different colors.



Optional step 2 different ways: If you don't think you can free form a leaf shape use a large leaf template (mine is about 10").

a. You can attach your template to the wood with Glue Dots® Permanent Glue Squares and then attach your small leaves directly to the template (covering it up completely).

b. Or, you can use Glue Dots® Removable Glue Squares to hold your template in place while you trace around it. Then you can remove the template and fill the traced shape with small leaves.



Use permanent Glue Squares to attach small leaves to the wood base, forming a large leaf shape. Grouping the squares towards the center of the leaf leaves room to layer additional leaves under or over leaves that are already adhered to the base.

Notes: Glue Squares® are great for this task, as they are formulated to stick well to both paper and wood. If you don't have a way to cut leaves, you can buy bags of paper or fabric leaves at many craft stores. If you want to hang this décor, you can drill a hole at the top and hang it with ribbon or twine.

My name is Samantha Taylor and I have a passion for combining crafting and creativity to beautify life. I live in a small town in rural Iowa with my husband and 2 boys (all 3 of whom you'll see featured in my projects). I'm a paper crafting fanatic who also loves photography. I enjoy making lay outs, cards, mini albums and home decor items, party decorations, and crafting with my kids. My favorite thing about crafting is getting to connect with so many people all over the world who also love creating pretty things and preserving memories. You can find more from me at www.taylorstamped.blogspot.com. I am so excited to share with you my love for the many uses of Glue Dots®!