Create a pocket sized journal to chronicle your adventures, your thoughts, motivational quotes or organize memories captured in a photograph.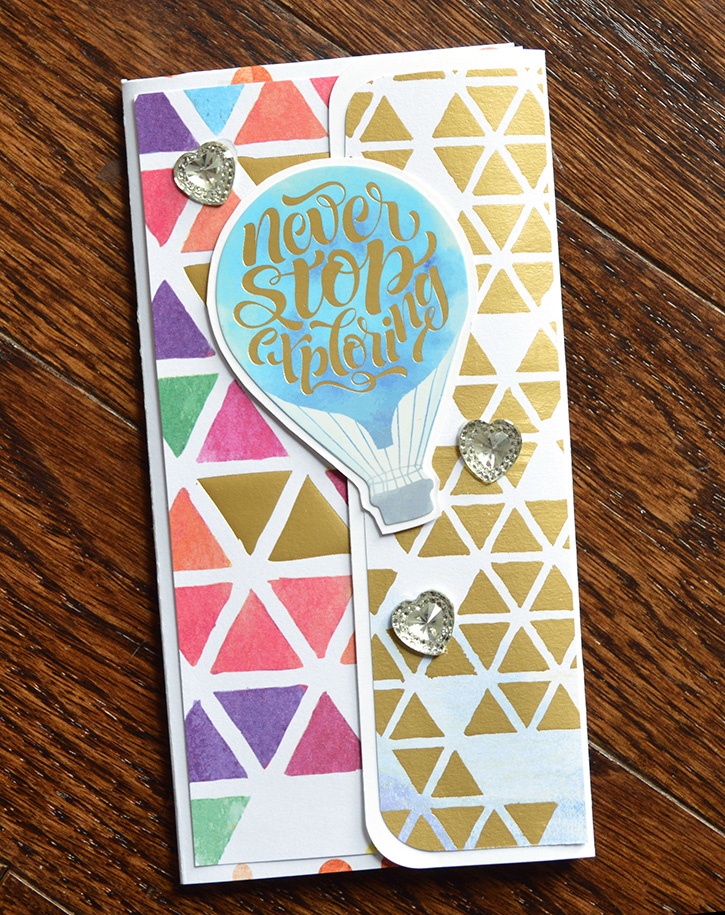 Made By: Dawn Mercedes Barrett
Time: 90 minutes
Level: Moderate Handiness
Size: 3" x 6" x .5"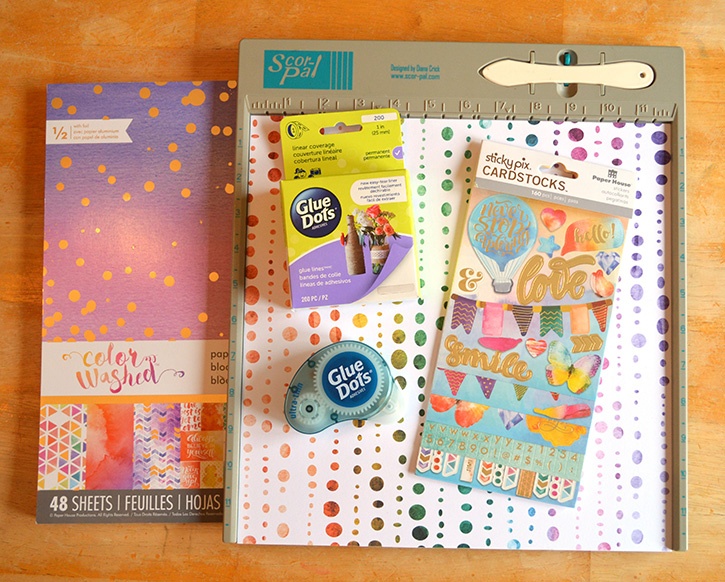 Supplies:
Paper House

®

decorative paper

(color washed)
White and black card stock
Jeweled hearts or other embellishments as desired
Craft knife
Ruler
Paper Trimmer
Scissors
Corner Rounder Punch
Cutting Mat
Bone Folders
Directions:
Choose a piece of 12" square paper from Paper House's Color Washed Paper Pad. (Trim off the extra border using a Paper Trimmer.) Use a scoreboard to score at 3", 6", 9" along one side of the paper. Turn the paper a quarter turn and score at 6".
Cut a slit in the center of the paper, on the fold, from 3" – 9", using a craft knife.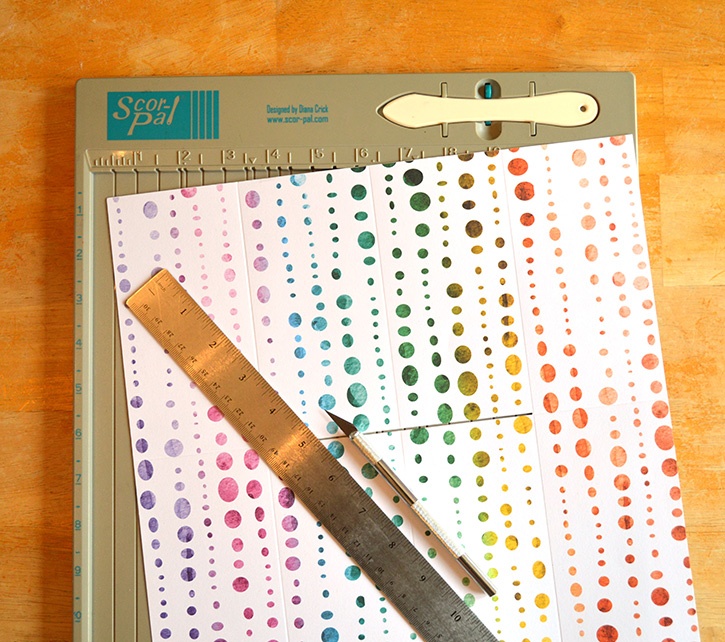 Burnish all edges with a bone folder. As indicated in the photo, fold your paper in half, (top to bottom) splitting the center edge in opposite directions. Be careful to match corners and make the folds precise.
Fold along the score lines to create a book by folding it in half. Again, burnish all edges carefully with a bone folder in order to have your journal lay flat and have its edges match up.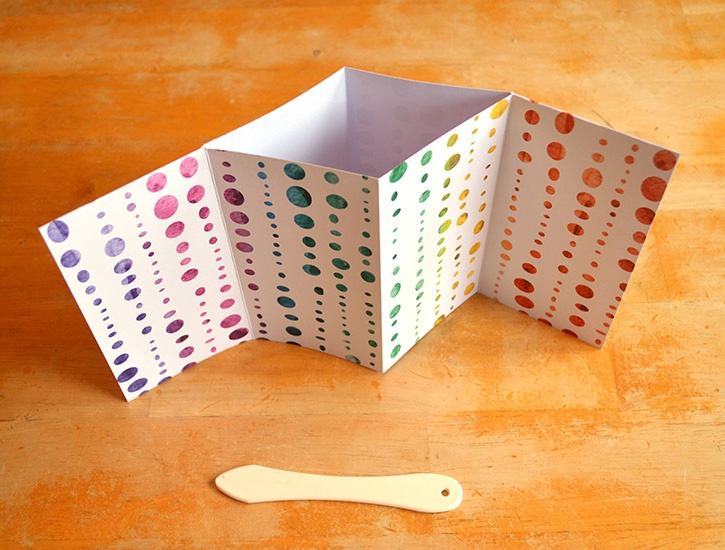 Use Glue Lines to close the openings along the bottom edge of the paper. (Tip: Keep those 1" Glue Lines ® flat so your journal stays compact and easy to fold up.)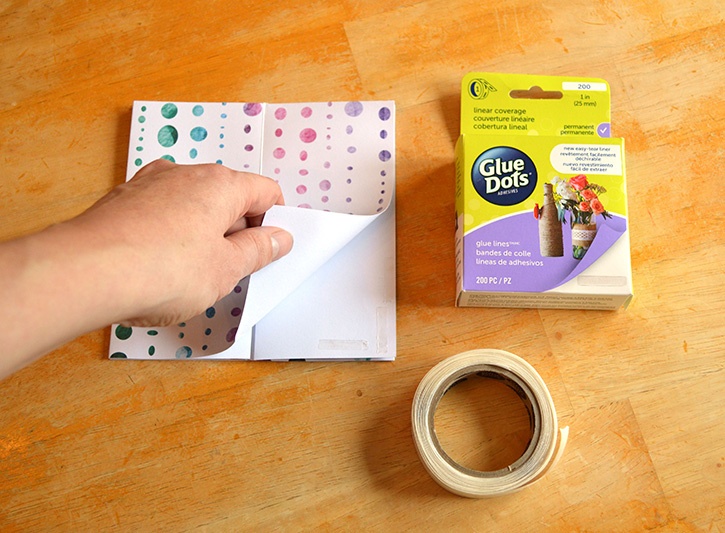 Cut two extra flaps out of white card stock that measure 3" x 4.5". Score at ½" along the short edge of the paper. Crease, fold, and trim the bottom corners with a corner rounder punch. Use 1" Glue Lines to secure the added flaps to the openings at the top of the journal. (Tip: Trim the corners off the ½" paper fold to make it easier to insert into the top opening. )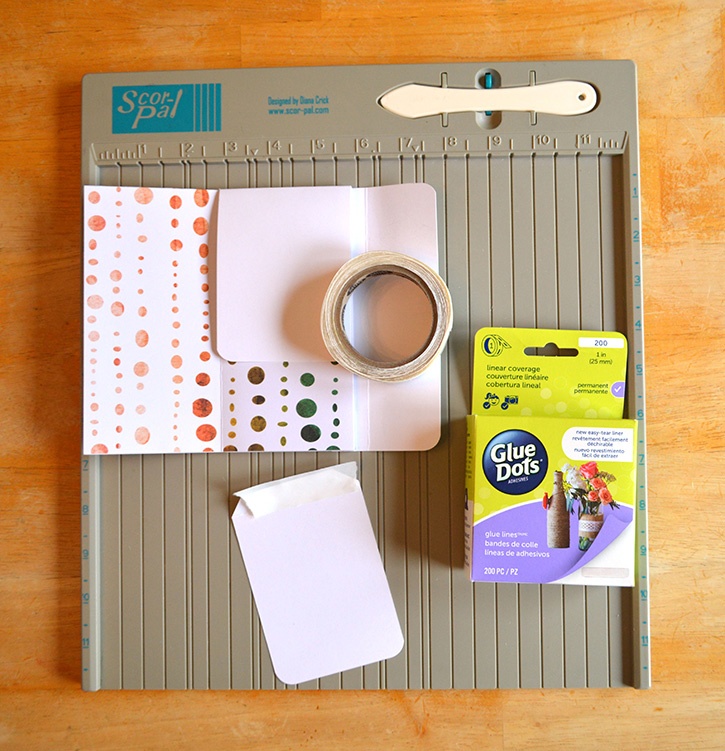 Create a flap out of white card stock that measures 2.5" x 6". Score along the long edge at .5" and 1" inch. Use a bone folder to make the crease. Glue Lines are used to secure this along the back edge of the journal.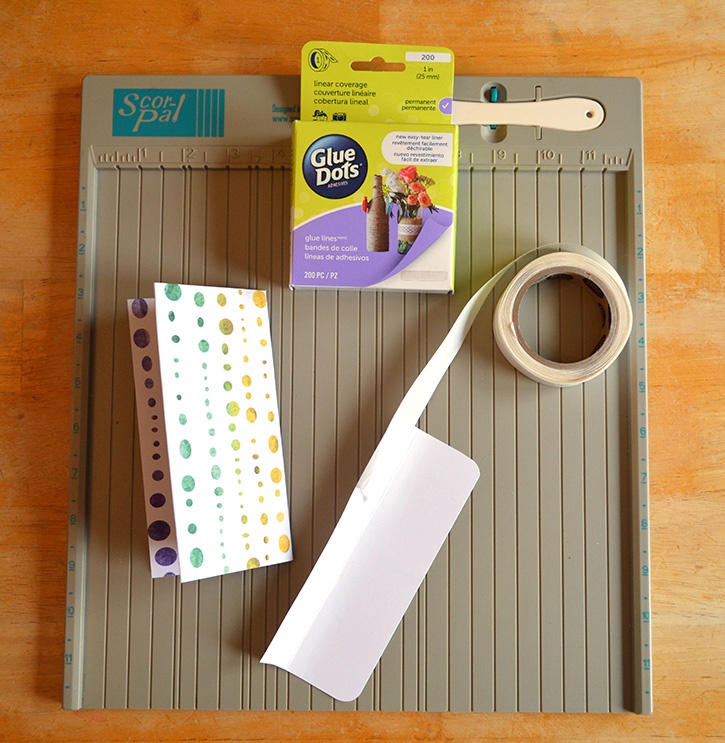 Decorate your journal as you'd like using decorative papers from the Paper House Color Washed paper pad. Round corners using a punch. This set has many borders and inspirational quotes in the paper pad. There is also a coordinating sticker pack. You may want to make journaling panels by die cutting shapes out of white card stock. Secure all layers with Premium Permanent GlueTape. Be sure to add papers to the back of the journal to hide the addition of the flap piece.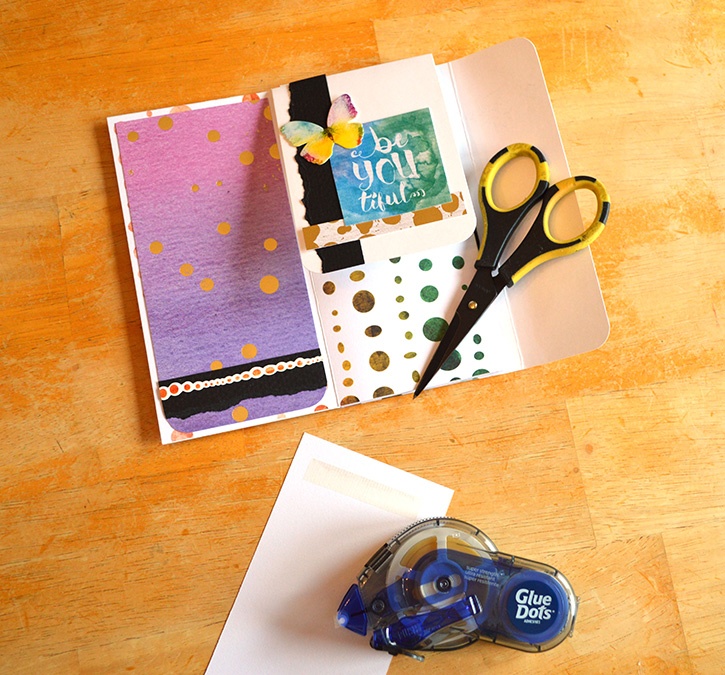 Add embellishments to the front of the journal using Ultra-Thin Dots. Repositionable Dots are used to secure the front flap to the front cover. These dots keep the journal closed, but can be opened again and again, and the dots keep the flap secure. They will get less sticky over time, but that is okay, simply peel them off and replace!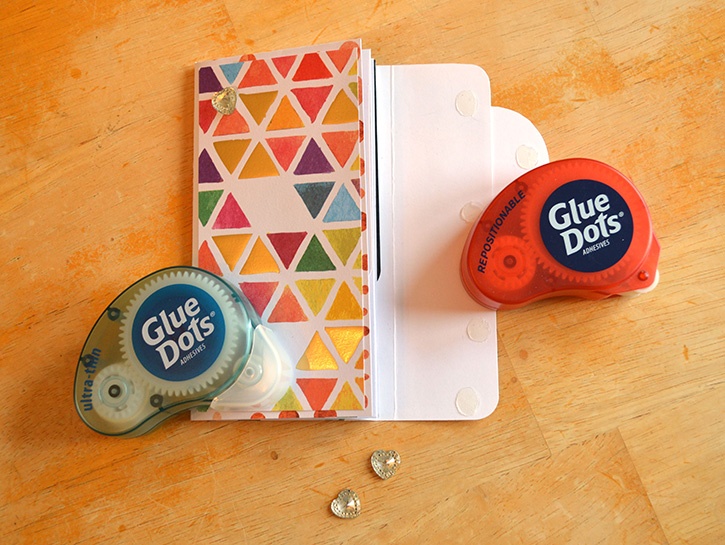 Use Permium Permanent GlueTape along with die cut sticky pix that coordinate with the paper to embellish the journal.
Page 1 and 2: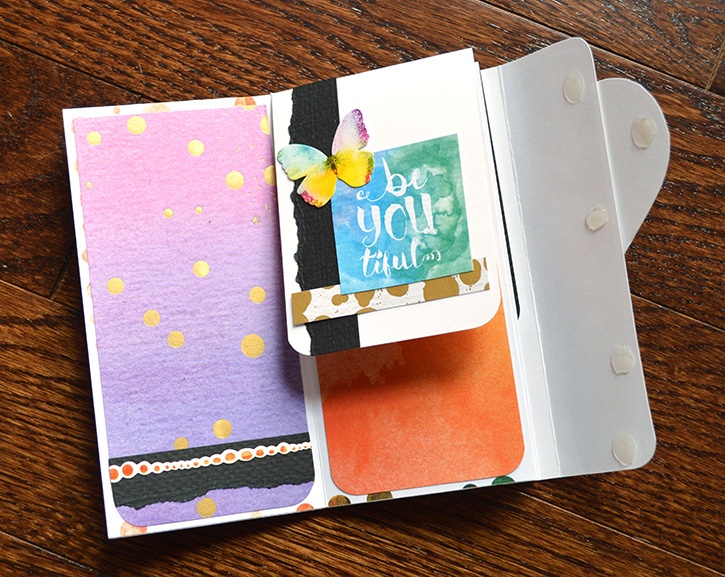 Page 3 and 4: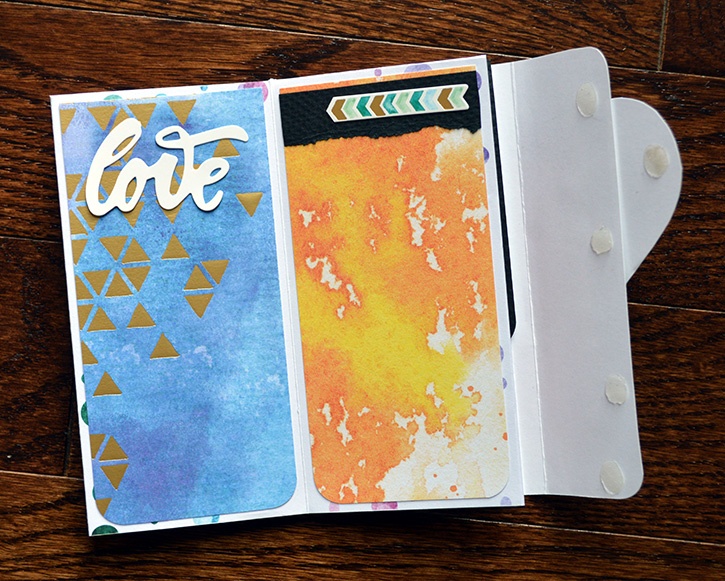 Page 5 and 6: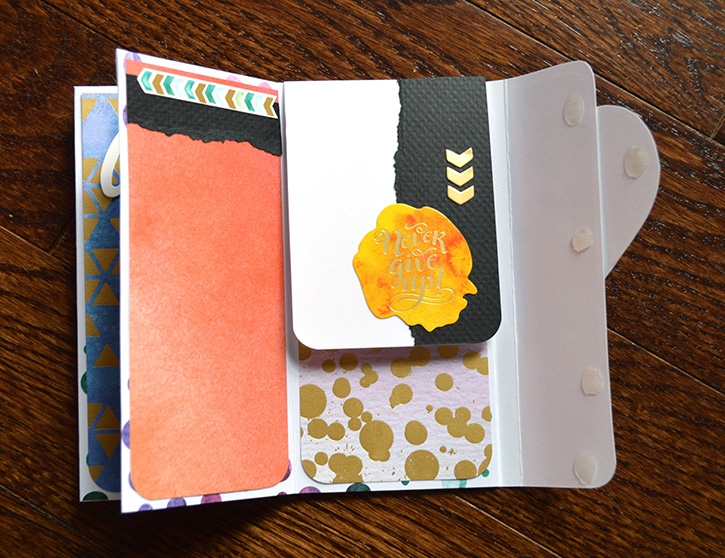 After creating this pocket sized travel journal, fill it with your thoughts, motivational mantras, favorite photos or poems. The colorful papers will inspire you and Glue Dots ® keep everything together!
~ Dawn

Dawn Mercedes Barrett is a designer who enjoys juggling a number of activities. Whether it is creating a card or object for home decor, whipping up a batch of fresh cookies for kids that drift through the house, or learning to enjoy the rigors of strengthening her body through running, she is your go-to crafter for help, ideas, and encouragement. Who says you (or your style) have to grow old and moldy? Dawn's up beat style and silly comments will keep you smiling and chuckling.