This upcycled succulent container makes a perfect homemade gift for anyone artsy. Wrapping the twine around a curvy container can be a bit tricky, but with a little patience you'll be rewarded for your efforts (and with a little supervision, children can help make this present for Mom).
MADE BY: SAMANTHA TAYLOR | TIME: 15 MINUTES
LEVEL: BEGINNER | FINISHED SIZE WILL BE DEPENDENT ON THE SIZE OF THE CONTAINER
---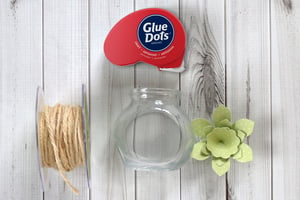 Supplies:
Twine
Small Glass, Plastic, or Metal Container
Real, Paper, or Plastic Succulent
Scissors
Directions:
Place Craft Dots™ Dot N Go® all over your container. I made straight lines of Glue Dots® all the way down 4 sides of my container (make vertical stripes of Glue Dots). If your container is a bit larger, you may need more than 4 stripes.



Place the end of your twine directly on top of a Glue Dot at the top of your container. Slowly wrap the twine around the container, pressing down firmly every time the twine overlaps a Glue Dot.


When you get to the bottom of your container, make sure the cut end of the twine finishes on a Glue Dot. Push down firmly to secure the end.



Add a real, paper, or plastic succulent to your new upcycled container.




Craft Dots™ Dot N Go® are the perfect adhesive for this project because they stick to twine, glass, plastic, metal, ribbon, and just about anything else you can think of. Since there is no drying time, you don't have to rush to beat the clock, so you can take your time while wrapping your container in twine.


My name is Samantha Taylor and I have a passion for combining crafting and creativity to beautify life. I live in a small town in rural Iowa with my husband and 2 boys (all 3 of whom you'll see featured in my projects). I'm a paper crafting fanatic who also loves photography. I enjoy making lay outs, cards, mini albums and home decor items, party decorations, and crafting with my kids. My favorite thing about crafting is getting to connect with so many people all over the world who also love creating pretty things and preserving memories. You can find more from me at www.taylorstamped.blogspot.com. I am so excited to share with you my love for the many uses of Glue Dots®!