Shower the bride and groom with well wishes and happy thoughts, as you feed the birds safely with this bird seed confetti cone! Use paper that coordinates with your wedding colors and Glue Lines to make bird seed confetti cones for your guests. Glue Dots make DIY Weddings easy!
Time: 15 minutes
Level: Beginner
Size: 4 in. x 6.5 in.
Here's what you need:
18" Jute Cord from Darice
DCWV Premium Stack: Minty Lace (Or other paper stack that coordinates with the theme and colors of your wedding)
Wild Bird Seed
Fiskars Paper Trimmer
Scissors
Ruler
Crop-a-dial from We R Memory Keepers
Funnel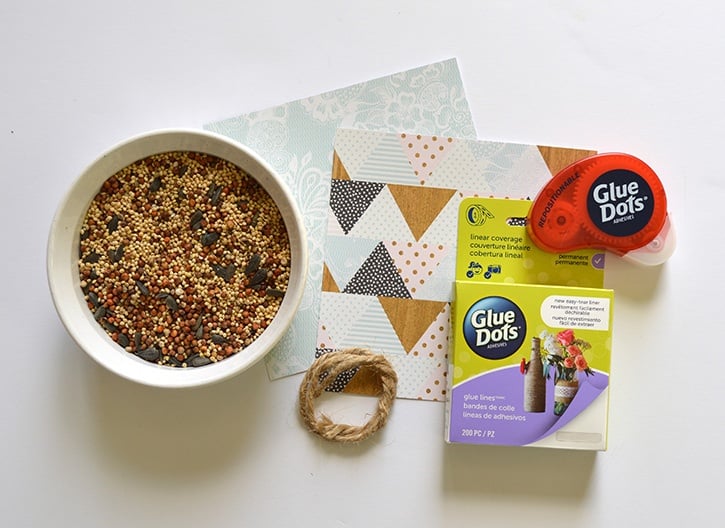 Here's what you do:
Use the paper trimmer to cut your 12" Premium paper down to 6" squares. This will allow you to make 4 cones from each piece of paper.
Orientate the paper so it is face down and like a diamond. Use Glue Lines along the right bottom edge. Gently fold the left side towards the right, with a slight crease. Then, fold the right side across the left, with a slight crease. Be sure that the bottom point is overlapping to keep the bird seed inside the cone.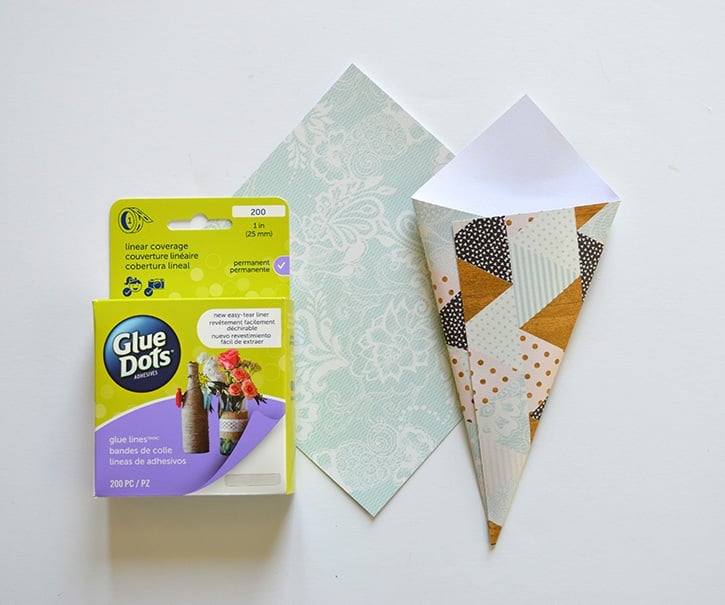 Fold the top triangle over the top, but allow a little extra space for the bird seed. Punch two holes using the crop-a-dial. Thread the ends of the jute cord through the holes and tie knots.
Use a funnel to fill the cone with bird seed, being careful not to over fill. Secure the top flap with a Repositional Glue Dots.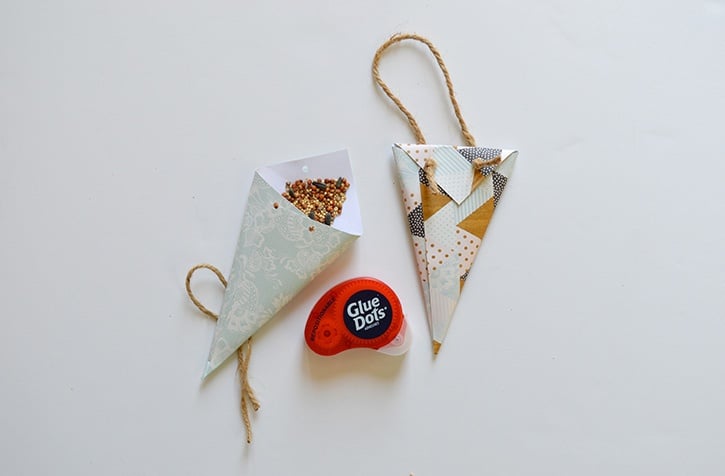 There are all sorts of ways you can embellish this simple confetti cone to coordinate it with your wedding theme and colors. Add a flower on the flap or jewel. You can make a rosette or add the monogram of the Bride and Groom. There is really on limit when you personalize your wedding décor and accessories yourself!

Dawn Mercedes Barrett is a designer who enjoys juggling a number of activities. Whether it is creating a card or object for home decor, whipping up a batch of fresh cookies for kids that drift through the house, or learning to enjoy the rigors of strengthening her body through running, she is your go-to crafter for help, ideas, and encouragement. Who says you (or your style) have to grow old and moldy? Dawn's up beat style and silly comments will keep you smiling and chuckling.