Wedding season is fast approaching. Are you ready? It's a great time to get a jump on your wedding cards. Glue Dots® and some of your stash is all you need to tackle these cards. I am sharing a step by step on how to create some go-to cards quickly. There's a bit of prep, but once you've assembled one card, the rest is easy peasy.
Made by: Shannon Morgan
Time: 45mins-1hour
Skill: Advanced Beginner
Size: Card measures 4.25"X5.5" bow may overlap a bit
Here's what you need:
Glue Dots®

Pop Up Dots™ (not shown)
DCWV Modern Metallics Stack
DCWV Corrugated Kraft Cards
DCWV Glitter Cardstock Stack - Neutral
DCWV Gilded Kraft and Gold Stack
DCWV Burlap 6X6 Paper
SRM Punched Pieces
SRM Take 2 - Stickers by the Dozen, Wedding
SRM Gold Doilies
SRM We've Got Your Border - Wedding
SRM We've Got Your Sticker - Forever
SRM Glassine Bags
Washi Tape
Twine
Ribbon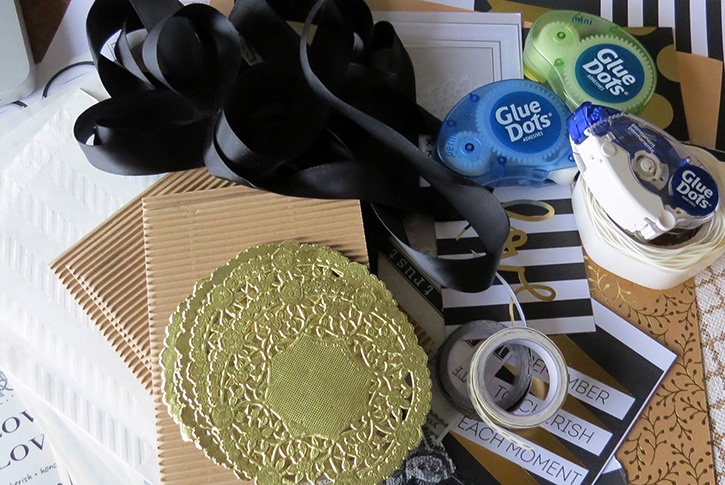 Here's what you do:
First, complete your prep work:
Pick a color combo, I chose kraft, white, black, gold (stick to 5 colors or less)
5 pre folded cards measuring 4.25"X5.5" (either store bought or diy)
Cut five 3.75"X5" patterned paper bases
Cut five either vellum, tracing paper, or glassine bag pieces measuring 3.25"X6" (for folding)
Set aside 5 doilies
You're going to cut five of the following in coordinating papers: 3.25"X3.25" squares, 3"X3" squares, 2.50"X2.50" squares, 2"X2" squares
Cut 5 paper strips measuring 4.25"X0.50"
Cut five lengths of lace or sheer ribbon measuring 4.25" long
Five paper punched pieces that measure roughly 2" in diameter
A spool or two of coordinating ribbon
Gather stickers/wedding embellishments and of course your Glue Dots®!
Now you can begin your assembly.
Adhere patterned paper base to the card using Permanent Glue Dots®.
This is the time to add your vellum/glassine bag/tracing paper layer. Place it on top of your patterned paper base before adhering, so that you can get perfect placement. You're going to want to fold it down one to two times, creating a folded paper bag look. Once you have found the placement you'd like add some glue dots and get ready to add the next layer. Also add a thin sticker to the top of the vellum/glassine bag layer if desired.
Add Permanent Dots to the back of the doily and glue down. It can be perfectly centered or a little off center, the preference is up to you.
You'll begin layering the squares now. Begin with the 3.25" square first, then add the 3" square on top.
Using your GlueTape, create an area large enough to cover the size of your ribbon or lace. Adhere to the card.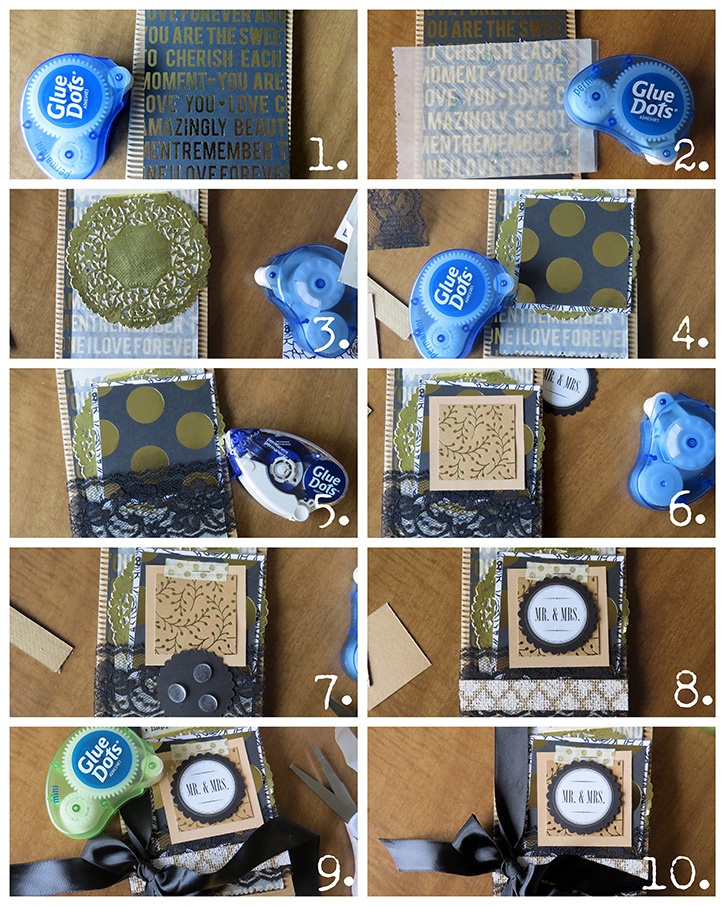 You will now add the 2.50" square on top of the lace, you can again add this completely centered, or slightly off center. Add the 2" square on top of this, as shown in picture #6. If you'd like to add a strip of washi tape, you can, this is optional.
Grab that punched paper piece and flip it over. Add Pop Up Dots to the back of your paper piece. Place it in the center of the 2" square. Add either your sentiment, sticker or embellishment.
Add the 0.5" strip of paper to the front.
Grab your ribbon and tie a bow around the card, lining it up on the far left side of the card. Once you have tied a bow, trim the ends, but leave enough to glue the end down with a bit of flair. I used Mini Dots so there wouldn't be any "glue lines", so much neater!
Once you have once card done, it's easy to create the rest. Each one is a little different, though very much the same.
~Shannon

My name is Shannon Morgan. I am a girl from the Great Lakes state. I spend my time taking care of my family or volunteering time at my kiddos school, helping however I can. I look serendipity in each day. I'm a dreamer, I'm always looking at the world around me for inspiration. I love music, coffee, tattoos, Bill Murray, the color robin egg blue, water and animals of all kinds. My children sparked my need to scrapbook, I've always been creative…took art classes as a child, made books and paintings all the time. It just seemed fitting that I would document my children's journey in this world. My goal in this life is to always try to do small things with great love, (Blessed Mother Teresa said it best) and inspire others to reach beyond their creative limits.