Coloring books are growing in popularity and making their way into craft rooms everywhere! De-stress as you color and then turn that art piece into a card like the one below for an inspiring teacher.
Made by: Danielle Hunter
Time: Approximately 1 hour
Level: Intermediate
Here's what you need:
DCWV Color & Create stack (world traveller)
DCWV A2 corrugate card (4.25 x 5.5")
DCWV mixed media cardstock stack
Close To My Heart letter stamps (keyboard uppercase alphabet)
Close To My Heart ink pads (autumn terracotta, cotton candy, gypsy, lagoon, topiary)
Marion Smith Jungue & Jems (hot air balloon)
Ribbon
White cardstock
Colored pencils
Scissors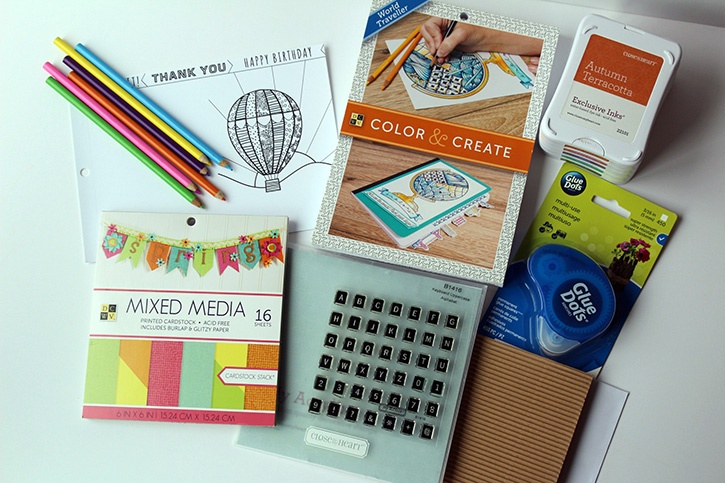 Here's what you do:
Use colored pencils to decorate the hot air balloon coloring page.
Trim balloon page to 3.5 x 4.5", mat with a glitzy paper from mixed media stack and adhere to front of card with Permanent Glue Squares.
Cut out "Thank You" from coloring page and attach to card with Permanent Glue Squares.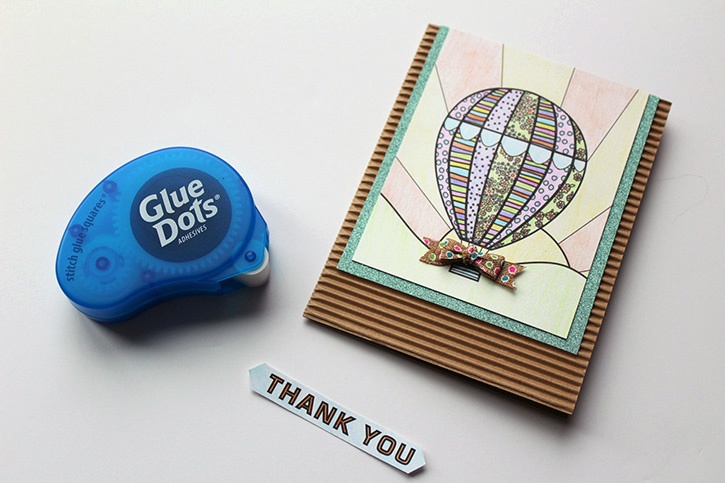 Make a small bow from ribbon and attach to balloon with Permanent Glue Squares.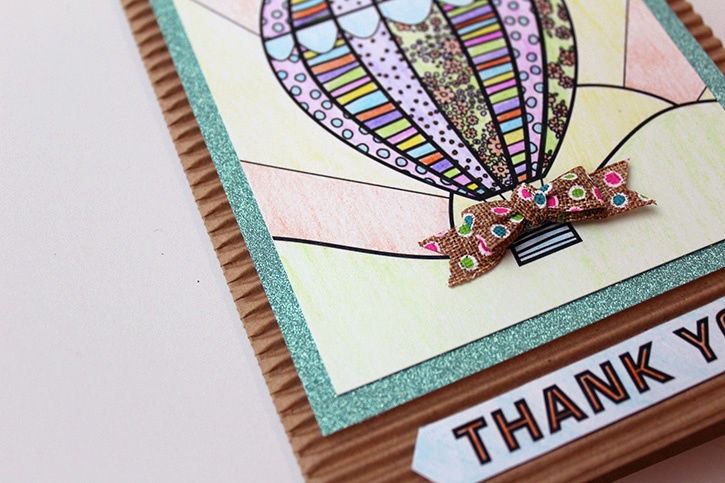 Use letter stamps and assorted ink to create sentiment "for making my dreams soar" onto white cardstock and cut out each letter.
Trim a piece of white cardstock to 3.25 x 5" and use Permanent Glue Squares to attach stamped letters.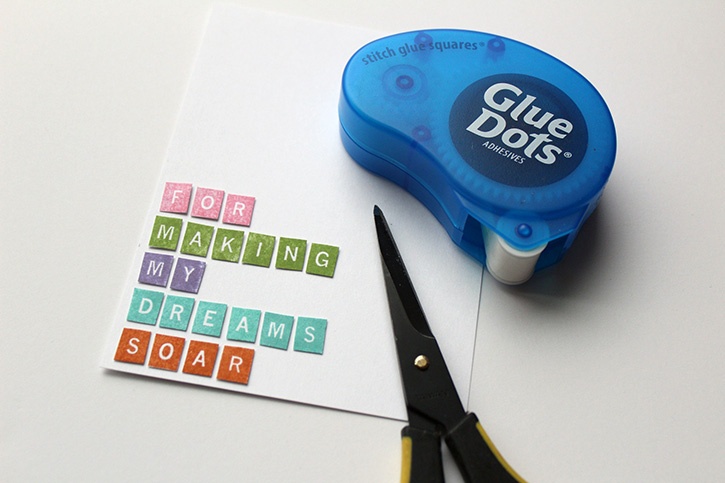 Adhere white cardstock to inside of card with Permanent Glue Squares and then attach the metal hot air balloon.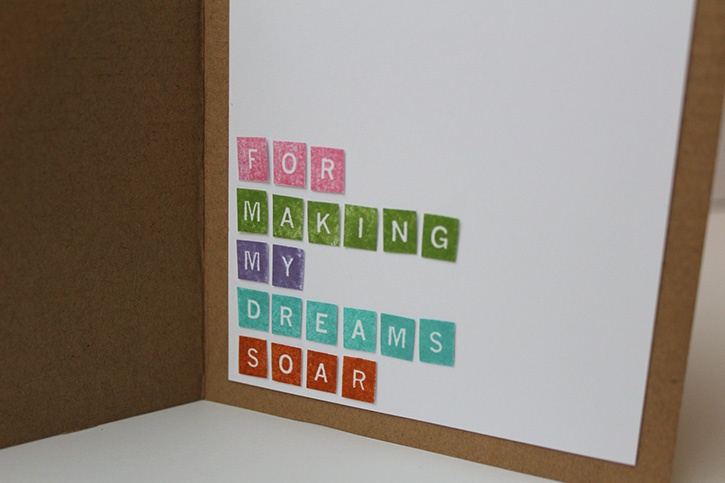 Inside: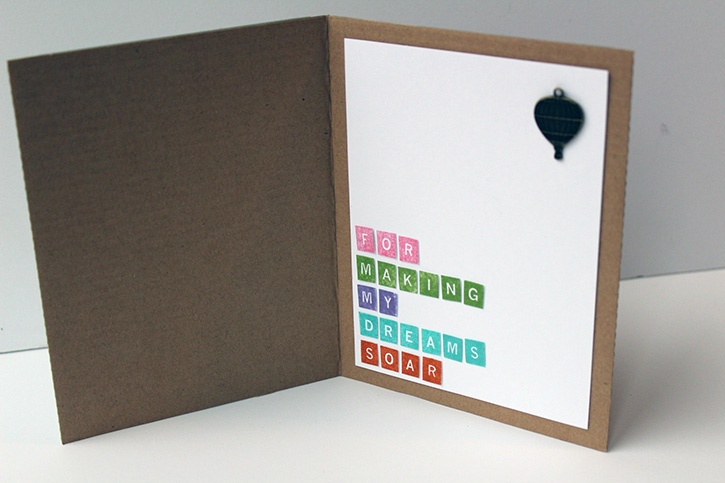 Outside: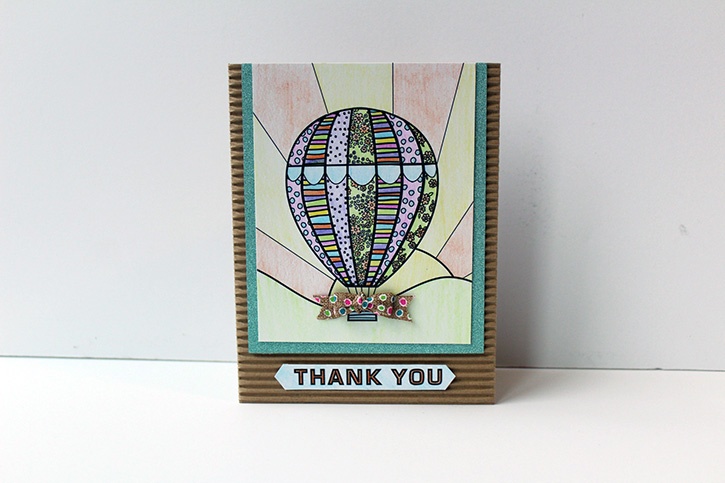 Don't forget to save it for later!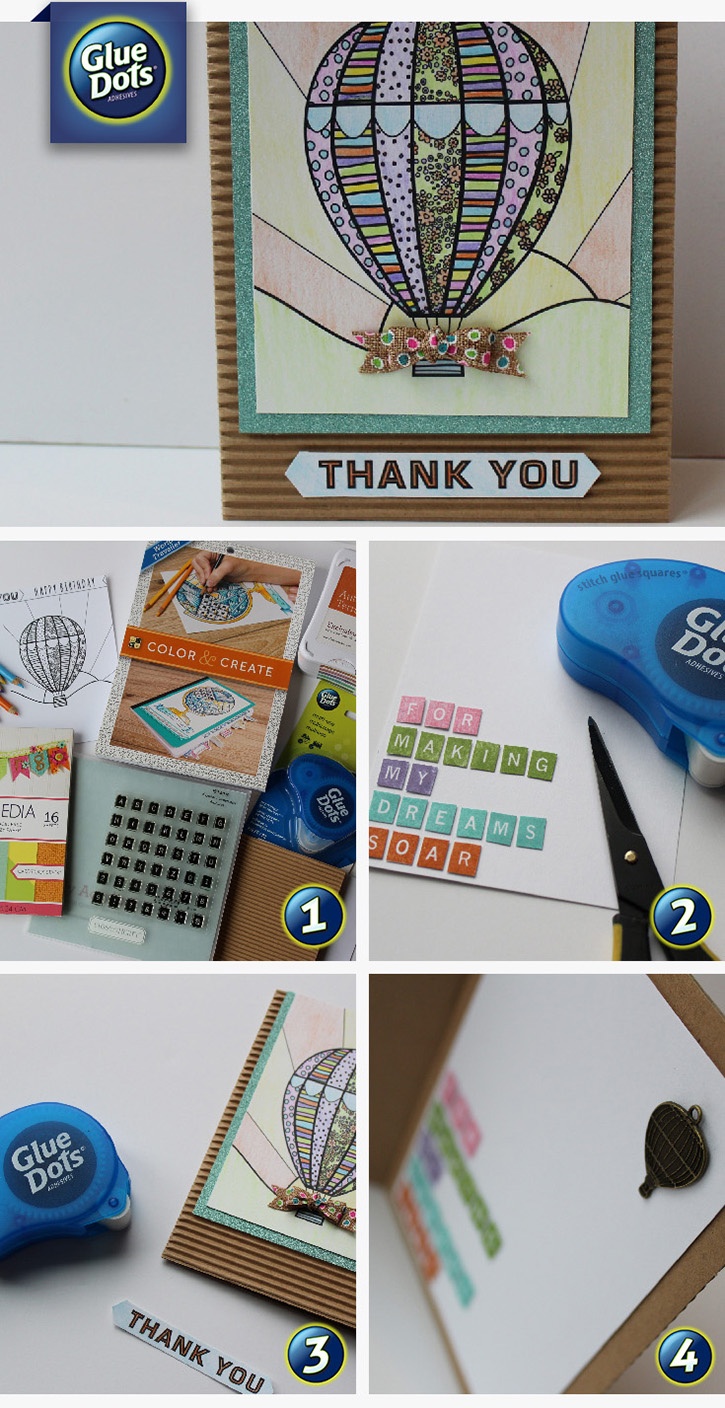 Danielle Hunter is a multitasking mom of two creative girls. She works in human resources for a non-profit organization and is a yoga teacher in training. She lives in Northeast Ohio and has been dedicated to crafting since childhood. Danielle completed her first scrapbook at the age of four, was a scrapbooker-for-hire for several years, and has shared her knowledge in a classroom setting. She enjoys turning trash to treasure, making crafts for kids, and creating artistic projects with bold colors and fun designs. Danielle joined the very first design team for Glue Dots in 2010. Her projects have been featured in Craft Ideas and CardMaker magazines, as well as websites such as Reader's Digest, HGTV, and Crafting a Green World.