Made by: Samantha Taylor
Time: 20 minutes
Level: Intermediate
Size: 4 ¼" x 5 ½"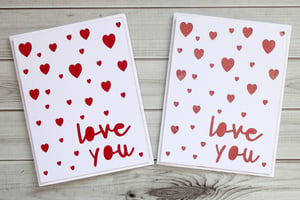 Nothing says Valentine's Day like a handmade card. Below, you will find two versions of the same die cut
valentine, one with glitter and one without. Both cards utilize Glue Dots® Permanent Adhesive Sheets with
a die cutting machine. You are going to love how easy it is to cut and adhere even the daintiest of cuts
with the new Adhesive Sheets!
---
Supply List:
Glue Dots® Permanent Adhesive Sheets for Die Cutting

Glue Dots Premium Permanent Glue Tape®

Red Cardstock

White Cardstock

Ultra-Fine Glitter

Die Cutting Machine (I used a Silhouette Cameo)

Cut files 54860 and 1804553 or similar from the Silhouette Design Store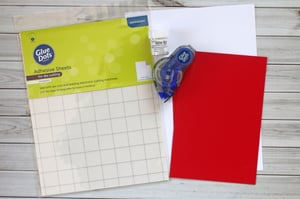 Directions:
Cut a piece of white cardstock to 8 ½" x 5 ½". Fold in half to create your card base.

Cut a piece of red cardstock to 4" x 5 ¼".

For the glitter-free version of this card, proceed to step 3.

For the glitter version, cut a sheet of Adhesive Sheets for Die Cutting to 4" x 5 ¼".

Place the adhesive sheet onto the red cardstock and peel off the liner.

Cover your red cardstock in glitter. Shake any loose/extra glitter off. The red cardstock should now be completely covered in glitter.




Apply an adhesive sheet to an 8 ½" x 11" piece of white cardstock. Size your cutting file to 4" x 5 ¼". Run the paper through your die cutting machine to cut your card front (you can fit 4 card fronts on one sheet of white cardstock).

Peel off the liner. If you peel slowly, the liner will do most of the weeding for you.

Gently layer your die cut piece onto the red cardstock (either with glitter or without).

Use Permanent Glue Tape® to attach the red cardstock to your card base.



This is a great assembly-line style project if you need many of the same card. Your machine can cut up to 4 card fronts at a time while you cut and fold a stack of card bases and red layering pieces of cardstock. Switch up your layering cardstock colors (pink, purple, blue) to vary the design a bit without any added work.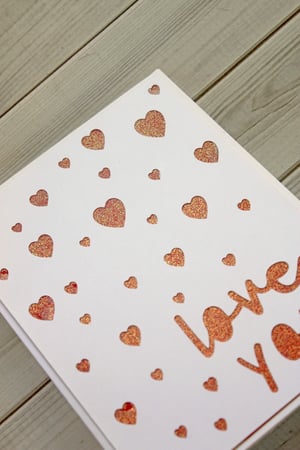 I like to work with Glue Dots Glue Tape® when assembling cards, but Ultra Thin or Craft Glue Dots® will work well for this project, too.
Have a Happy Valentine's Day!

My name is Samantha Taylor and I have a passion for combining crafting and creativity to beautify life. I live in a small town in rural Iowa with my husband and 2 boys (all 3 of whom you'll see featured in my projects). I'm a paper crafting fanatic who also loves photography. I enjoy making lay outs, cards, mini albums and home decor items, party decorations, and crafting with my kids. My favorite thing about crafting is getting to connect with so many people all over the world who also love creating pretty things and preserving memories. You can find more from me at www.taylorstamped.blogspot.com. I am so excited to share with you my love for the many uses of Glue Dots®!