Brighten up your baby shower decorations or a nursery with an acrylic butterfly banner. Designer Grace is on our blog with a bright, butterfly banner that you'll want to make for your next (or little) addition!
Designed by: Grace Tolman
Time: Approximately 45 minutes
Level: Beginner
Size: 30" x 4 ½" x ¾"
I used a butterfly acrylic mini-book piece as my foundation for this layout. I love how the acrylic gives me a sturdy base for the butterfly banner.
Here's what you need:
Glue Dots® Flexible Hang Tabs (optional)
Acrylic Butterfly Mini Kit, Maya Road
Cardstock
Patterned paper - Prism Play, DCWV
Chipboard letters
Ribbon, ¼" wide
Sequins
Star embossing folder
Circle punches, 1 1/4" and 1 3/4"
Sanding block
Craft knife
Scor board
Scissors
Die Cut machine
Score Board
Here's what you do:
Peel off the plastic covering from the acrylic pieces. Add Stitch Glue Squares to the front of the acrylic pieces and adhere to the back of the rainbow pattern paper. Use the craft knife to cut the butterfly shape out of the paper. Sand the edges for a more finished look. Punch through the pre-made holes of the acrylics to create the holes in the paper.
Cut out 4- 1" x 9" strips from the dot paper. Using a score board, make fold marks at every ¼" mark on the paper, vertically. Fold the paper strips in an accordion style.
Punch out 4- 1 ¼" circles from a piece of scrap. Add the XL Glue Dots adhesive to the center. Adhere the ends of the folded paper strip close using Stitch Glue Squares. Push the paper strips to the center to create the rosette and then adhere to the scrap paper with the adhesive on it.
Punch out 4- 1 ¾" circle from yellow cardstock. Run it through the die cut machine with the star embossing folder. Use a sander to make the design more prominent on the paper. Adhere to the center of the rosette with XL Glue Dots.
Add the layered rosette accents in the center of the butterflies.
Using Mini Glue Dots, add some sequins on the inside edge of the butterfly pieces.
Thread ribbon through the side holes of the butterfly pieces and connect the banner together. Tie the ribbons into a bow. Add 12" length of ribbon through both ends and tie the ends to close.
Add the letter chipboard to spell out "baby".
Tip: When you're ready to hang your banner, use Glue Dots new Flexible Hang Tabs. They remove cleanly and won't damage your wall.
~Grace
Use any format of Mini Glue Dots below for this project: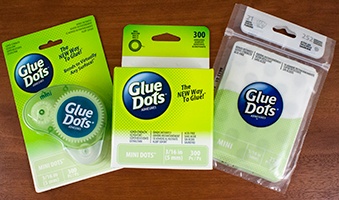 Glue Dots products are available at the following retailers: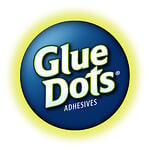 The Team at Glue Dots consists of three highly creative individuals who find new ways and uses for Glue Dots products for every day life. We hope you like what we create. :-)