The cloudy, chilly days of Spring have us longing for the warm rays of the summer sun and we thought now would be a good time for a summer home decor project. Pick up a frame, paint, ribbon, Glue Dots, and few additional supplies to bring the sunshine inside. Designer Dawn is on our blog today with an easy summer home decor project. She's even included the link to to a free printable! Her first tip? Check your local thrift stores for bargain frames that cost just a dollar or two. This will stretch your craft budget! Let's get started.
Designed by: Dawn Mercedes Barrett
Time: 30 Minutes plus drying time
Level: Beginner
Size: 8" x 10" plus the size of your frame
Here's a bright and cheery summer home decor project to keep a little sunshine in your home for those rainy days of spring! A few simple steps and you will have a framed piece of graphic art to enjoy, whether there are clouds or sun outside your door!
Here's what you need: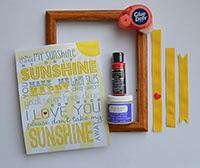 Wood frame that holds a 8 x 10 inch photograph print
Yellow 1" grosgrain ribbon
8" x 10" print of your choice (Click here for a freebie!)
Fine grit sandpaper
Paper towel
Scissors
Paint brush or foam brush
Here's what you do:
Take off the back of the frame and remove the glass panel. Set aside. Using fine grit sand paper, lightly sand the wood frame to rough up the edges. This will help the paint adhere to the frame, especially if there is already a varnish layer. Use a damp paper towel to remove any dust particles and let dry.
Apply Red Hot acrylic paint to the frame using a brush. Be sure to watch for drips when you paint the inside edge. (Tip: Double check during drying time in case any drips develop and smooth them out with a brush.) Be sure to paint the inside of the picture frame, but not the back, where the photograph will touch. Let dry. Apply a second coat if desired and let dry. Then, use a clean brush and apply Americana Decor Light Satin Varnish to seal and protect your paint.
Create your bow while your are waiting for the layers of paint to dry. Cut out a 7 " piece, and snip the ends to create interest. Also cut pieces to 10", 7.5", and 3" in length. Use Craft Glue Dots to make loops out of the first two lengths of ribbon. One loop will be approximately 4", and the other will be about 2.5".
Push the large red heart brad through the center of the 3" piece. Using Craft Glue Dots to secure it all - stack the two loops on top of the 7" length. Then wrap the three inch piece around the stack, using Craft Glue Dots to secure it. Now you have a bow.
When the frame is dried and the glass and the print is assembled into the frame, use Craft Glue Dots to adhere the bow to the edge of your frame.
~Dawn
Use either format of Craft Glue Dots for this project: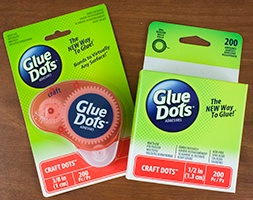 Glue Dots products are available at the following retailers: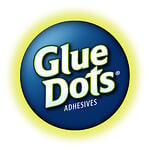 The Team at Glue Dots consists of three highly creative individuals who find new ways and uses for Glue Dots products for every day life. We hope you like what we create. :-)