Add a personal touch to your New Year's Eve host/hostess gift with this simple and easily customizable project. Utilize Glue Lines® and Mini Dots™ to make sure everything stays in place.
Made by: Samantha Taylor
Time: 20 minutes
Level: Quick and Easy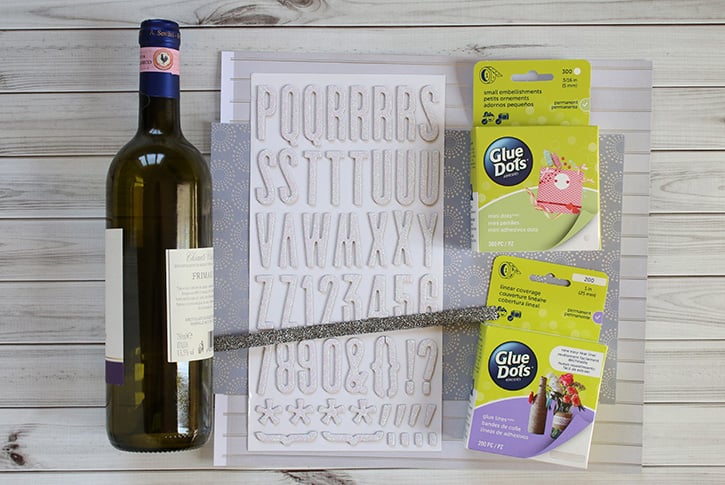 Supply List:
2 sheets of coordinating patterned paper

Chipboard Numbers

Ribbon

Wine, Champagne, sparkling cider, or sparkling grape juice.
Directions:
Measure around the widest part of your bottle (the circumference). Add 1" to the measurement. This will be the length of your paper.
Measure the height of the largest label on your bottle. Add ½" to that measurement. This will be the height of your paper.
Cut your base paper to the length and height your measured in steps above. Attach your paper to bottle with Glue Lines.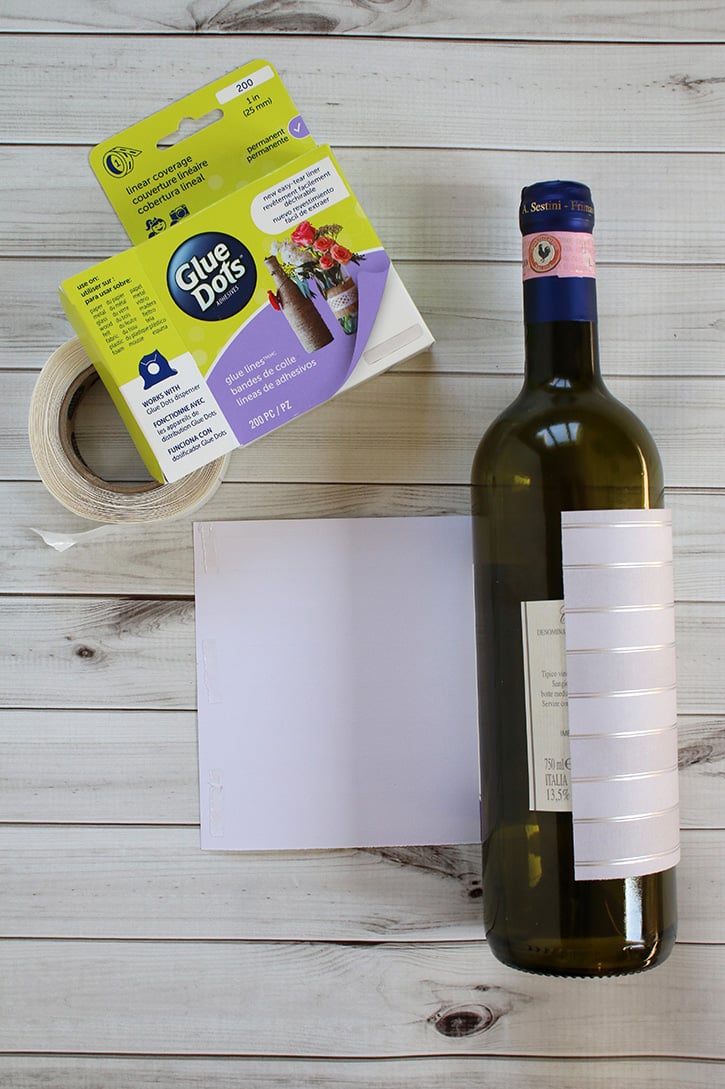 Cut a second piece of patterned paper to 3" tall and as long as the measurement in step 1. Using Glue Lines, attach this second piece of paper, layering it on top of the first piece of paper.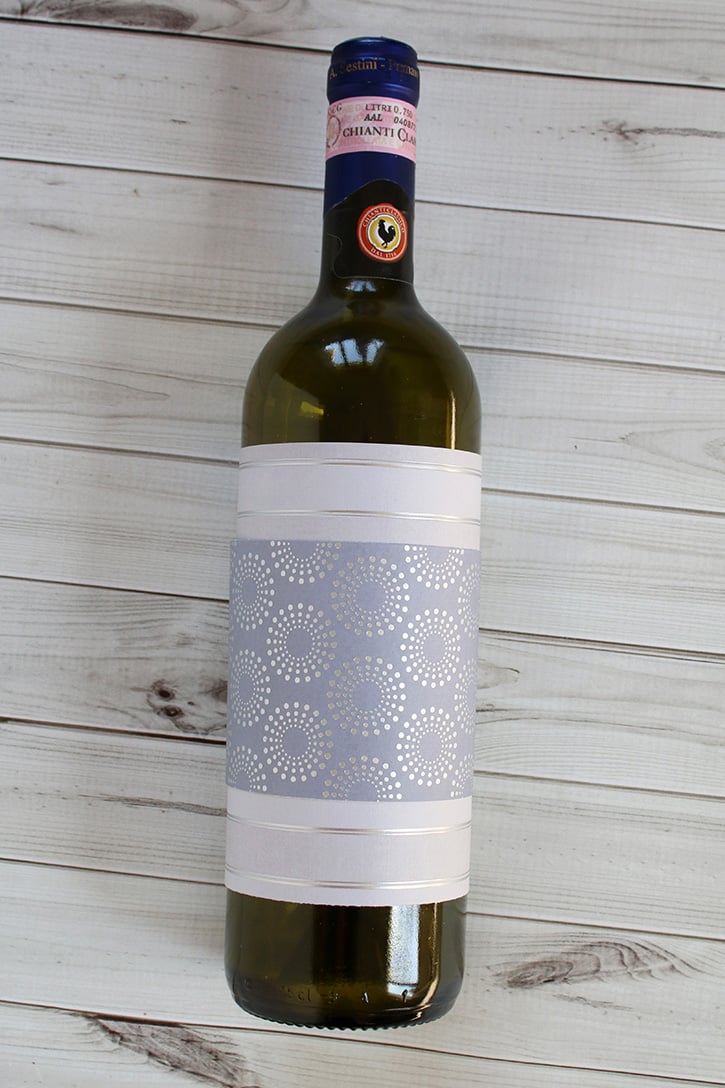 Use Mini Dots to attach "2019" to the outside of the bottle.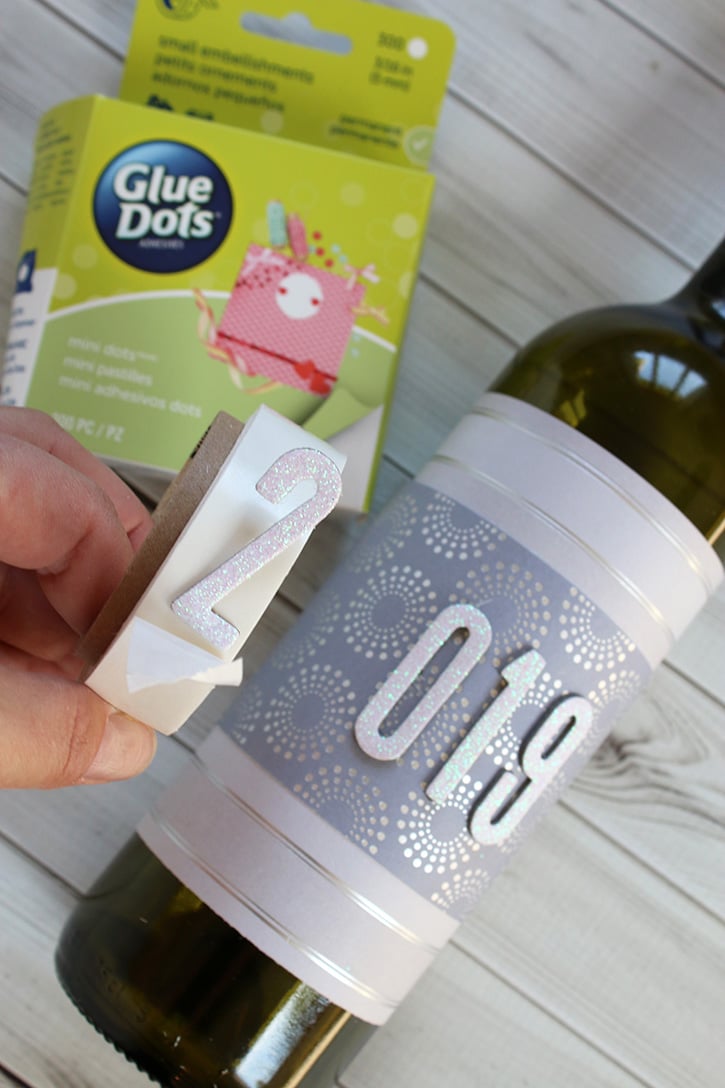 Now, attach your ribbon to the bottle using more Glue Lines.
If you need something for the kids or your host doesn't drink, this works equally well on a bottle of sparkling cider or grape juice. Also note that I always use Mini Glue Dots® to stick my numbers onto my bottle, even if they have a pre-applied adhesive. Pre-applied adhesive is never quite strong enough, and Mini Glue Dots will give you the confidence that everything on your project will stay put!
~ Samantha

My name is Samantha Taylor and I have a passion for combining crafting and creativity to beautify life. I live in a small town in rural Iowa with my husband and 2 boys (all 3 of whom you'll see featured in my projects). I'm a paper crafting fanatic who also loves photography. I enjoy making lay outs, cards, mini albums and home decor items, party decorations, and crafting with my kids. My favorite thing about crafting is getting to connect with so many people all over the world who also love creating pretty things and preserving memories. You can find more from me at www.taylorstamped.blogspot.com. I am so excited to share with you my love for the many uses of Glue Dots®!