With Teacher's Day right around the corner, I couldn't help but think of the many art teachers that keep inspiring their students to be creative. I dedicate this project to them. I love that this homemade gift allows teachers to use their creative talents, while also giving them a quick and easy way for them to send a personalized card to someone special. Putting card-making components into a DIY kit makes it easy to keep everything organized and ready when the itch to be creative comes.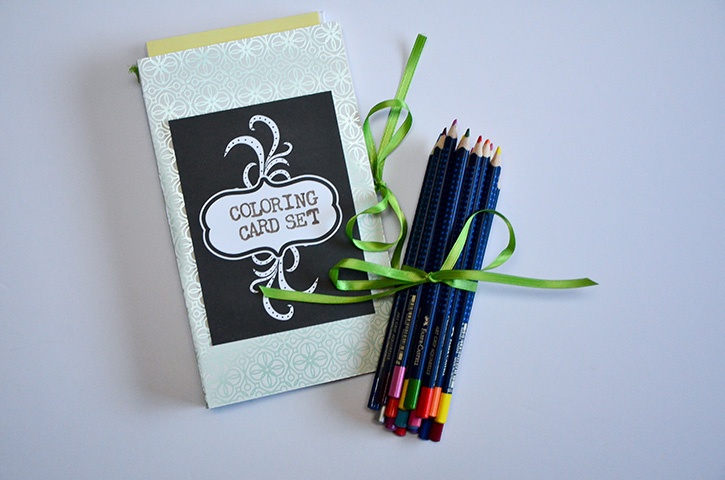 Designed by: Grace Tolman
Time: Approximately 45 minutes
Level: Moderate Handiness
Size: 8⅞ x 5 x 1 inches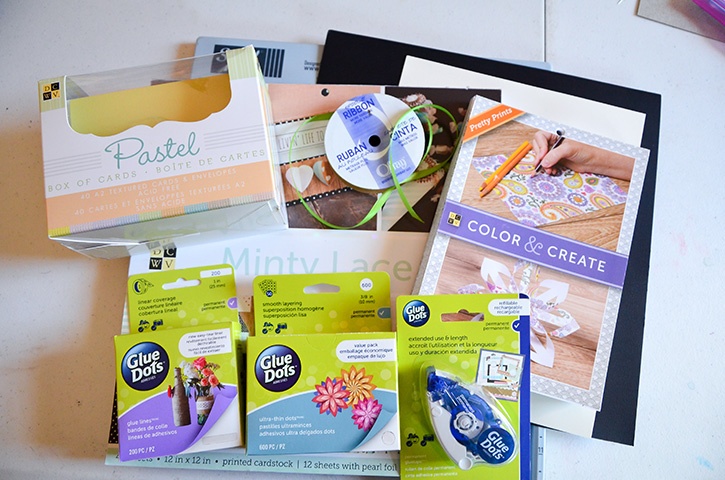 Here's what you need:
Scissors

Paper Trimmer

Cards

Beige and pattern papers

Coloring Sheets

Cardstock
Here's what you do:
Place the beige paper horizontally onto the Scor-Pal and score at the 5-inch and 6-inch marks. Fold the marks.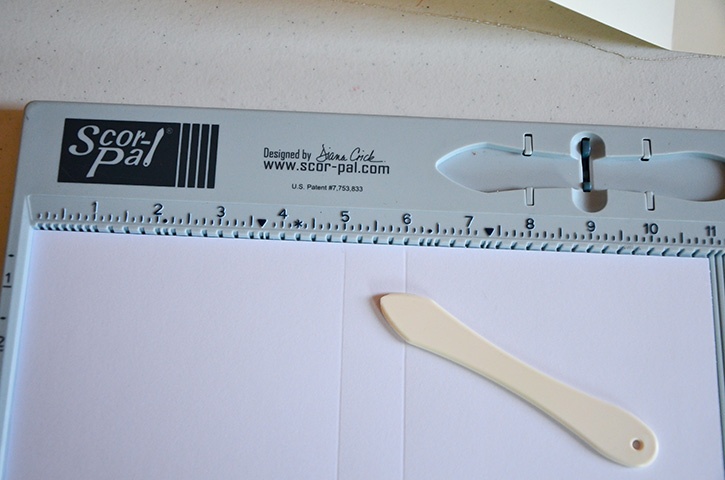 Place Glue Lines on the center edge of the kit's container and adhere a 3-inch piece of ribbon on both sides. These will be the ribbon closure for the kit.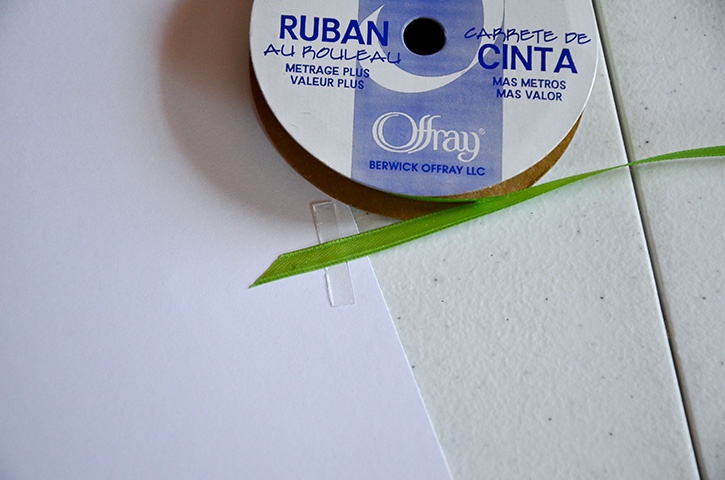 Adhere the container foundation to a piece of pattern paper using Glue Lines. Trim the excess paper and reinforce the folds.
Cut a 3-inch wide pattern paper and adhere to the beige card stock (inside of the card kit container) towards the bottom. Place Glue Lines ONLY on the edges of the lower three-inch borders of the beige card stock, leaving the top open. Adhere the 3-inch pattern paper to the Glue Lines, this will create the pockets to place the card-making elements in.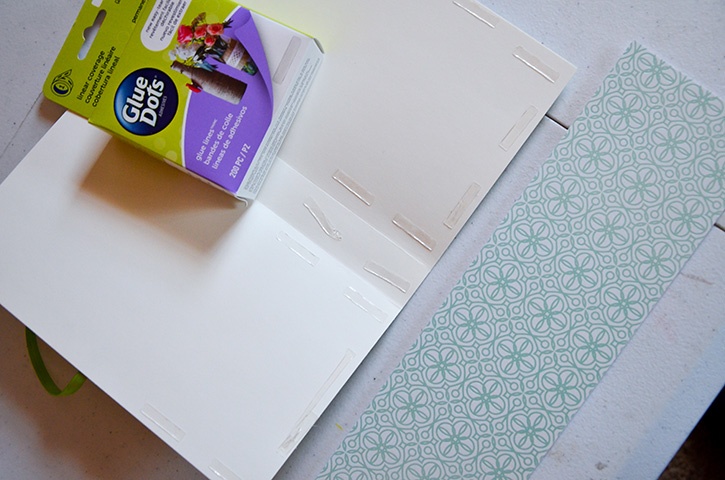 Repeat this process again for another pocket right above the one just created using a different pattern paper. Be sure to leave enough space between the bottom and top pockets so that you can add all of the card components.
Choose coloring pages to make card fronts and sentiments. Cut the card fronts so that they measure 3 x 5 inches and cut out some of the sentiments.
Adhere your cut out pieces to black card stock using Permanent GlueTape. Trim the black card stock so that there is about a ¼-inch border.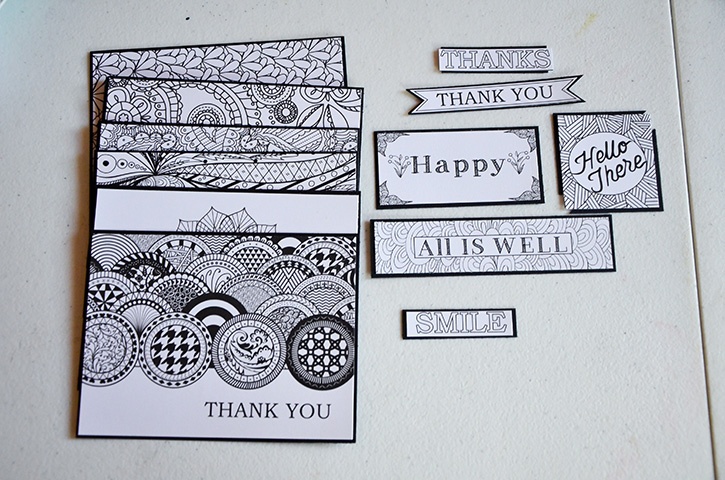 Tear apart the Ultra-thin adhesive sheets, so that you have individual dots to add to the back sides of the card panels and the sentiments. Remove the white liner and place the dots onto each corner of your cut out pieces. Be sure to leave the clear backing intact so that your art teacher can take it off when they are ready to build a card.

Stamp the labels for each element group within the card kit. Adhere the labels to the tops of the pockets using more Permanent GlueTape.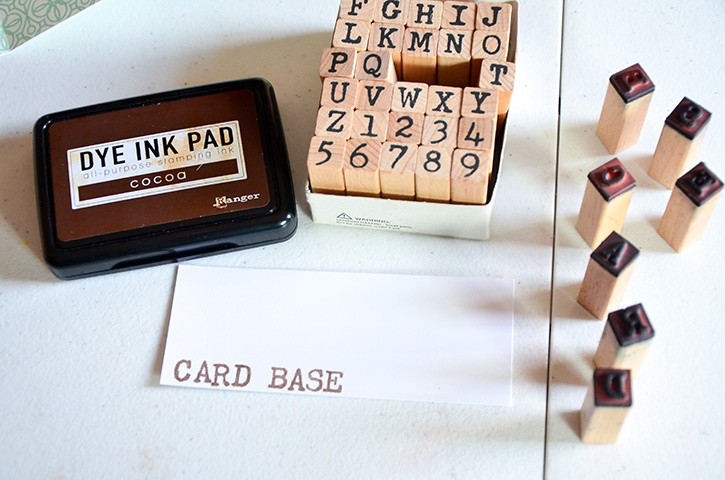 Place the card bases, envelopes, card-front panels, and sentiments inside of the DIY kit. Use the ribbon to tie the kit closed.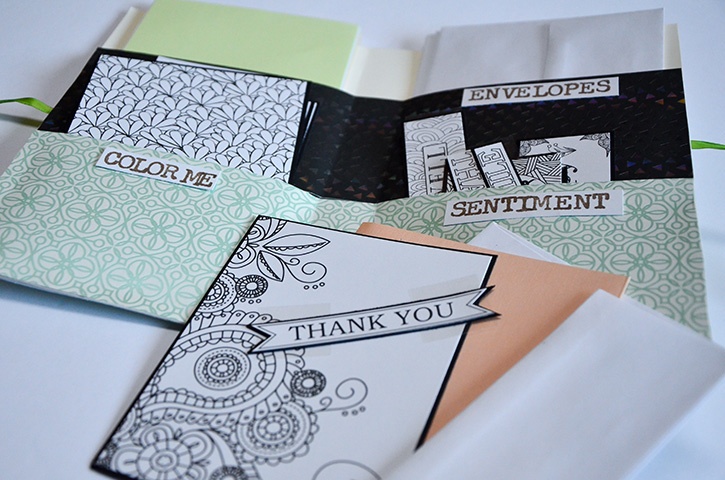 Present the gift with a box of colored pencils.
~ Grace

I'm a mom to a 10 year old boy and an 8 year old girl. Therefore my life is usually filled with learning, new discovery, bribery and driving to and from all of our activities. I have a loving and very supportive husband of 11 years. When the kids have gone to bed at night, my time is spent crafting while catching up on my favorite shows and movies. I also enjoy reading, window shopping, knitting and perusing blogs for inspirations. Three years ago we moved to Colorado from California and we are enjoying our new environment. I feel very inspired with my new home, my new scrapbook space and the mountain views. Although I've been doing some type of scrapbooking since grade school, I only started to scrapbook seriously after my son was born. When he was born I knew I would be staying at home with him but coming from a fast paced sales job I was afraid I would ran out of things to do during the day. Little did I know that with newborns you won't have any time to do anything else. Anyways, after going through a basic scrapbooking class I was hooked and haven't stopped scrapping since.