This colorful Mother's Day card is one that even the kids could make! After coloring a beautiful image from the DCWV Pretty Patterns book, simply add a fabric flower with Glue Dots. There are so many pretty designs that the kids could make one for grandma or an aunt.
Made By: Amanda Tibbitts
Time: 1 hour (more for coloring)
Level: Beginner
Size: A7 Card (5" x 7")
Here's what you need
Die Cuts with a View A7 Cards/Envelopes
Die Cuts with a View Color & Create Pretty Prints Coloring Book
One sheet white cardstock
Embroidery Floss
Tim Holtz Distress Ink Scattered Straw
3 Buttons
Paper Flowers
Baby Wipe
Alphabet Stamp Set
Acrylic Block
Crayola Colored Pencils
Paper Trimmer
Scissors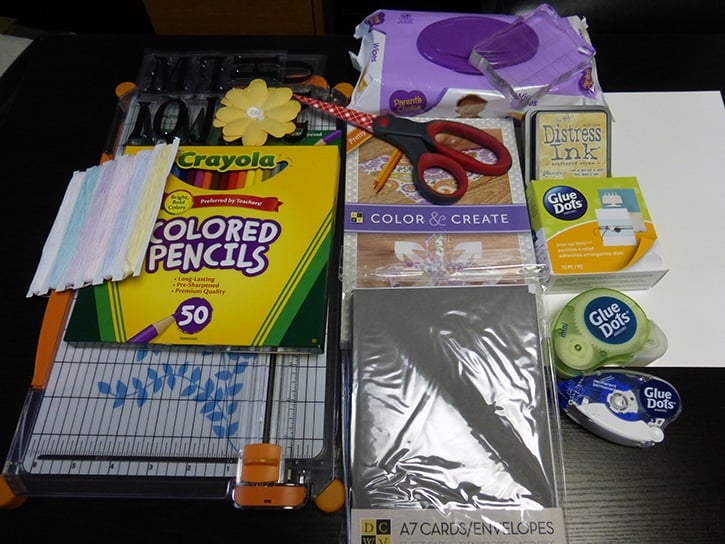 Here's what you do:
Pick your paper from the DCWV Pretty Patterns and color it to your liking. Use colors that go with your paper flowers.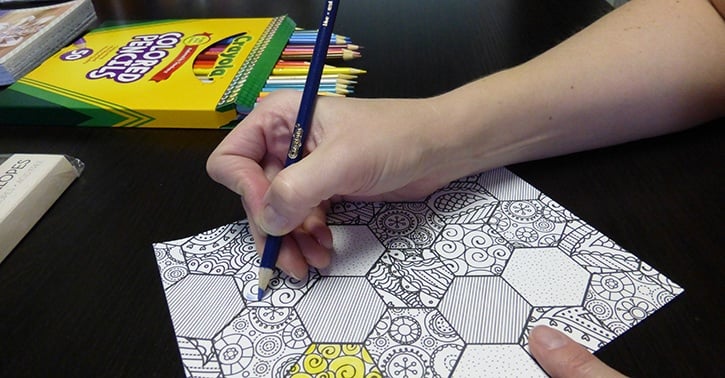 Once colored, trim the page with your paper trimmer and use the Permanent GlueTape to stick it to the A7 Card Base.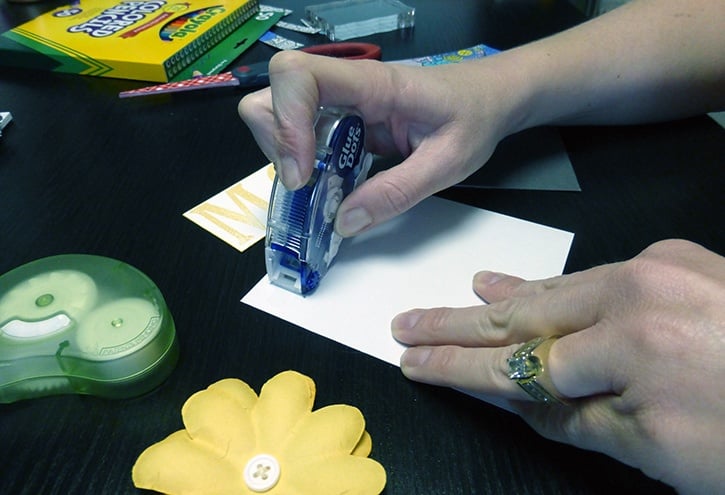 With the embroidery floss and buttons, thread some floss through the button holes and tie them off in the back. Use a Mini Dot to make sure it stays down.
Use Mini Dots to adhere your paper flowers together to make a fuller flower.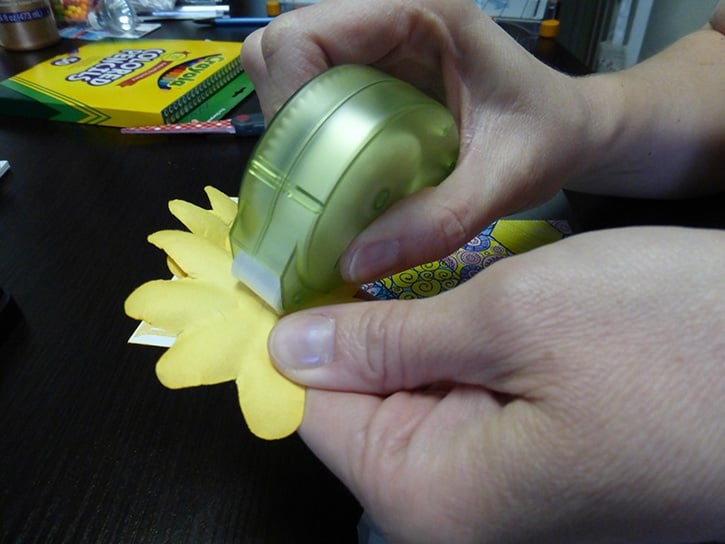 Place a button in the center with Mini Dots and set aside.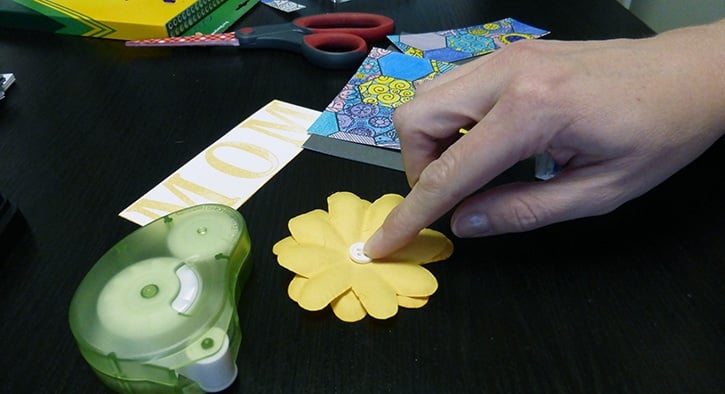 Using the alphabet stamp set, stamp "MOM" with your Scattered Straw Distress Ink.
Trim this to fit your card and use the Permanent GlueTape to stick to your colored background.
Use two or three Pop Up Dots to glue to your colored panel as well.
Add two buttons to the corner of the "MOM" sentiment.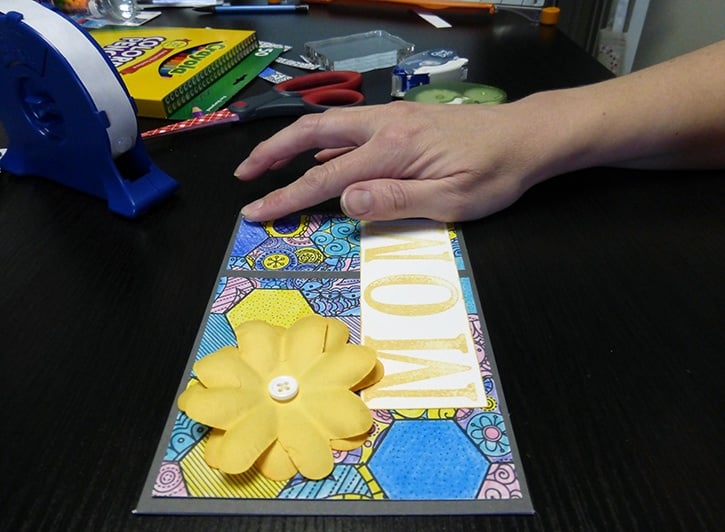 Add your thoughtful words inside, and place it in the envelope. This MOM card is worth saving and you certainly could follow the same guidelines for other names as well.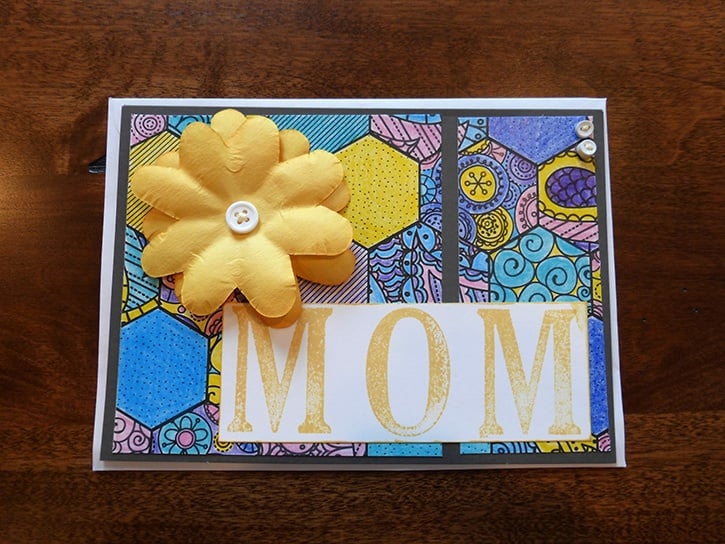 ~Amanda

I began crafting in 1996 and simply fell in love with making my own cards. Long live snail mail! Crafting isn't just a hobby for me, but a way of life… Teacher gifts, posters, scrapbooks, wood crafts? Yes, please! I have been married to my cute husband for 16 years and he definitely inspires me to try new things and enjoying the little things. As a stay home Mom, my time is spent raising my two girls, and raising the bar for my gift giving!