Making a first aid kit for your child's backpack or locker is easy with a few supplies and Glue Dots. Whether they have a scrape on their way home or on their way to school, they'll have a few basic supplies to take care of themselves. Creative Maker Danielle shows you how to turn a tin mint box in to a basic first aid kit for your kids.
Made by: Danielle Hunter
Time: 30 minutes (not including drying time)
Level: Beginner
As you gather together supplies for the upcoming school year, be sure to include a few essentials your child may need during the day. A mini first aid kit can easily fit into your child's backpack and if a scrape happens on the way to school, the supplies will be right there when needed.
Here's what you need:
Altoids tin (3 3/4" x 2 1/2")
Valspar spray paint (Peacock's Pride)
Ribbon trim
Small metal sign
Nail filer or sandpaper
Cardstock (black, white)
Washi tape (any kind)
First aid supplies (band aids, alcohol wipes, tissue, antibiotic ointment, chapstick)
Word processor
Franklin Gothic Medium 10 pt font
Here's what you do:
Lightly sand Altoid tin, wipe clean and apply washi tape around the edge where the lid closes. This will create a two-toned effect when the tin is open.
Spray the bottom of tin with paint. Wait approximately 45 minutes and add second coat. Allow to dry for several hours or overnight.
Apply spray paint to top of the tin. Follow directions from Step 2. Remove washi tape when dry.
Use a word processor to create an emergency phone number list and print onto white cardstock.
Trim white cardstock to 3" x 1 3/4", mat with a piece of black cardstock and adhere to inside of lid with Glue Squares.
Apply Glue Squares around outside of tin and attach ribbon trim.
Use Mini Glue Dots to attach metal sign to top of tin. Note: The mini metal sign has one small magnet on the back. If unable to remove, attach small magnet pieces or another type of spacer to back of metal sign with Mini Glue Dots before adhering to top of tin. (See photo.)
Add first aid supplies to inside of tin.
~Danielle
Use either format of Mini Glue Dots for this project: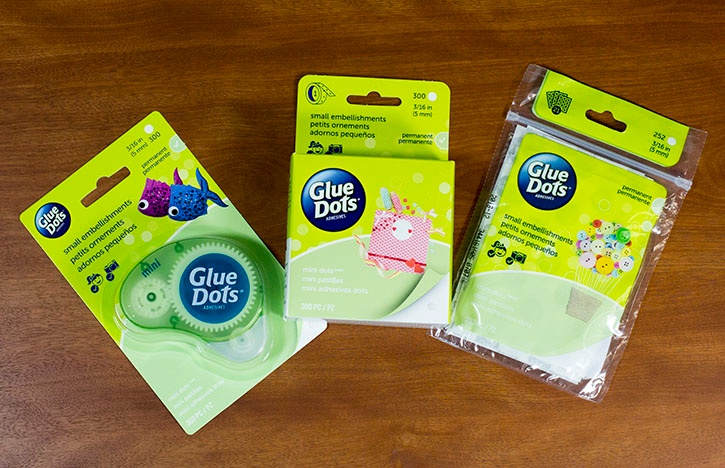 Danielle Hunter is a multitasking mom of two creative girls. She works in human resources for a non-profit organization and is a yoga teacher in training. She lives in Northeast Ohio and has been dedicated to crafting since childhood. Danielle completed her first scrapbook at the age of four, was a scrapbooker-for-hire for several years, and has shared her knowledge in a classroom setting. She enjoys turning trash to treasure, making crafts for kids, and creating artistic projects with bold colors and fun designs. Danielle joined the very first design team for Glue Dots in 2010. Her projects have been featured in Craft Ideas and CardMaker magazines, as well as websites such as Reader's Digest, HGTV, and Crafting a Green World.