Make clothes pin photo clips for your school locker with Glue Dots and embellishments. Show off your school spirit or personal style by decorating clothes pins with patterned paper, embellishments and Glue Dots. Add magnets and you're ready to hang your favorite photos. Creative Maker Dawn shows you how easy it is to make clothes pin photo clips for your school locker.
Made by: Dawn Mercedes Barrett
Time: 15 minutes
Level: Beginner
Size: 3.25 x .5 inches
Here is a nifty way to make photo hangers for your locker this fall. With a little DIY-ing, you can easily coordinate colors and styles of your other décor, your school colors, or the seasons! Dress up your locker and create a fun place to stop by between classes!
Here's what you need: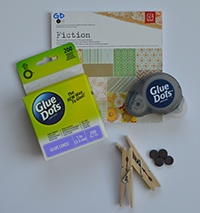 Clothes pins
2- .5 inch magnets
Basic Grey 6" x 6" inch paper pad: Fiction (or other decorative paper)
Stickyback Bling from the Eyelet Outlet
Other embellishments as desired (trims, flowers, stars, hearts)
Fiskars Paper Trimmer

Ruler

Scissors
Here's what you do: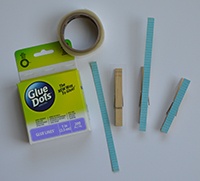 Choose decorative paper patterns that will coordinate with your style, locker colors or school colors. Using the paper trimmer, cut a strip of paper that will fit the width of your clothes pin (approx. ½ inch).
Use Glue Lines to adhere the paper strip onto the clothes pin. Then, trim the ends off with a pair of scissors.
Add two magnets to the back of the clip, near the opening of the clothes pin, using Advanced Strength Glue Dots.
Add decorative embellishments to the front of the clip with Glue Dots Advance Strength adhesive.
These locker clips are a fun way to stay organized too. Hang up your school calendar, project timelines, or schedules for practices or meetings using one of these and you'll be reminded at every opening what you have planned.
~Dawn

Dawn Mercedes Barrett is a designer who enjoys juggling a number of activities. Whether it is creating a card or object for home decor, whipping up a batch of fresh cookies for kids that drift through the house, or learning to enjoy the rigors of strengthening her body through running, she is your go-to crafter for help, ideas, and encouragement. Who says you (or your style) have to grow old and moldy? Dawn's up beat style and silly comments will keep you smiling and chuckling.