Who else out there is suffering from a small case of "planner-itis?!" Not sure? Well, if your like me and you have more than one planner, and you love making custom spreads, then yup - you caught the planner-itis bug!
I am a busy creative person and I think planners are the perfect way to be a little artistic while being productive and keeping yourself on track! I really like to be hands-on when designing my layouts and Marvy Markers are perfect for the types of layouts that I do.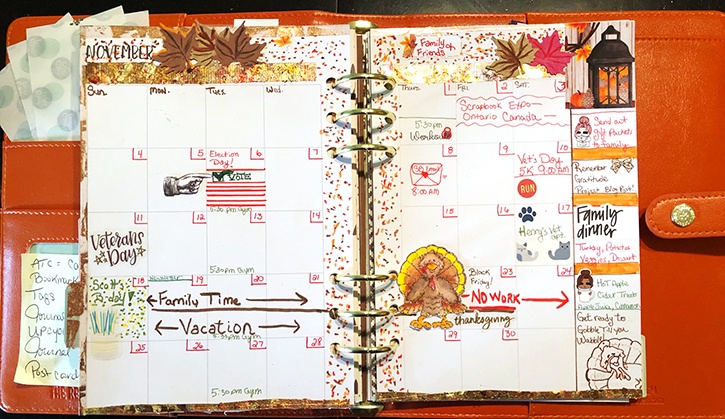 Made By: Jen Libert
Time: 1 hour
Level: Quick and Easy
Size: A5 Planner-pages -
Here's what you need:
Blank planner pages (whatever size your planner is)

Marvy Markers Le Plume II

Planner pages (This one is in my A5 Carpe Diem planner)

Premium GlueTape or Glue Lines

Mini Glue Dots

Ultra Thin Glue Dots

Embossing ink pad

Embossing powder

Dark brown ink pad

Paper Cutter (you can use your scissors if you want)

Embellishments (stickers, punch outs, etc.)

Cosmic Shimmer Gilding Flakes

Water color pen

Water color paper

Turkey stamp (or whatever stamp you want to add to November!)

Heat gun
Here's what you do:
Start by creating the turkey first. Using an embossing ink pad (which you can tell mine has been very loved, but it still works!) and turkey stamp, emboss the image onto some watercolor paper. Then sprinkle on the embossing powder and use a heat gun to set it.
*Helpful Tip - I like using embossing powder when I do watercolor images because it tends to help hold the color in place - my little way of cheating.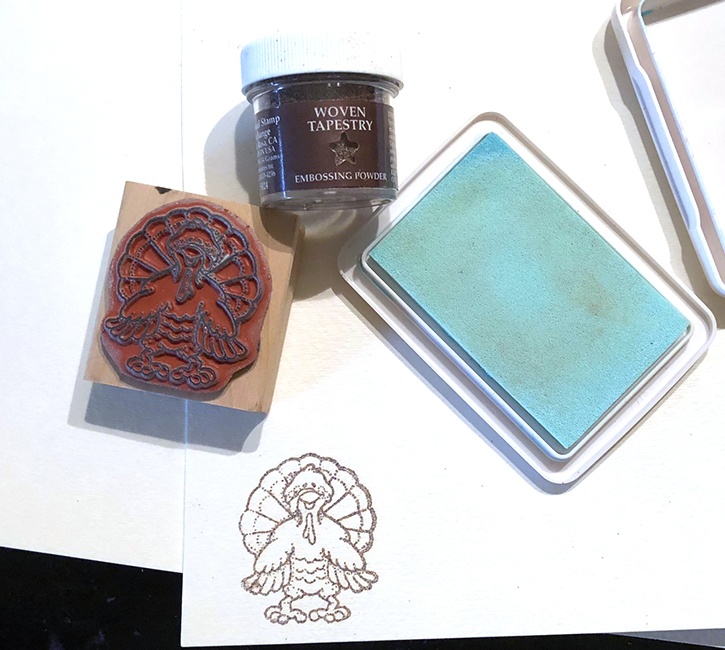 With the embossing set, color in the turkey using the Le Plume II markers. These are watercolor markers so you only need to color in a little around the edges, then take a watercolor pen and spread the color around to your liking.
The nice thing about these markers is that you don't have to use them as watercolor markers. For the turkeys legs, beak and gobbler, just use the brush end and filled everything in.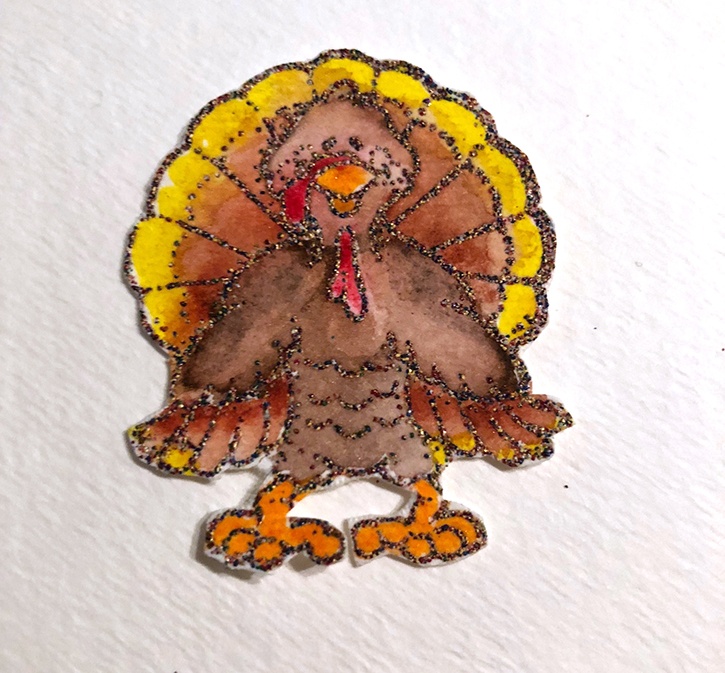 Use either your paper cutter or your scissors and cut out your stamped image. Set your new created turkey aside and pull out your planner spread. Using the fine point end of the marker, fill in all of the dates.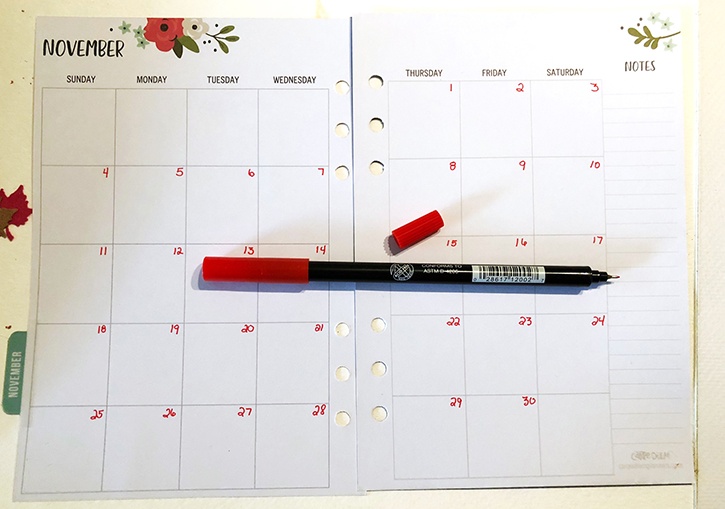 Using the Premium Permanent GlueTape (or Glue Lines) lay down a line of adhesive at the top of the calendar days. Then rub some cosmic shimmer gilding flakes into the newly laid adhesive.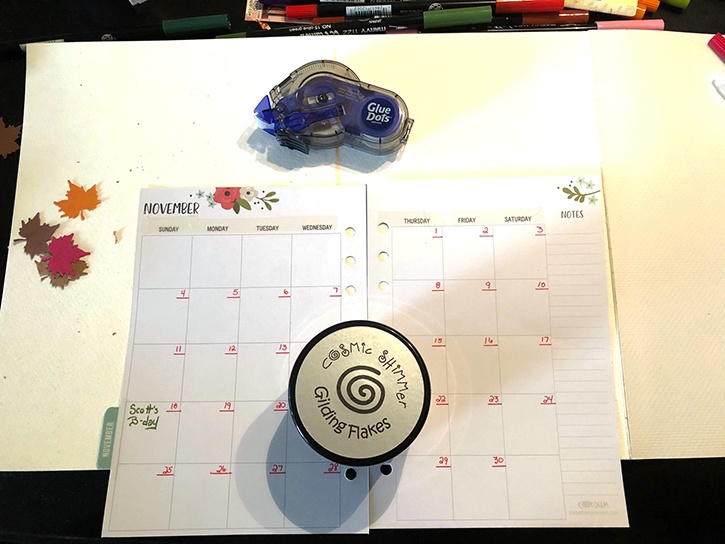 This will make a nice shimmery multi colored fall border.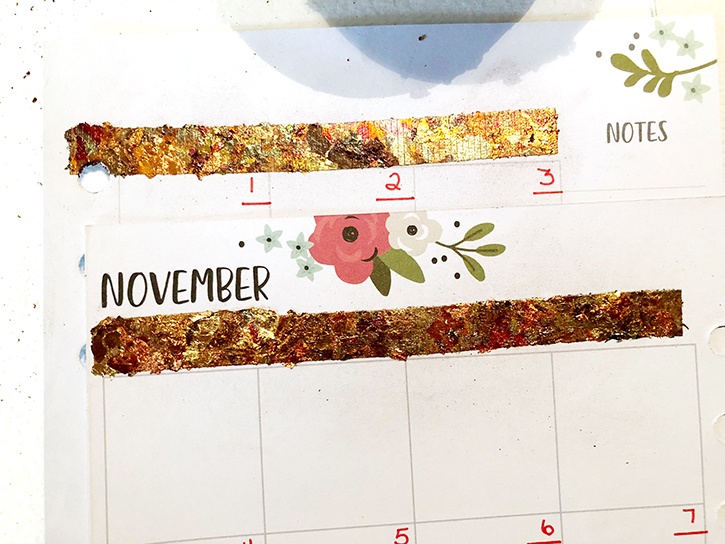 Stamp the turkey at an angle in the bottom corner, using a brown ink pad and draw over it with the fine point of the brown marker. Add your Thanksgiving quote such as "Get ready to Gobble Till You Wobble." Then using the GlueTape (or Glue Lines) again, lay down more adhesive at the bottom of the calendar page and add more of the gilded flakes.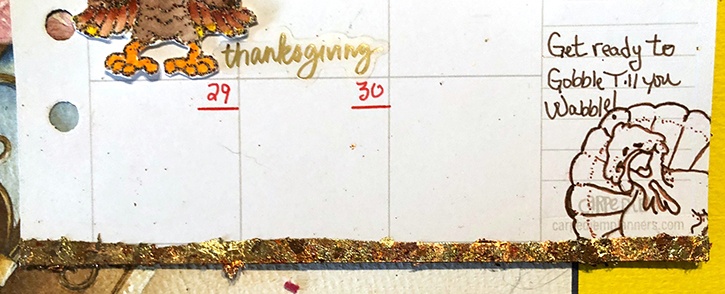 Now, trim out your dry watercolor turkey and attach it to November 22 and place a Thanksgiving sticker next to it. (My turkey is big enough that it takes up the whole day of the 22nd so I had to add the Thanksgiving next to it.) You can also start to add some events into the calendar at this point if you would like.
Next add some washi tape around the borders of the two pages. You can use more GlueTape and add more Gilded Flakes if you would like, I just wanted something slightly different around the edges. I used a washi tape that had lots of copper and matched my layout.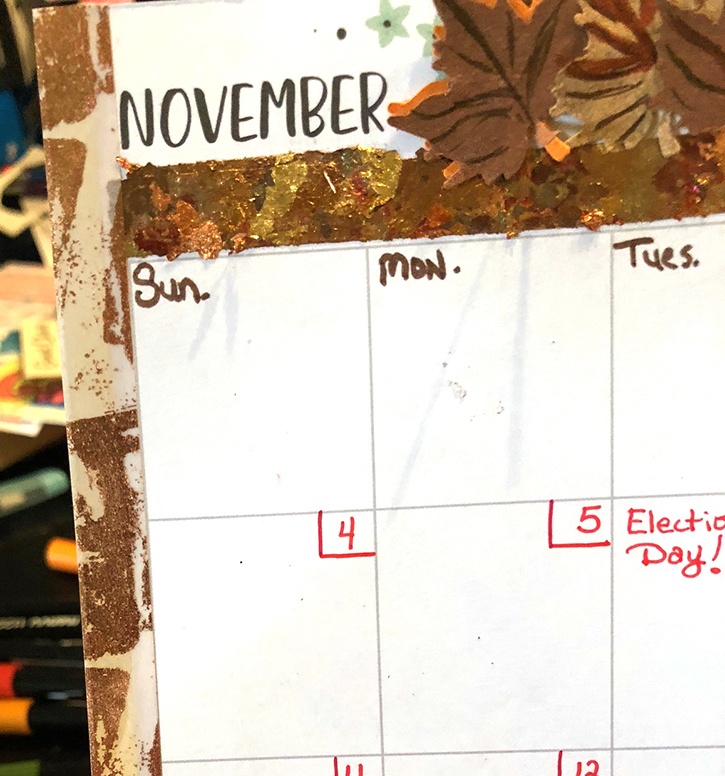 Add some ephemera and stickers t help fill in your calendar. On this particular spread I used punched paper leaves to cover up the flowers that were originally printed around the border of the month's spread. I then added some dimension to them using the Marvy Markers to add veins to the leaves and to add some "leafs" falling around the borders. The leaves are attached using Ultra Thin Dots. Add any smaller paper embellishments using the Mini Dots Dot N Go dispenser.
Using the Marvy Markers and some of your favorite ephemera, add special highlights for the month in the memo section on the right-hand-side of the layout. The brush side is perfect for coloring in spacers and the fine point side is perfect for writing.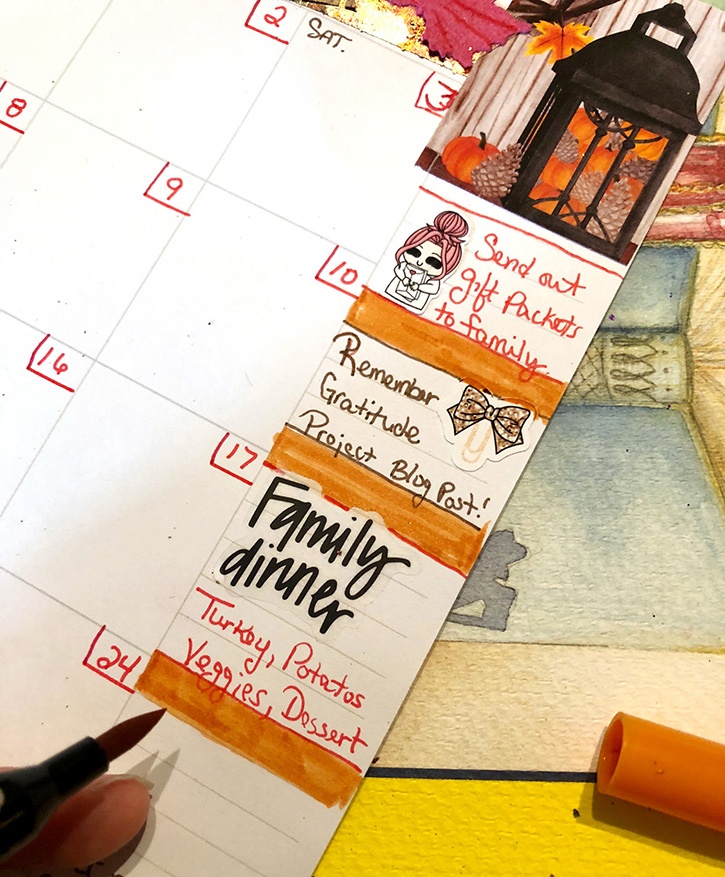 I usually like to do a lot of drawing and add things throughout the month as they come up. Using the Marvy Markers makes it really easy to draw, color or write either directly on the page or to items that I want to add to my planner spread.
*Helpful Tip - If you want to do a watercolor effect directly onto the planner pages, be sure to test it out first. The paper may not be well suited to water. I tried doing watercolor on one set of pages from a previous month's spread to test it and it didn't work very well.
Be sure to decorate your planner in a way that works best for you so that you keep that planner-itis at bay! Get creative and express your artistic flair and enjoy!
~Jen Libert