Brighten your front door during the warm sunny months with a succulent wreath made with a paper stack from DCWV and Glue Dots. Creative Maker Kim shows you how.
Time: 20 minutes, not including cutting time.
Level: Beginner
Size: 8-inches round x 2.5 inches
Here's what you need:
DCWV DIY Project Stack Paper Plants
8-inch grapevine wreath
Scissors
Green Sharpie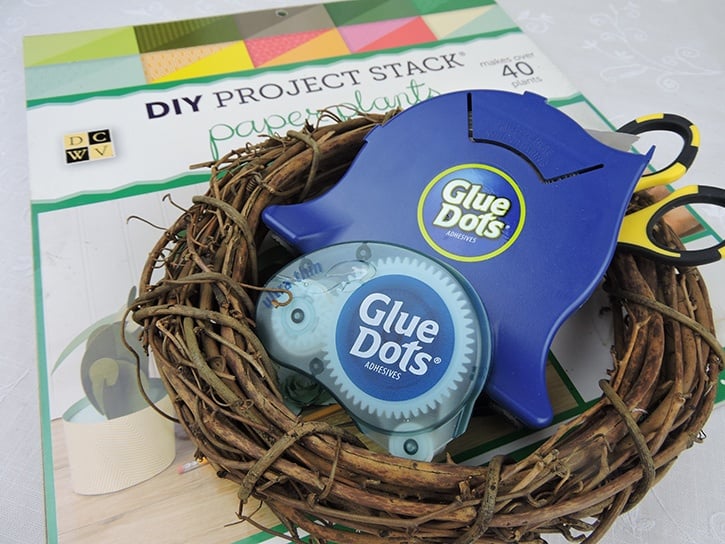 Here's what you do:
To make the middle succulent, cut two of each of the four smallest succulent 1 templates from the paper pack using the green with light green dots paper.
Color the edge of the paper on the four largest pieces.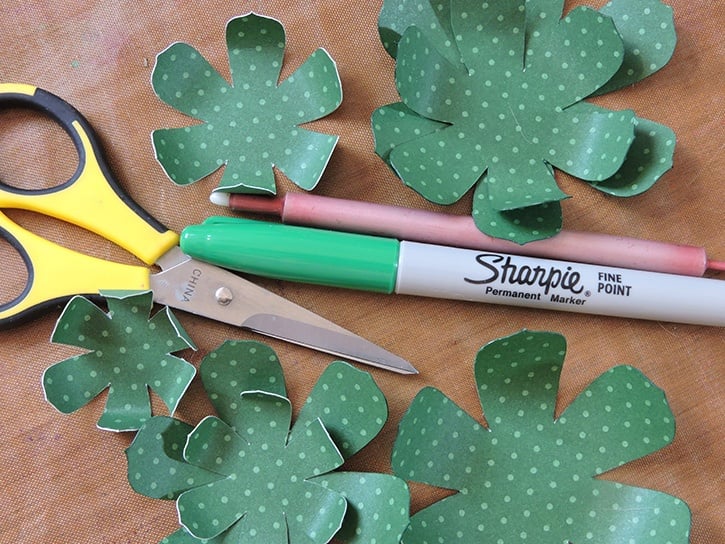 Curl the edges of each with dowl or other round item. One should be curled further toward the center so that they will fit together.
Starting with the largest succulent adhere them together (offset) largest to smallest with Pop Up Dots.
To make the center, fold a 1/4" x 12" strip back and forth until you can easily tear it off. This is about 5-10 back and forths depending on how crisp the fold is. You can use the scissors to press the fold to make it crisper.
Tightly roll this around a dowel or other round something. Remove from the tool and allow the circle to expand. Using Ultra-Thin Dots adhere the end of the strip to the circle so that it will retain the shape.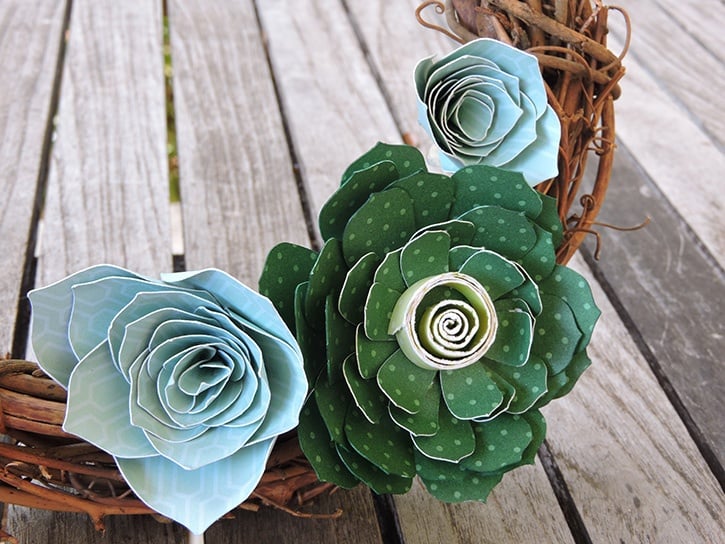 Adhere in the center of the succulent with Ultra-Thin Dots. Remember to have the folded edge up, this creates another small detail.
To make the smaller succulents, cut three each of the nine smallest Succulent 2 templates from the paper pack using the light blue paper.
Tip: Curl the top edges of the petals with a bamboo skewer.
Starting with the smallest petals, press them around each other using Ultra-Thin Dots. You may need to use two dots on some to cover the entire base of the petal. If the dots hang over the left and right sides it doesn't matter. Press into the shape you want.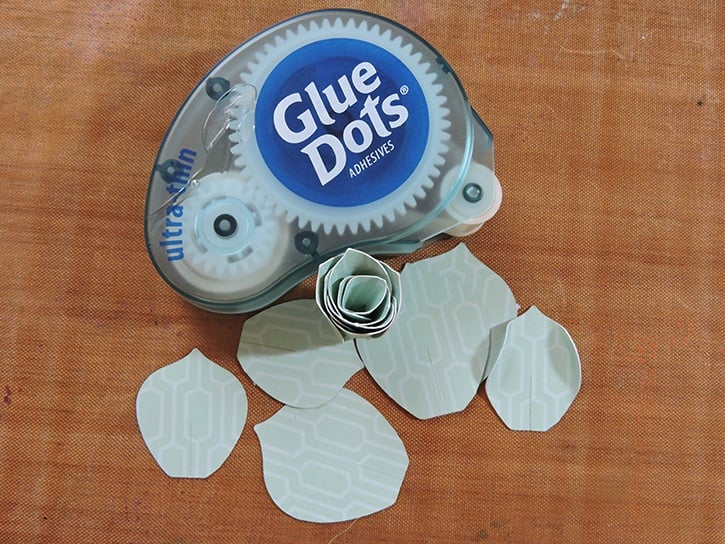 To make the smaller succulent, repeat the above directions using only the smallest 7 petals.
Use Pop Up Glue Dots to arrange the succulents around the wreath.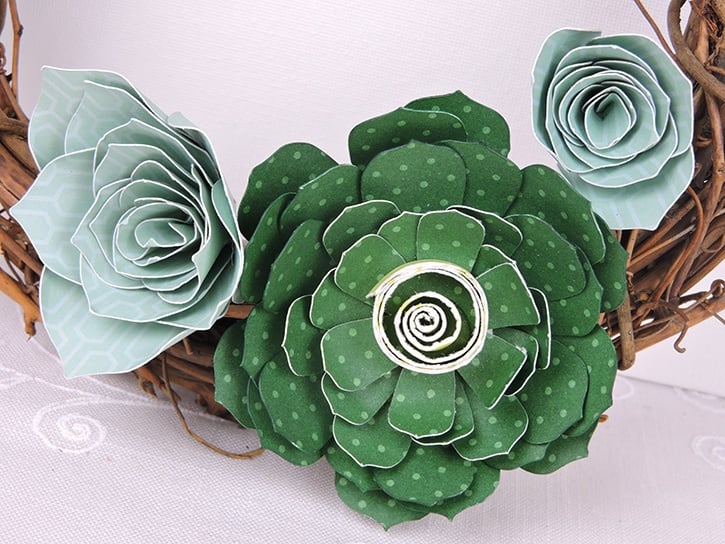 ~Kim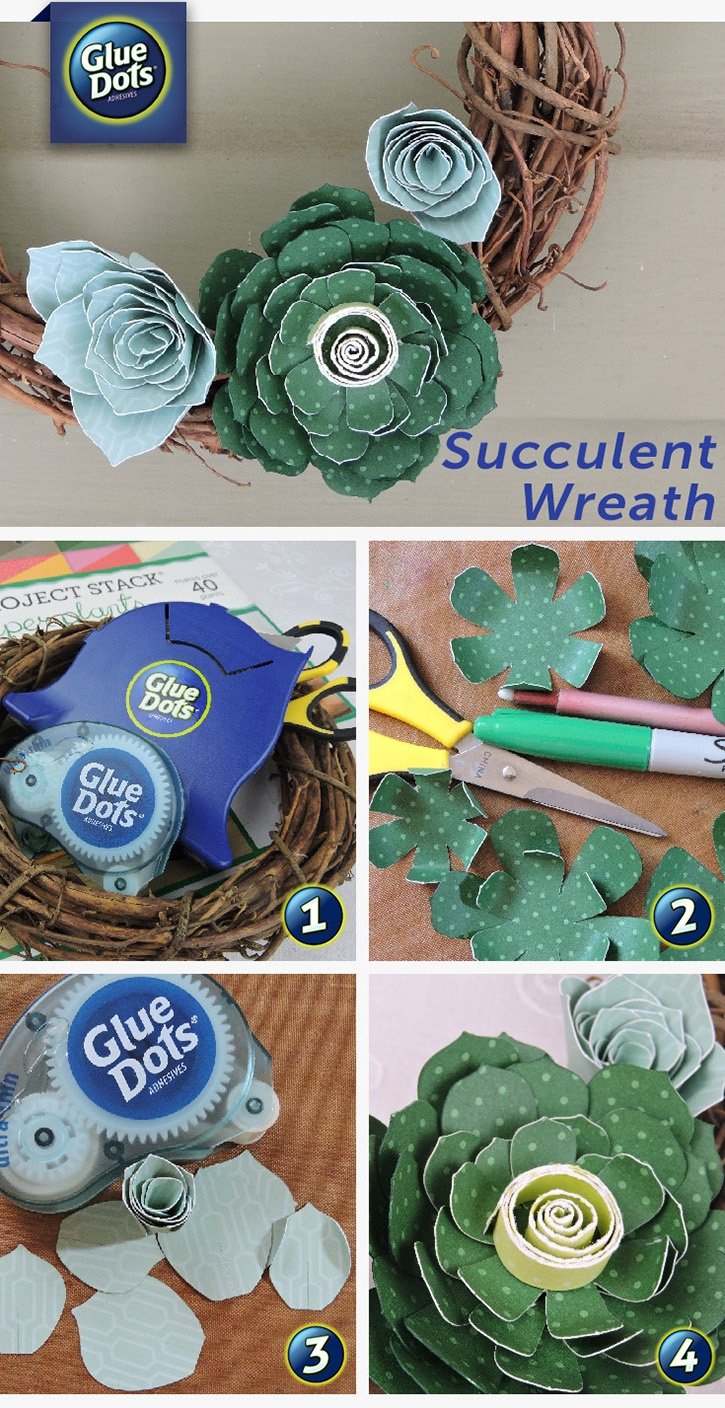 I live with my partner (Edward), 2 indoor cats, 2 outdoor feral cats I am luring, and a dog in the far southwest corner of Georgia. I have been creating for my whole life, from quilts, to locker hooking, to interior decorating, to paper crafting! The list was just growing and growing. I decided that I need to focus on something and choose paper crafting…which has now grown into card making, quilling, mixed media, artist trading cards, altered art, and swapping! lol.