Push away winter weather and add festivity into your home this spring with a mixed media canvas. This sweet home décor project can be made with the help of younger kids as well! Enjoy a breath of spring and happiness when you see it hanging up in your house. It is quick to make so you might want to make one for a friend too!
Made by: Dawn Mercedes Barrett
Time: 30 minutes plus drying time
Level: Beginner
Size: 8 x 10 inches
Here's what you need:
DCWV Burlap Pad
DCWV Premium Pad Colored Burlap
DCWV Birds & Butterflies Pad
Americana Acrylic Paint: Poodleskirt Pink
8x10 inch blank canvas
1.5 inch pink pompom
Fiskars Paper Trimmer
EK Success Cutter Bee Precision Scissors
Printer
Ruler
Sponge brush
Pencils/eraser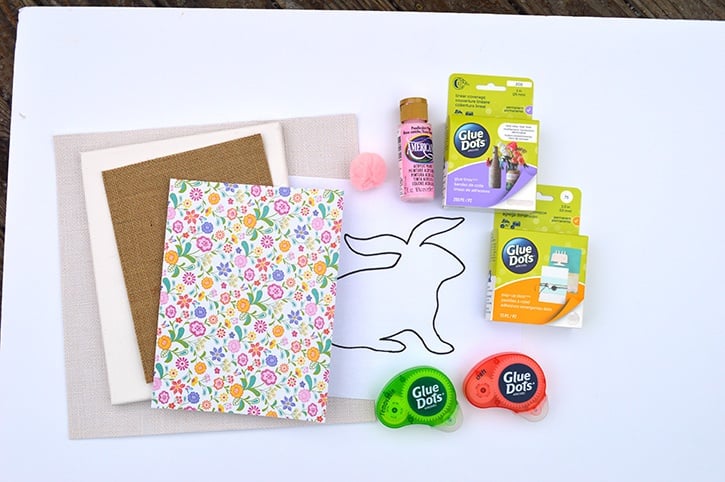 Here's what you do:
Use a sponge brush to paint the canvas pink with Americana acrylic paint. Allow it to dry and then add a second coat.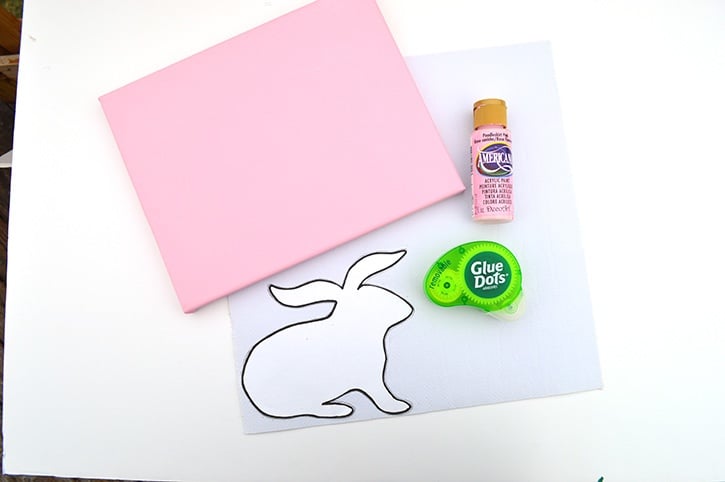 While the canvas is drying, print off the Printable Bunny Silhouette. Use scissors to cut out the silhouette. Use Removable Glue Dots to temporarily secure the pattern to the back side of white burlap paper from DCWV. (Tip: Consider which way you want the bunny to face. Plan accordingly when you lay it out.) Trace the shape using a pencil and then use precision scissors to cut out the bunny shape.
Use a paper trimmer to cut a piece of decorative paper to 8.75 x 6.75 inch. (Tip: Choose a pattern with glitter for more contrast to the burlap.) Cut down a piece of brown burlap paper to 8.25 x 6.25 inch. (Tip: You make want to rough up the edge of the burlap paper with your finger nail to give added texture and interest to your mixed media canvas.)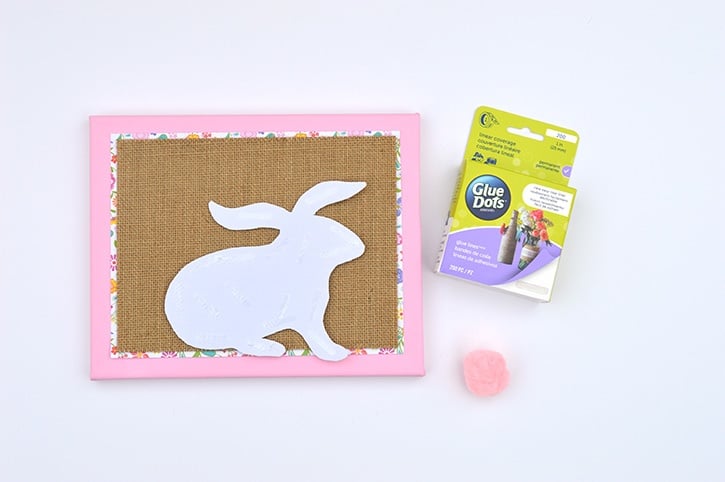 Use Glue Lines to secure the decorative paper to the center of the painted canvas. Center the burlap paper on top and secure it with Craft Glue Dots. Then, add the white burlap canvas bunny as the next layer. Use Pop Up ® Dots to secure the pink pompom to the bunny tail.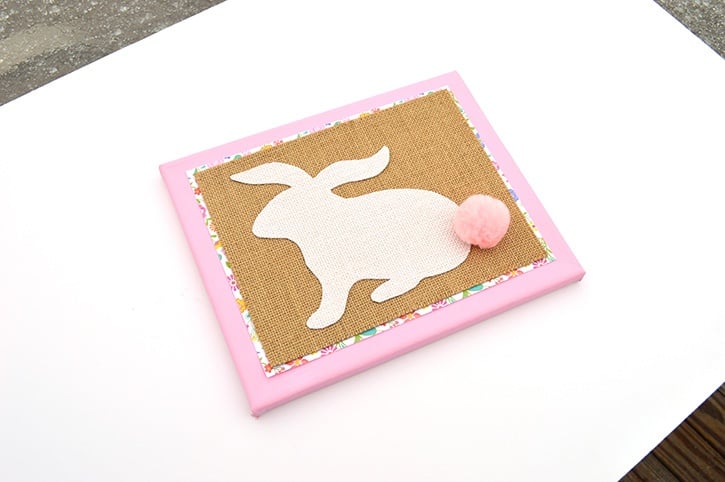 By adding layers of texture to a blank canvas, you can create an interesting mixed media home décor piece that will add a bit of spring to your home. You may want to add a pastel bow made from ribbon to the corner of the canvas to bring in more color! This would also make a darling art piece for a baby nursery. Choose colors to match other décor in the room.
Don't forget to Pin it for later! :-)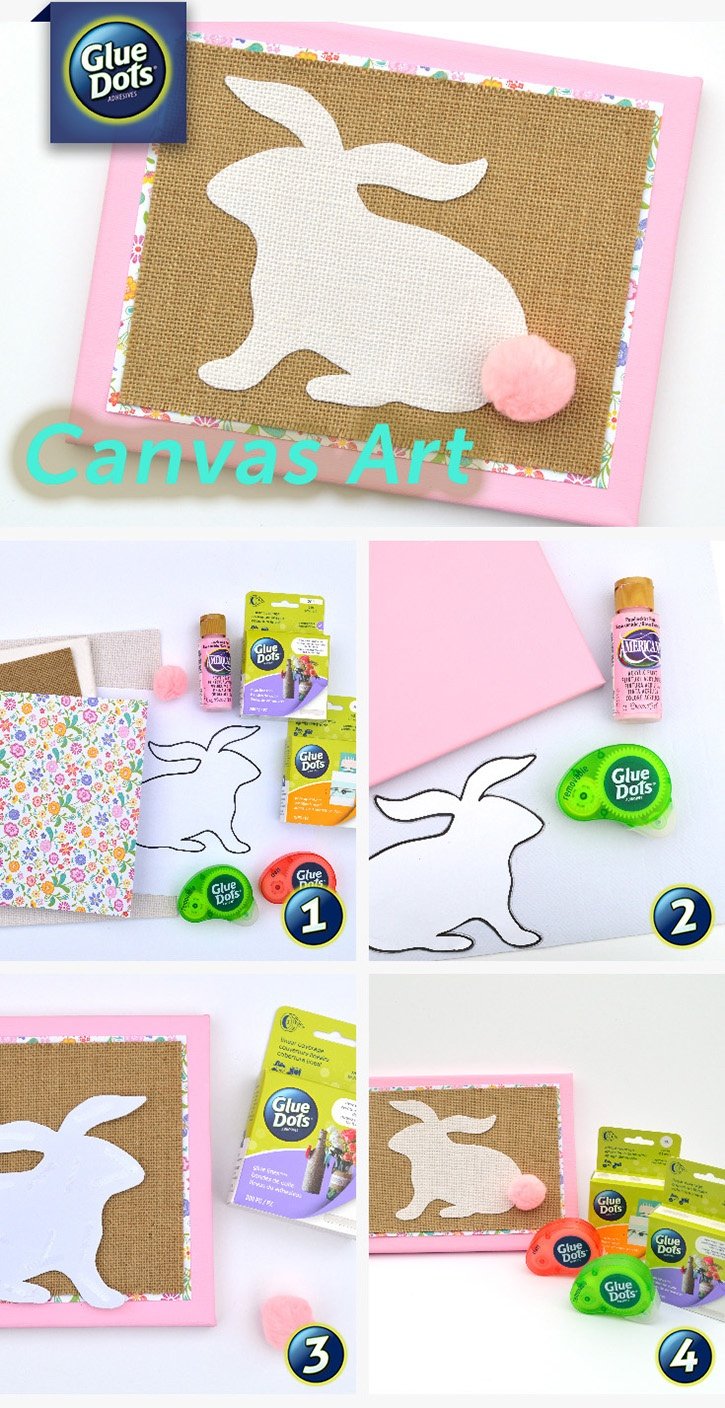 Dawn Mercedes Barrett is a designer who enjoys juggling a number of activities. Whether it is creating a card or object for home decor, whipping up a batch of fresh cookies for kids that drift through the house, or learning to enjoy the rigors of strengthening her body through running, she is your go-to crafter for help, ideas, and encouragement. Who says you (or your style) have to grow old and moldy? Dawn's up beat style and silly comments will keep you smiling and chuckling.