By the time Easter rolls around, I'm ready for bright colors and spring silhouettes. These fun bunny bags utilize bright spring colors and bunny silhouettes to help get everyone excited for spring.
MADE BY: SAMANTHA TAYLOR | TIME: 20 MINUTES
LEVEL: INTERMEDIATE | SIZE: 5"x7", 6 ½"x9 ½", and 8"x12"
---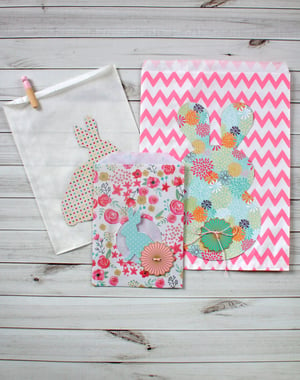 Supplies:
Glassine Bags (also called patterned bags) in any size

Card Stock or Patterned Paper

A way to cut bunny silhouettes (manual Die, Electronic Die Cutting Machine, or a template to trace - I used a Silhouette Cameo)




Buttons, Twine, Flowers, or Other Embellishments



Optional: Removable

Glue Dots

®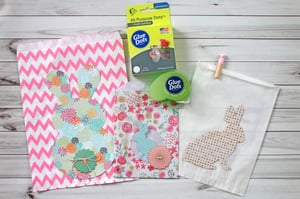 Directions:
Use your preferred method to cut a bunny silhouette from patterned paper or card stock.


Use All Purpose Glue Dots® to attach the bunny to the bag.


Use All Purpose Glue Dots® to attach embellishments to the bag.


Optional: Use Removable Glue Dots® to seal the bag closed.


My name is Samantha Taylor and I have a passion for combining crafting and creativity to beautify life. I live in a small town in rural Iowa with my husband and 2 boys (all 3 of whom you'll see featured in my projects). I'm a paper crafting fanatic who also loves photography. I enjoy making lay outs, cards, mini albums and home decor items, party decorations, and crafting with my kids. My favorite thing about crafting is getting to connect with so many people all over the world who also love creating pretty things and preserving memories. You can find more from me at www.taylorstamped.blogspot.com. I am so excited to share with you my love for the many uses of Glue Dots®!