Want to catch a Leprechaun for St. Patrick's Day? Designer Dawn shows you how to make a Leprechaun Trap with Glue Dots and Oly*Fun fabric.
If you have wee ones who are on the prowl for a Leprechaun, you will need to take some time this year to make a Leprechaun trap!
Here's what you need:
Oly*Fun Multi-Purpose Craft Material (Cherry Pop, Orange Crust, Lemon Drop, Kiwi, Sky Blue, Jelly)
Empty oatmeal container with the label carefully removed
Unused coffee filters
Glitter paper
Seam binding ribbon, cording, rhinestones, buttons, and other embellishments as needed
4 leaf clover die cuts
Fiskars Paper Cutter
Die cut machine
Scissors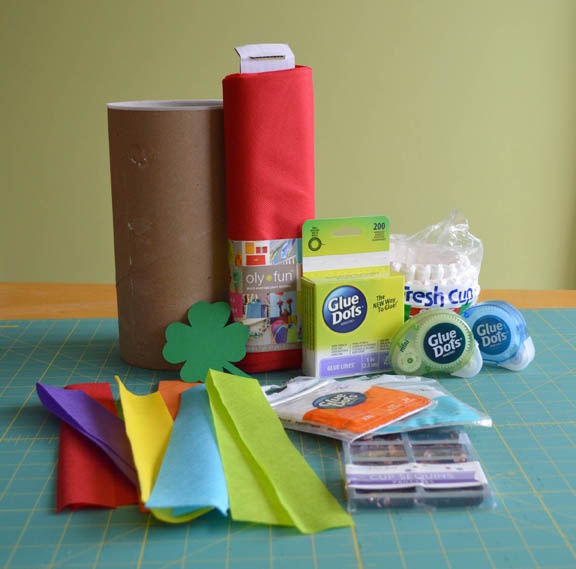 Here's what you do:
Cut 1.75 inch strips of Oly*Fun on the Fiskars Paper Cutter from each of the colors of the rainbow. The length will be 20 inches which is the length of the packaged material.
Use a 1" Glue Line to secure the end. Wrap it around the container and secure the other end with another 1" Glue Line. Trim off the excess with a pair of scissors. When adding the next color, slightly over lap the previous color. Continue until you have covered the entire canister.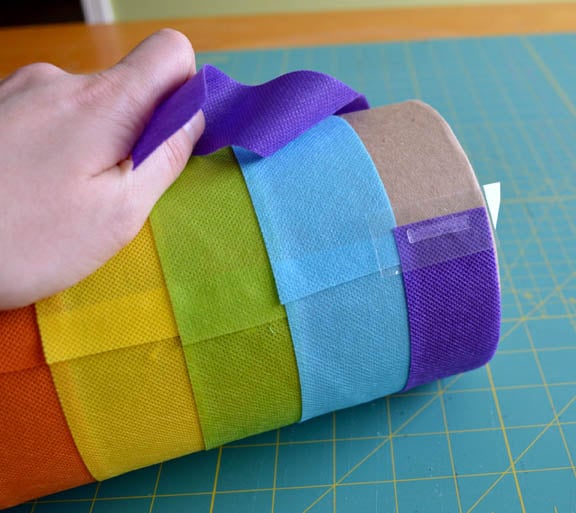 On the bottom of the container, add 1" Glue Lines around the inside of the container. Fold the unused coffee filters into pie shaped fourths and push into the adhesive lines. Continue this until you have filled up the bottom half to create the cloud.
Using your electronic cutter, cut out several sizes of clovers to create confetti. Cut out a 3 inch clover to use as a template for the glitter card stock.
Use Permanent Glue Dots to secure the glitter clover to the trap.
Add a seam binding bow and rhinestone button or other embellishments with Mini Glue Dots.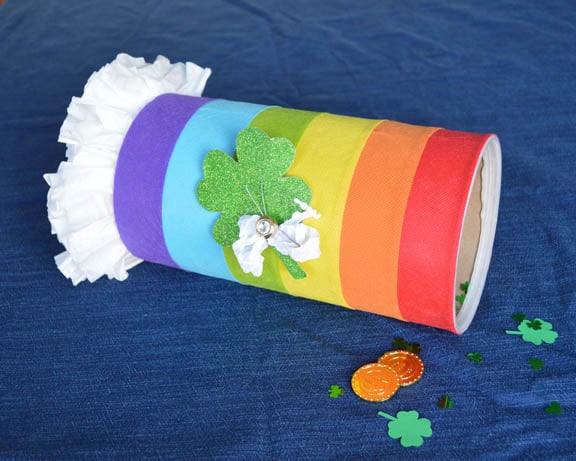 To set the trap, lay the decorated container in a place where you believe a leprechaun might walk by. Make it enticing by adding the smaller clovers and gold money around the opening of the trap
Good luck catching that Leprechaun!

Dawn Mercedes Barrett is a designer who enjoys juggling a number of activities. Whether it is creating a card or object for home decor, whipping up a batch of fresh cookies for kids that drift through the house, or learning to enjoy the rigors of strengthening her body through running, she is your go-to crafter for help, ideas, and encouragement. Who says you (or your style) have to grow old and moldy? Dawn's up beat style and silly comments will keep you smiling and chuckling.