This set of Halloween tricksters look great as a tabletop or mantle décor or they can be used as a preschool bowling game. These fun faces and googly eyes will add a bit of delight to your home or party!
Made by: Dawn Mercedes Barrett
Time: 3 hours plus drying time
Level: Advanced
Size: Each block is 3 x 7 inches (approx.)
Here's what you need
1" x 3" x 8' wood plank (Hardware Store)
Medium weight sand paper

DecoArt

Americana Paint: Jack-o-lantern Orange, Inch Worm, Snowy White, Lamp Black, Bahama Blue, Purple Pizzazz
Black card stock (Such as DCWV Jewel Toned Textured Cardstock Stack)
Googly eyes of various sizes
Decorative trim or ribbon to coordinate with your paint colors.
3 inch rubber ball
eClips by Sizzix or other electronic die cutting machine
SVG files of Halloween faces
Miter saw (or you can have them cut to size for free at your local hardware store)
Tape measure
Sponge brush
Paper plates and paper towels
Ruler
Scissors
Pencil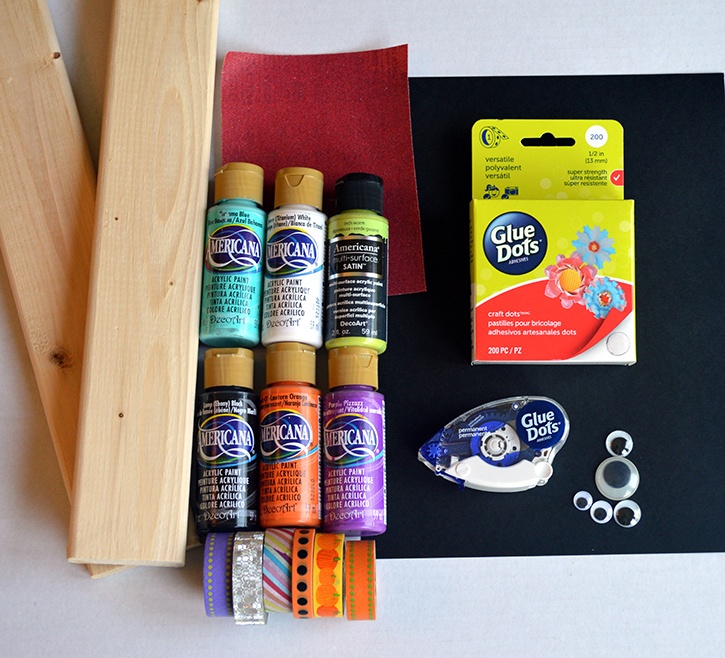 Here's what you do:
Use a tape measure to mark of 7 inches and use a ruler and pencil to mark your board. Use a miter to cut off a block. You can also have your wood cut to size for free at your local hardware store. Continue marking the board and making cuts until you have 6 blocks of uniform size. Sandpaper the edges and sides of the block.
Paint each block a different color using Americana acrylic paint and a sponge brush. Allow the block to dry before applying a 2nd coat. Be sure to rinse out your sponge brush between colors and coats.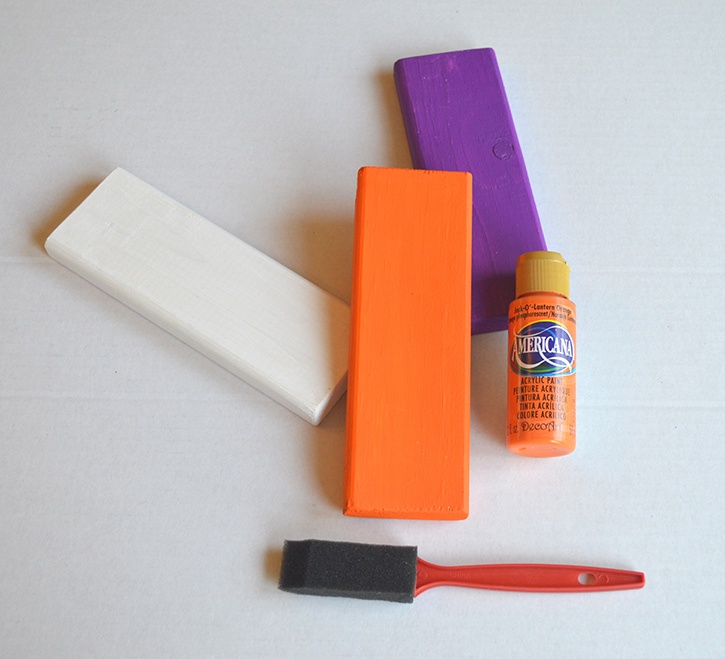 When each block has been painted on all sides and is dry, lightly sand the corners and edges to give each block a weathered, shabby chic look.
Tip: Use a very slightly dampened paper towel to wipe off excess dust from sanding. Allow it to air dry.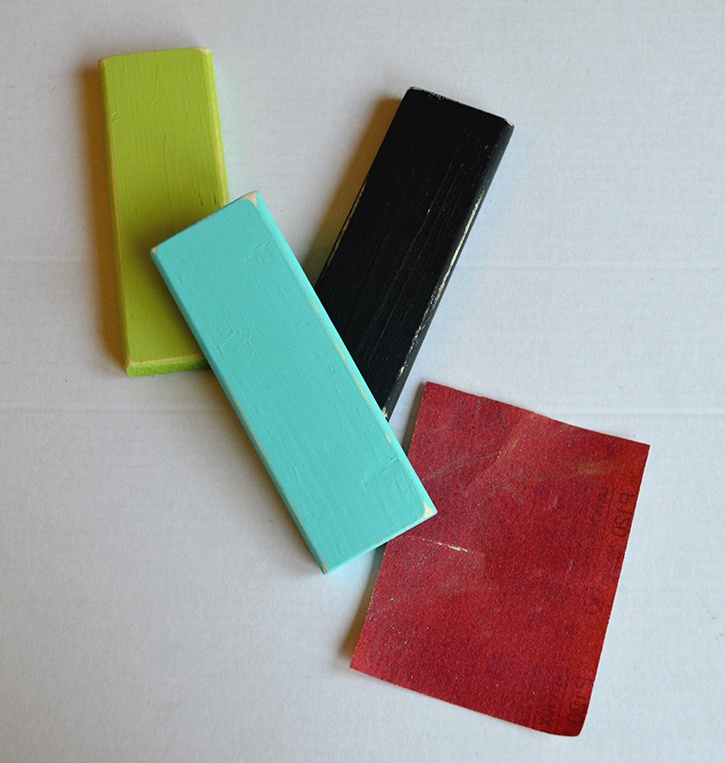 While the blocks are drying, use your computer and Sizzix eClips to cut svg files of Halloween faces out of black card stock.
Tip: Remember that each block is less than 3 inches wide and plan the size of each facial feature accordingly.
On each block, layout the faces along with googly eyes.
Tip: Lay the card stock silhouette onto a piece of scrap paper.
Apply the card stock to the board with Permanent GlueTape. This will allow you to get the small edges and corners of your black shape and allow for a better adhesion to the black.
Use Craft Glue Dots to apply googly eyes as desired.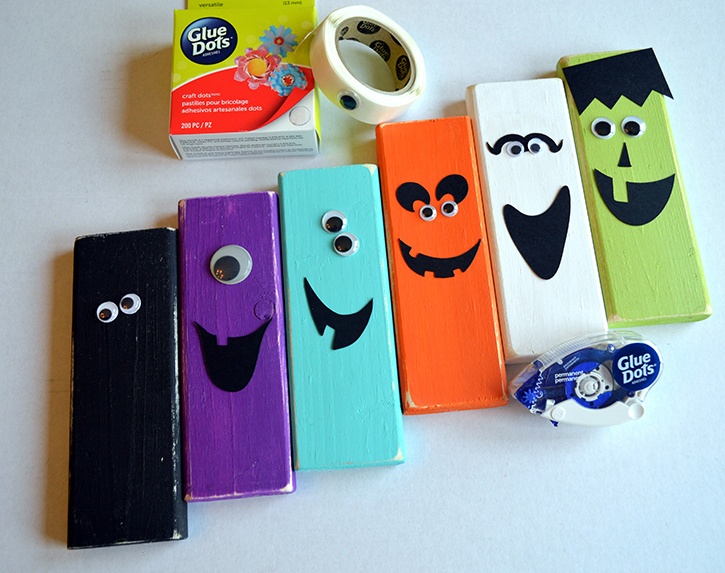 Embellish blocks with decorative trim or ribbon. Use Craft Glue Dots to secure the ends of the trim.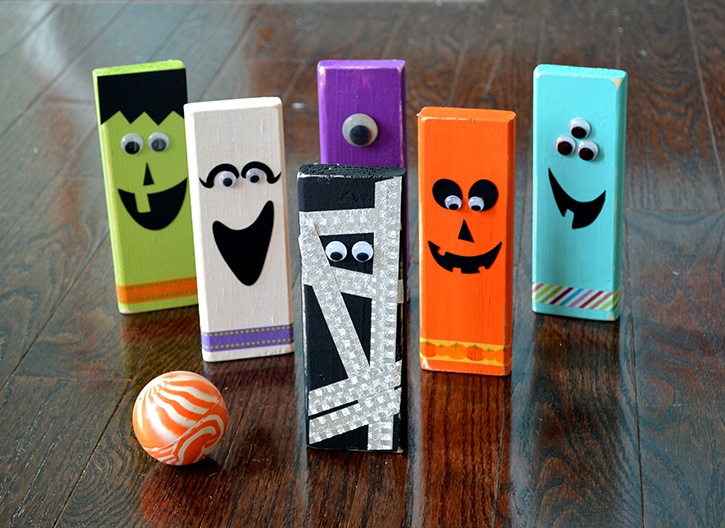 To play the bowling game with young children, set up the six pins in a bowling formation. Have the child roll the 3 inch rubber ball to knock down the blocks. Setting up can be a fun activity and help preschoolers with coordination skills.
The weathered finish of these blocks mean that bumps and scratches from the game will give added character to each of the Halloween faces.
~Dawn

Dawn Mercedes Barrett is a designer who enjoys juggling a number of activities. Whether it is creating a card or object for home decor, whipping up a batch of fresh cookies for kids that drift through the house, or learning to enjoy the rigors of strengthening her body through running, she is your go-to crafter for help, ideas, and encouragement. Who says you (or your style) have to grow old and moldy? Dawn's up beat style and silly comments will keep you smiling and chuckling.