Using these fun charms as cute decoration elements will make your Halloween party table a big hit! Use charms to mark shot glasses for guests and create the perfect party favor to take home. Are you ready to eat, drink and be scary? Absolutely!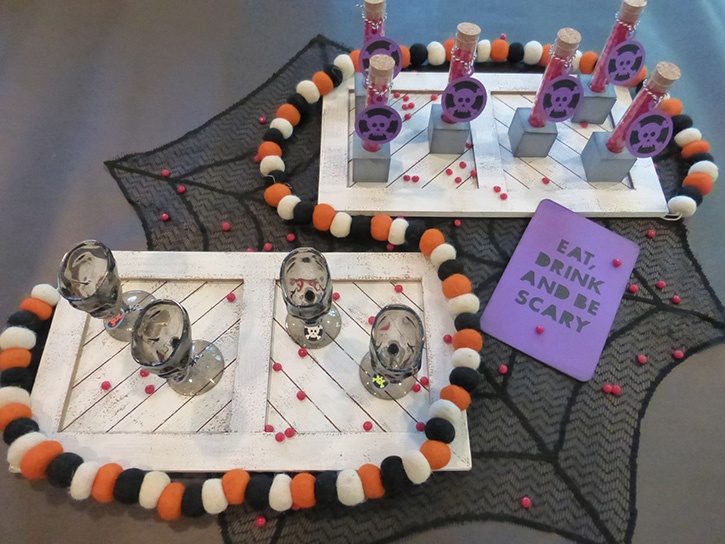 Made by: Amanda Tibbitts
Time: 2.5 Hours
Level: Moderate handiness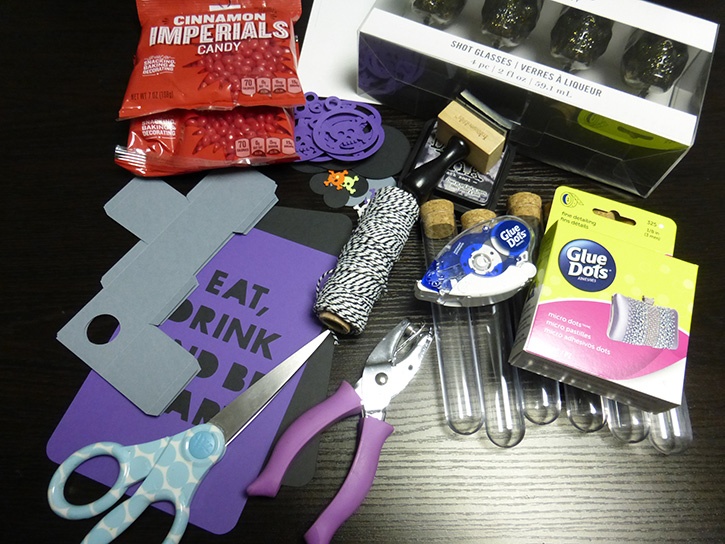 Here's what you need:
6 die cut favor boxes with a circle window

6 die cut tags

One 5" x 7" die cut saying (I chose "Eat, Drink and Be Scary.")

4 small die cut circles

4 small die cut skulls in 4 different colors

Cinnamon candies

Scratch paper

Black and white twine

Scissors

Small hole punch
Here's what you do:
Tip: Before beginning these steps, wash your favor tubes and shot glasses with warm soapy water and dry them all the way.
Fold your die cut favor boxes along each score line. Use Micro Dots along the flaps to seal the box.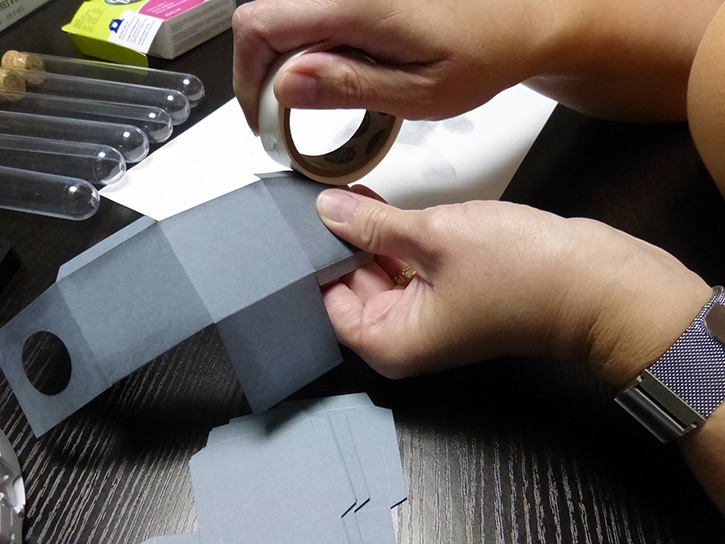 Using your ink blending tool run the Distress Ink across all the edges to give them a little bit more dimension.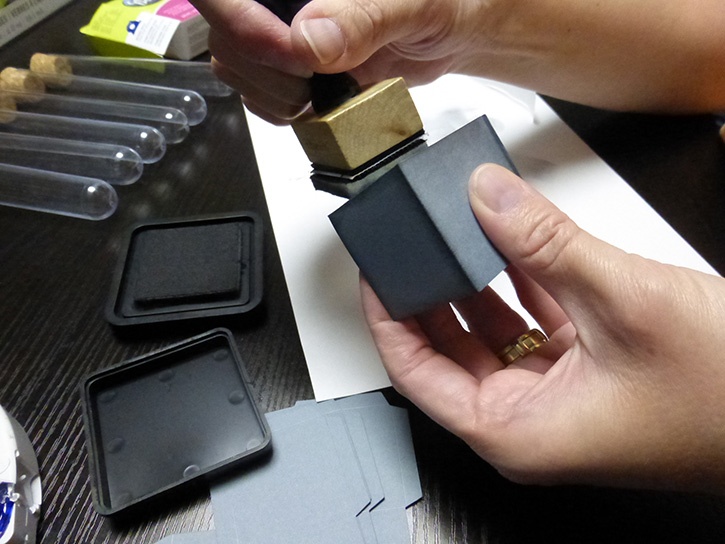 Once your boxes are together, use Micro Dots to put the die cut tags together. I used a skull and crossbones cutouts and placed them on a black background.
Now, place one of the tubes into the hole of your box and it should stand up!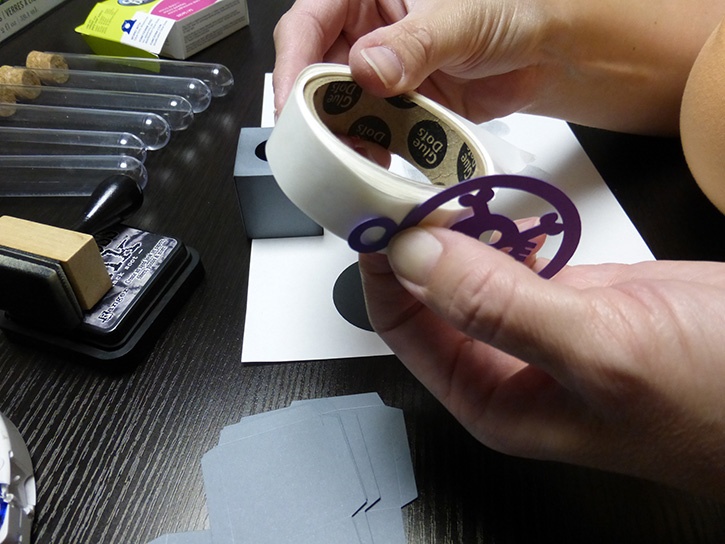 Fill the tube with cinnamon candies and close the top with the cork stopper. Follow these steps for the rest of the tags and tubes.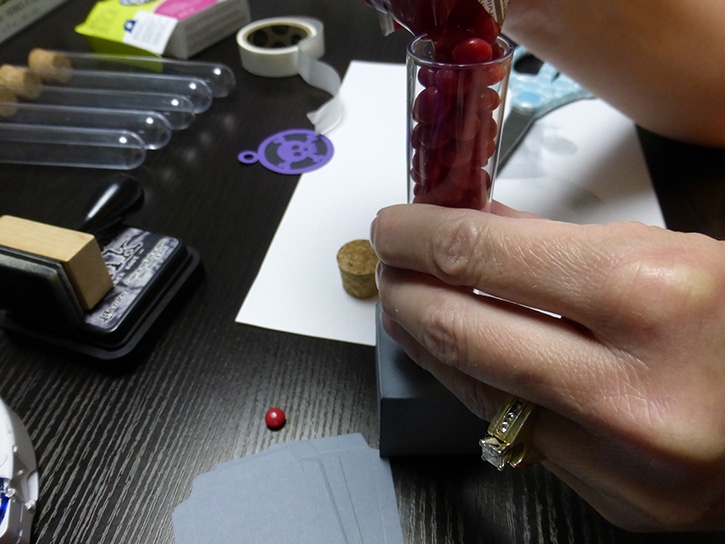 With the scissors and the twine attach your tags to the tubes and cut off any excess.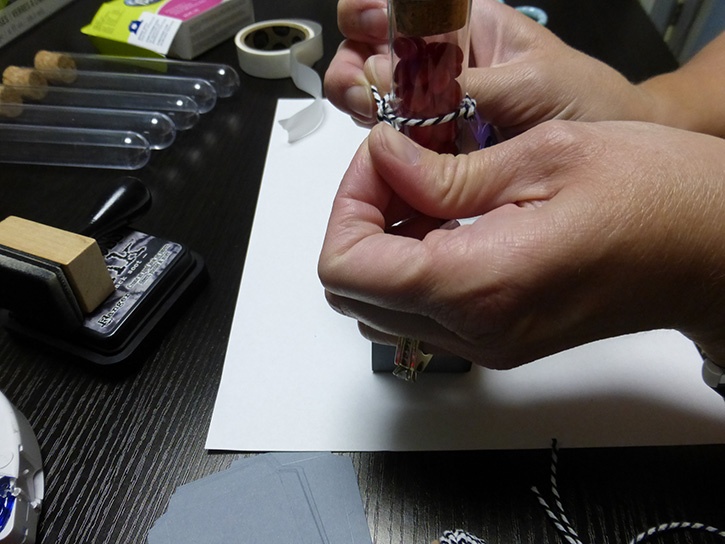 How cute, right?!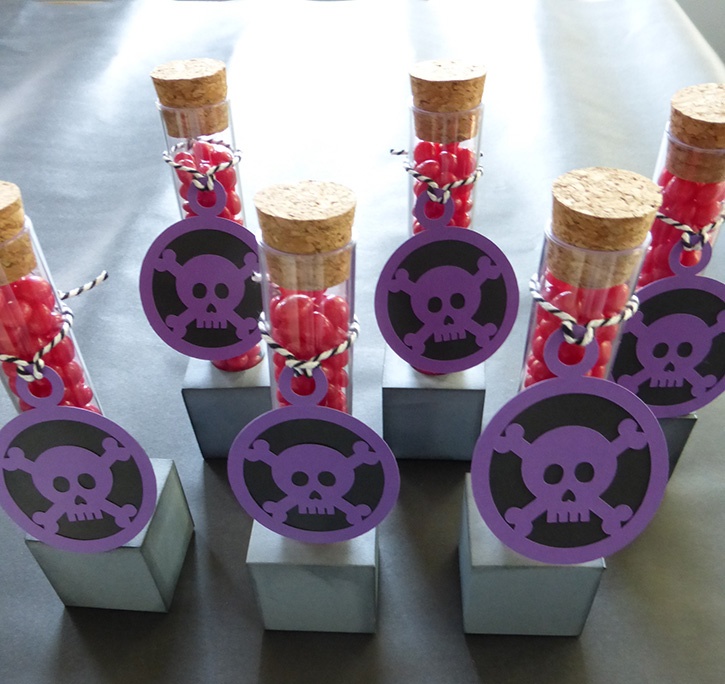 Now it's time to make the table sign - "Eat, Drink and Be Scary."
With the distress ink and the blending tool, run some of the ink all over the "Eat Drink and be Scary" die cut.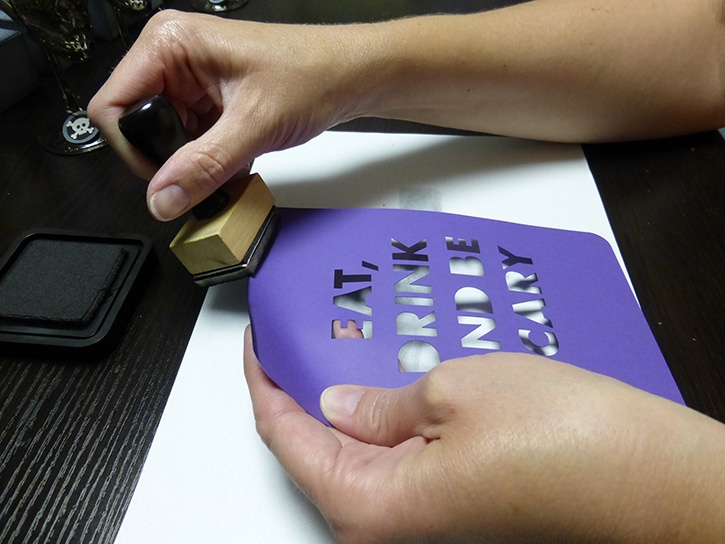 Glue the sign to some black card stock using your permanent GlueTape. Trim any excess black card stock from the sign.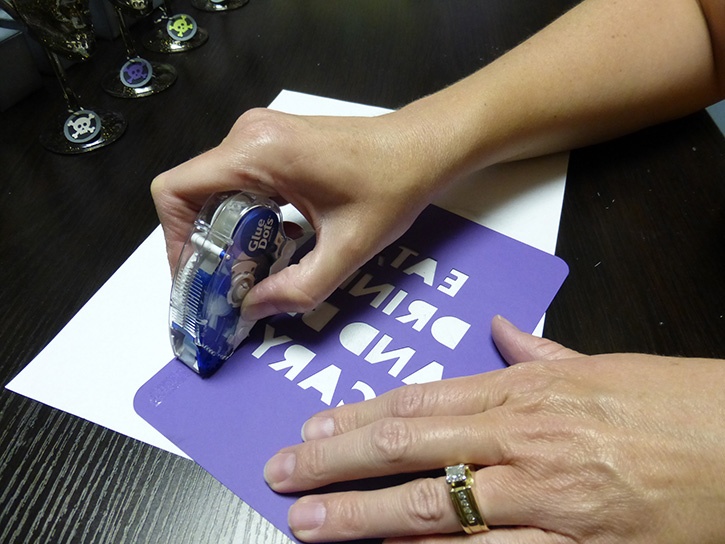 With more Micro Dots, glue different colored small skulls onto die cut circles. These dots are strong you may only need three total! Tip- I used two different sized circles and glued those together before I added my skulls, but you could just do one if you wanted too.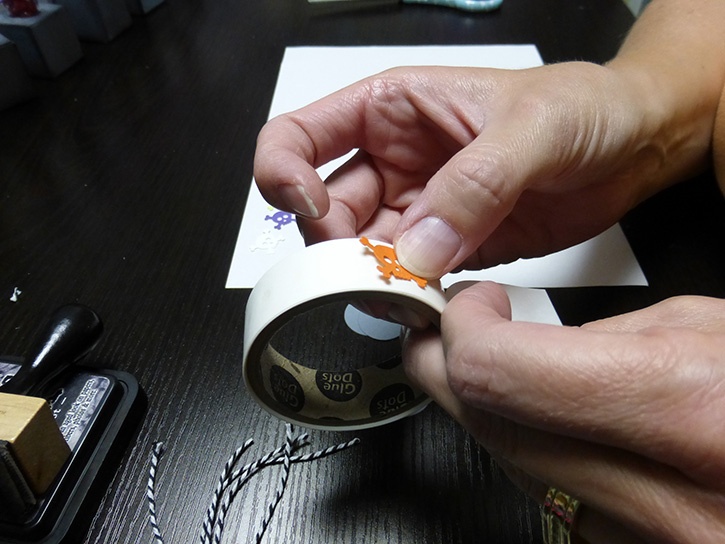 With the small hole punch make a hole in each small circle skull tag.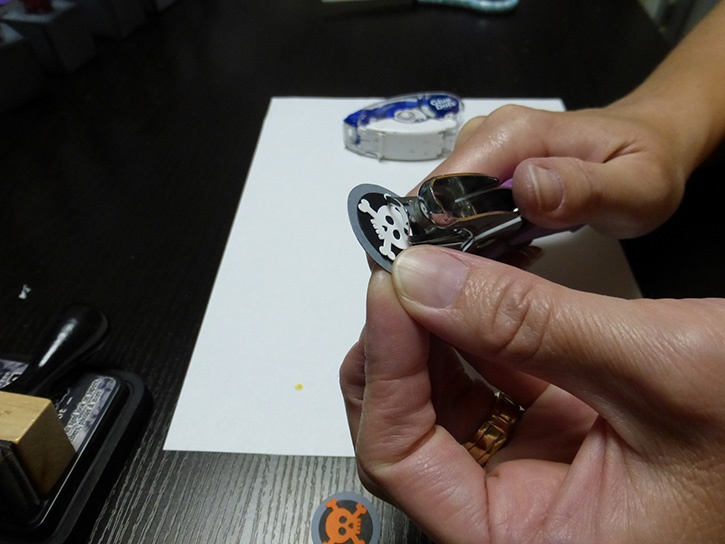 Using a small piece of twine, tie each tag around the stem of each of the 4 shot glasses. Because each skull is a different color, these charms become drink markers!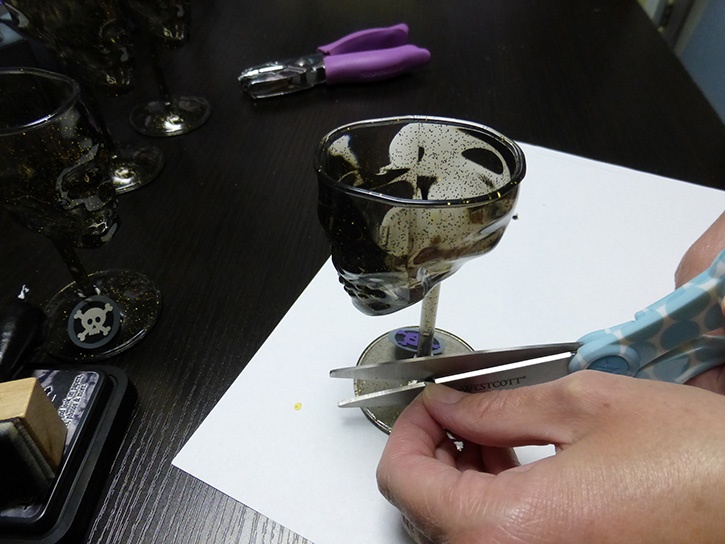 These die cut party pieces come together quickly, leaving you with plenty of time to get your ghoul on! Happy Halloween!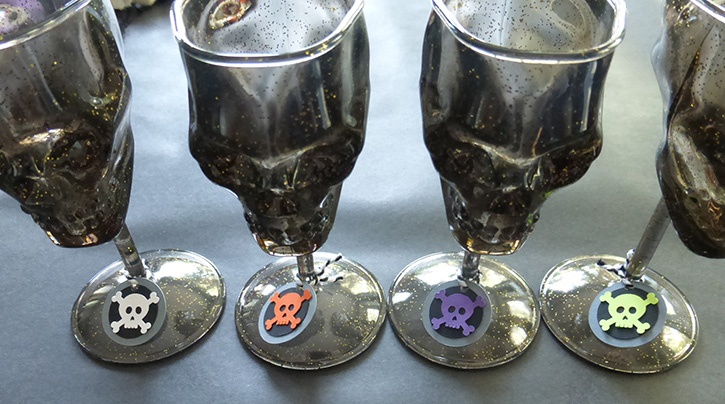 ~ Amanda

I began crafting in 1996 and simply fell in love with making my own cards. Long live snail mail! Crafting isn't just a hobby for me, but a way of life… Teacher gifts, posters, scrapbooks, wood crafts? Yes, please! I have been married to my cute husband for 16 years and he definitely inspires me to try new things and enjoying the little things. As a stay home Mom, my time is spent raising my two girls, and raising the bar for my gift giving!