We are very excited to introduce you to Isabelle LaRue, the creator, producer and host of "Engineer Your Space" (EYS), an award winning DIY home design show on YouTube. This month, Isabelle will show you how you can use Glue Dots' new hardware adhesives around your home or apartment, beginning with a simple LED light installation.
More adhesive tips and DIY projects are available at the bottom of the post. Get inspired!
I'm very lucky to have three closets in my current apartment so I was able to dedicate one entirely to all my tools and materials.
This was most definitely a wonderful upgrade from the closet situation in my tiny NYC studio! But the one thing that was missing in the closet was some lighting. After a quick search online, I found the perfect solution: LED battery-operated lights (affiliate link)!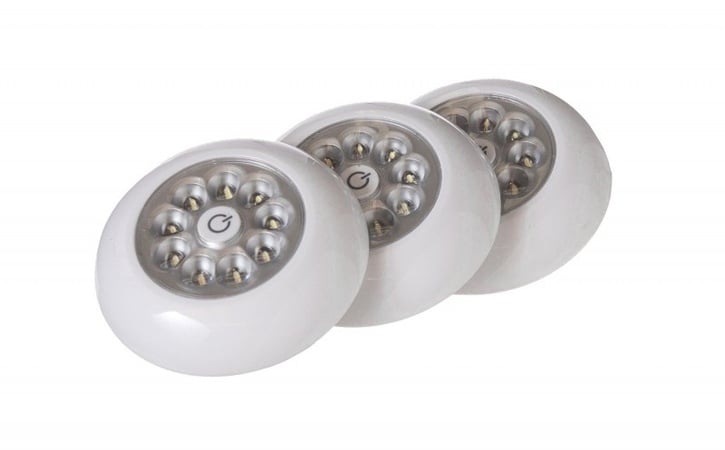 They are very inexpensive at around $15 and can be installed anywhere. They are a great solution for renters like myself to brighten up a closet or a dark cabinet. To make mine even easier to remove later, I installed the LED lights (affiliate link) with a new product I discovered recently at the Home Hardware Show in Las Vegas: Repositionable Double-Sided Sheets from Glue Dots® (sheets shown, Repositionable Dispenser and new HybriBond Mounting Tape will work just as well).
I was given some samples to try and this project was perfect to see how it works.
A full sheet will hold about 2 lbs. (1 sq. inch of adhesive holds up to a 1/2 lb.) and the lights are extremely lightweight, so I cut one sheet in half and it was more than enough to hold one light in place. You simply cut the sheet to the size you need, remove the top liner, stick to the back of the LED light, peel off the remaining liner and you can place your lights anywhere.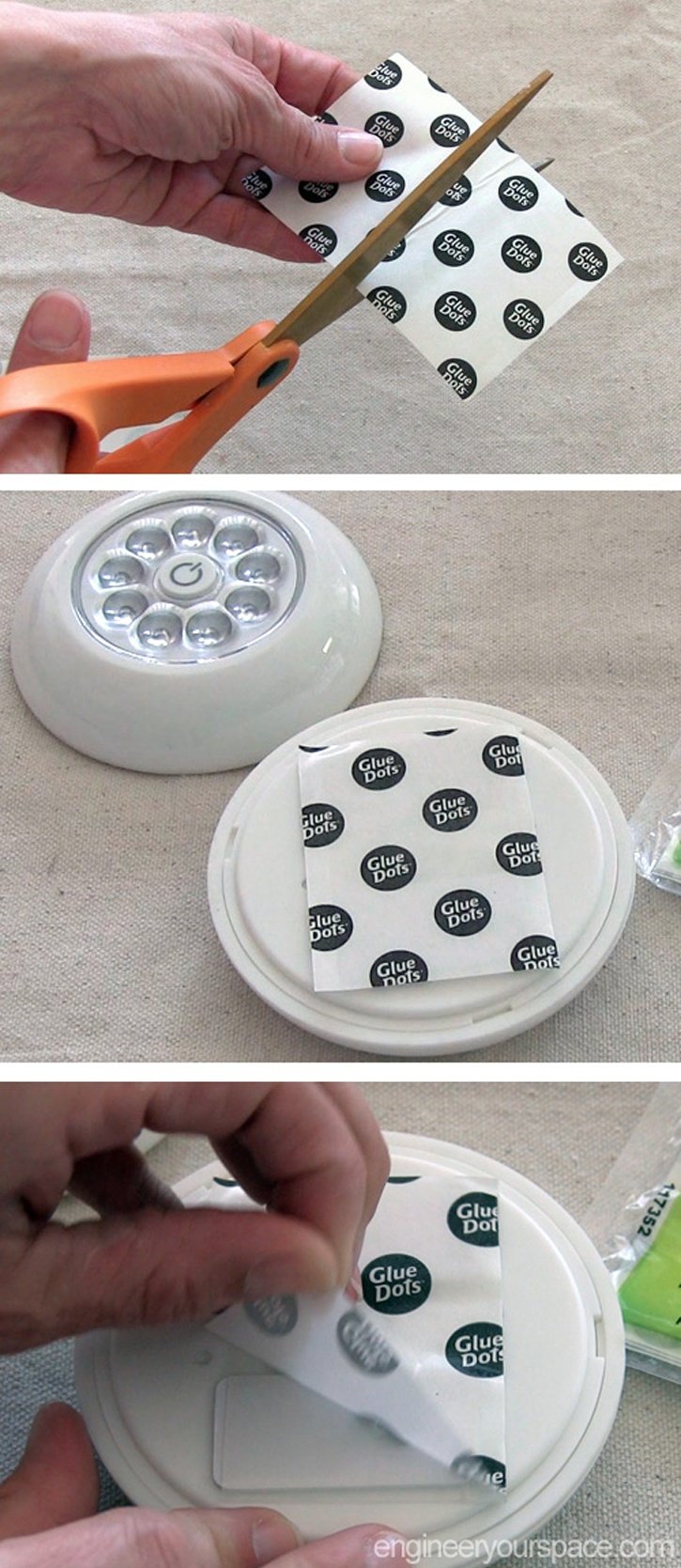 The great thing about this adhesive is that you can easily re-position it if you need to and it's easy to remove completely without leaving any residue on the wall.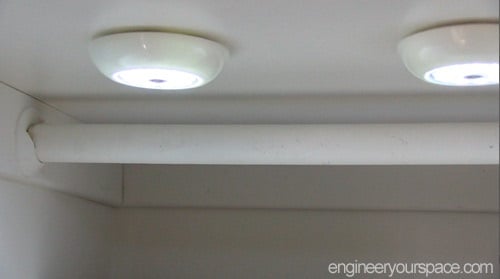 It took no time at all and was so easy, I wish I had done this sooner. I love having lights in my closet and I think I'll be doing this in my other closets too!

Isabelle LaRue, is the creator, producer and host of "Engineer Your Space" (EYS), an award winning DIY home design show on YouTube. A building engineer turned DIY home design expert, she is affectionately referred to as "MacGyver and Martha Stewart's love child" for her clever and elegant DIY home décor solutions. While her projects aim to solve common challenges faced by renters and small space dwellers, anyone looking to improve their home on a budget can put her ideas to good use. Bad lighting? Ugly floor? Can't paint? Isabelle has you covered. She designs and builds all of her incredible budget-friendly creations in her apartment, on her own, using simple tools and common materials accessible to everyone. Stylish, functional and affordable, her designs have been featured on many websites including HGTV, Houzz, Apartment Therapy, and The Huffington Post to name a few. Don't know the first thing about DIY? Isabelle walks her viewers through every step of the project in detail, sharing her "MacGyver" tips and tricks along the way. She has a knack for breaking down everything into manageable, easy to understand steps and makes everyone watching feel like they can do it too. Watch Isabelle in action and you too will be inspired to transform your "less than perfect" space into a place you'll be proud to call home.