Glue Dots International is excited to launch the new Glue Dots® Desktop Dispenser for the craft and hobby industry. The new Desktop Dispenser is lightweight, easy-to-use and refillable with Glue Dots adhesive rolls.
"Our customers wanted an easy way to dispense Glue Dots rolled products as well as a container to store them in for easy access," said Lindsay Karlin, Glue Dots Product Manager. "The new Desktop Dispenser provides customers with a convenient dispenser that they can keep on their workspace or take with them on the go."
The lightweight design of the Glue Dots Desktop Dispenser makes it easy to take with you on-the-go while the rubber, non-skid feet keep it in place on any workstation. The Desktop Dispenser is designed to keep the adhesive roll wound tightly, preventing it from unraveling if dropped, and protects it from being crushed if stored in a bag, tote or drawer.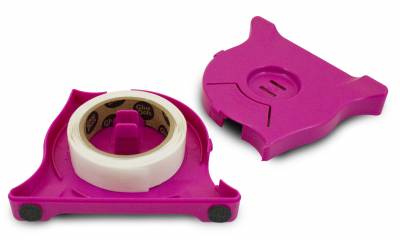 Pre-loaded with a 300 dot roll of Mini Glue Dots, the new Desktop Dispenser has a suggested retail price of $7.99 and can be refilled with Craft, Removable, Pop Up, Ultra-Thin, and Micro Glue Dots adhesive rolls. The easy-load design allows quick roll replacement. Simply pop open the dispenser, thread a new roll, and snap the dispenser closed.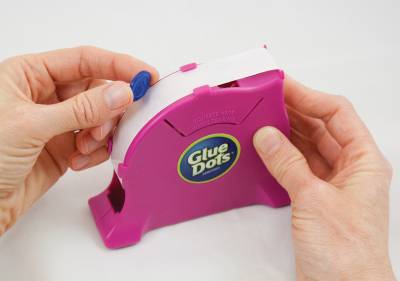 Designed with versatility in mind, the Glue Dots Desktop Dispenser has two threading options providing several different application methods. The first threading option uses a serrated edge to create a clean cut along the adhesive liner for tearing off one or more Glue Dots adhesive patterns at a time. Using the curved surface of the dispenser, the second threading option exposes multiple adhesive patterns at once, making it ideal for controlled adhesive placement on to desired materials.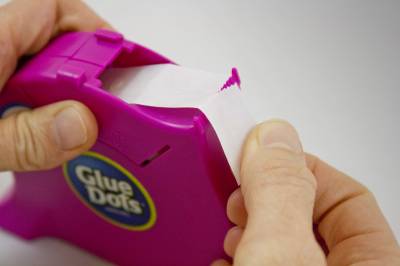 "The new Glue Dots Desktop Dispenser presents customers with an aesthetically pleasing, alternative dispensing method that is durable and easy to use with Glue Dots adhesive products," added Reid Moertl, Glue Dots Application Engineer.
Available in a bright raspberry color, the new Glue Dots Desktop Dispenser adds a pop of color to any room in the home, office, or school.
Learn how to change a roll and see the different threading options here: https://www.pinterest.com/pin/198651033537362746/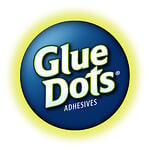 The Team at Glue Dots consists of three highly creative individuals who find new ways and uses for Glue Dots products for every day life. We hope you like what we create. :-)