The team at Glue Dots International (GDI) is excited to announce new HybriBond Mounting Tape! New HybriBond Mounting Tape, powered by Glue Dots®, allows you to do more than just home décor.
Here's why: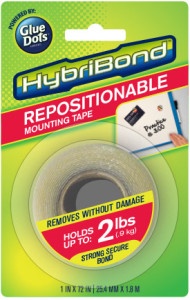 HybriBond has a unique construction. It's engineered with a thin support liner between two thicker layers of adhesive and is designed for small hardware projects or repairs and DIY.
Thick adhesive layers add strength and improves performance, offering a strong secure bond, especially on uneven or porous surfaces.
Holds up to 2 lbs.
Removes cleanly without damage or staining.
It's safe, mess-free, non-toxic and easy-to-use like other Glue Dots products.
Similar to other Glue Dots products, HybriBond Mounting Tape is a pressure-sensitive adhesive. Simply cut a piece of adhesive from the roll and press the adhesive into place.
To see how HybriBond works, click on the video below for a quick 30 second demo:
HybriBond Mounting Tape goes beyond the everyday uses around the home. Check out how Isabelle LaRue from Engineer Your Space used it to turn a garage sale find into a shabby chic accent piece.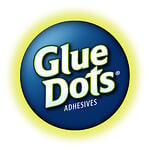 The Team at Glue Dots consists of three highly creative individuals who find new ways and uses for Glue Dots products for every day life. We hope you like what we create. :-)