Established signs are a poplar DIY project. This craft uses this idea on a smaller scale to create a tabletop décor piece.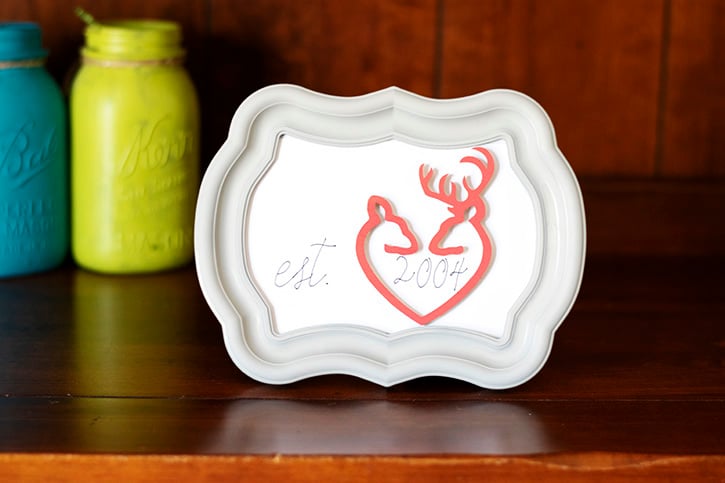 Made by: Melanie East
Time: 30 minutes
Level: Moderate Handiness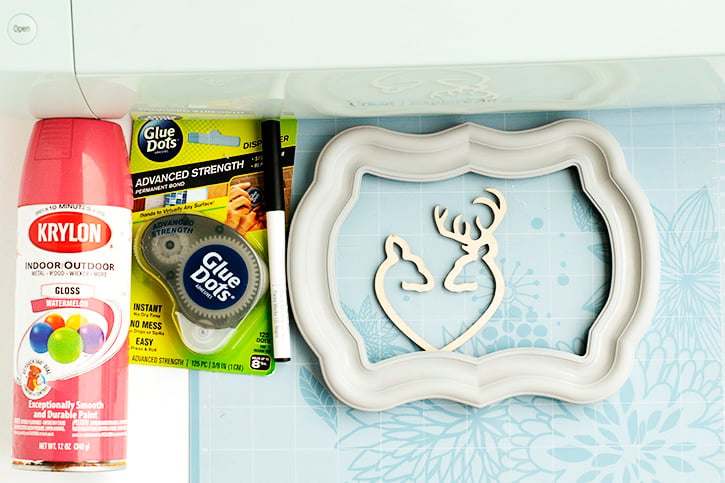 Supply List Materials –
White cardstock
Black pen
Spray paint
Picture frame without the glass (mine was 5" x 7" )
Measuring tape/ruler
If you choose to use a Cricut you will also need:
Cricut machine
Cricut LightGrip cutting mat
Cricut pen
Cricut Design Space-compatible device (laptop, iPad, etc.)
Directions:
**Please note: For this project, I used a Cricut machine (Explore series or newer) and Cricut Design Space. If you would like the Cricut instructions, click here. This project can also be completed by hand, via the instructions below.
Using your spray paint, coat the buck and doe heart shape. Allow enough time for it to dry and then add a second layer and dry again, if needed.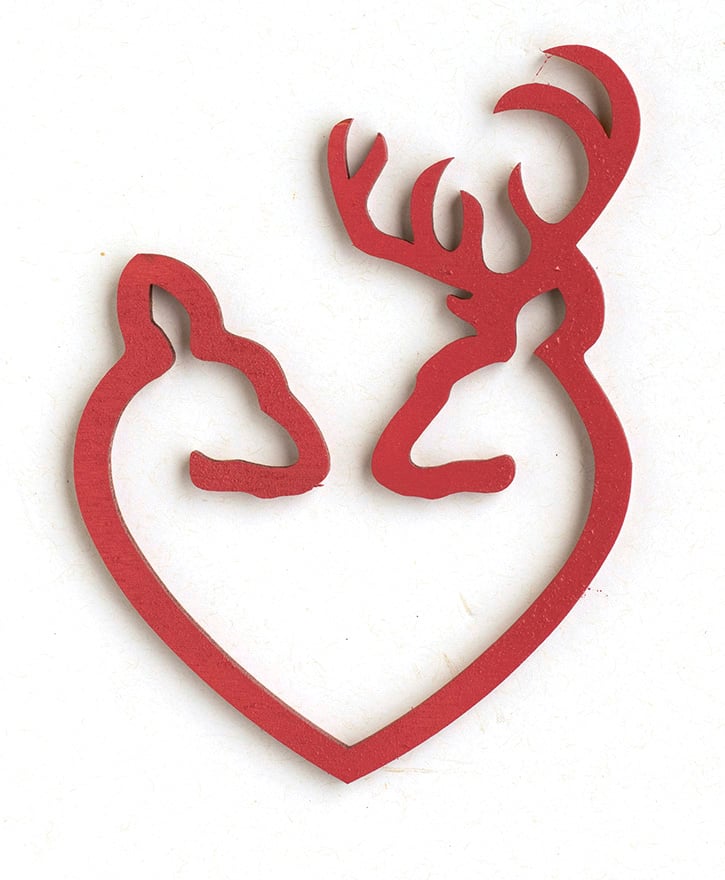 While your shape is drying, cut out the white cardstock for your background, sizing it to fit your picture frame. For my project I cut it to 5" x 7". Carefully measure where your word placement is going to be. This can be accomplished by placing the cardstock in the frame, laying the buck and doe heart on top, then marking the placement very lightly with a pencil. Write your words est. and the year based on the markings.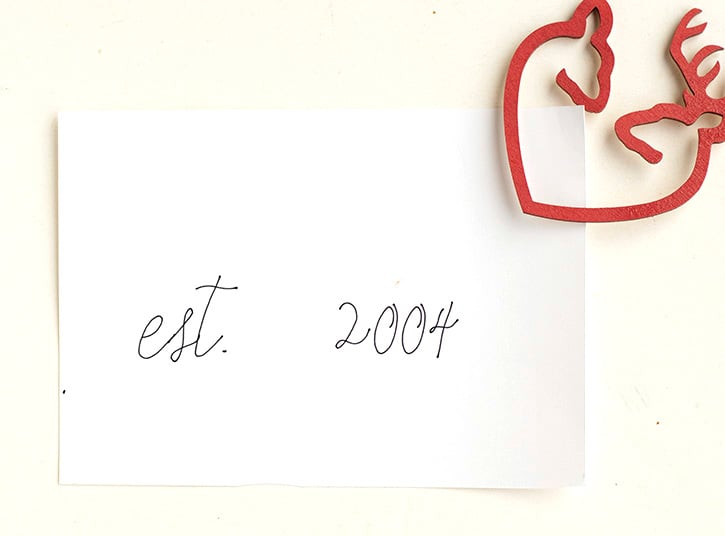 On the back side of the white card stock, apply Advanced Strength Dots around the edges. Press the white card stock to the front of the frame backer. Insert into the frame.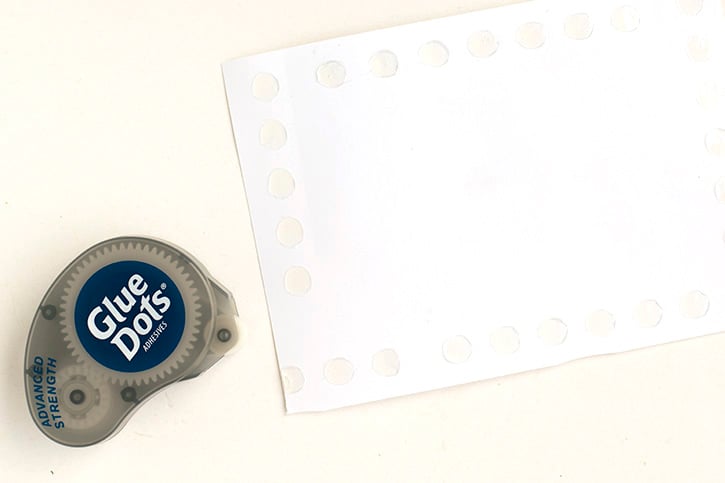 On the reverse side of the Buck and Doe Heart Craft Shape, apply Advanced Strength Dots, folding them (using a placement tool) as needed to fit the size of the shape.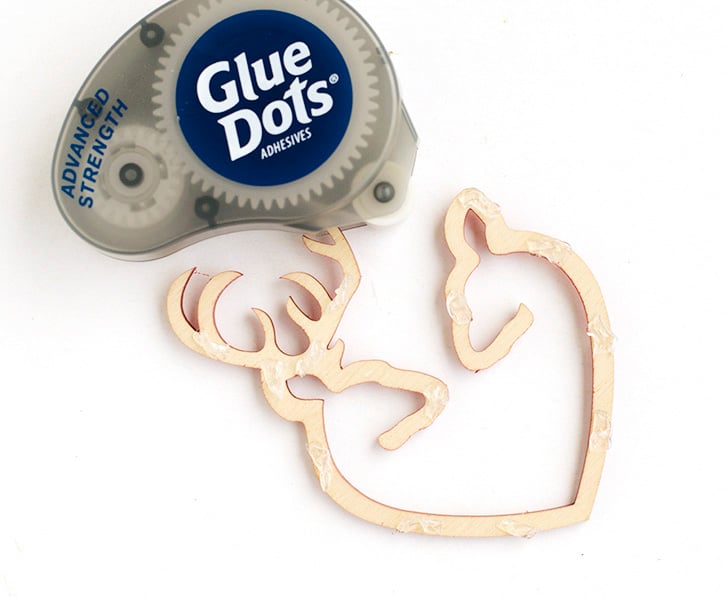 Adhere the Buck and Doe Heart Craft Shape to the white piece of card stock, centering the year in the Buck and Doe Heart Craft Shape.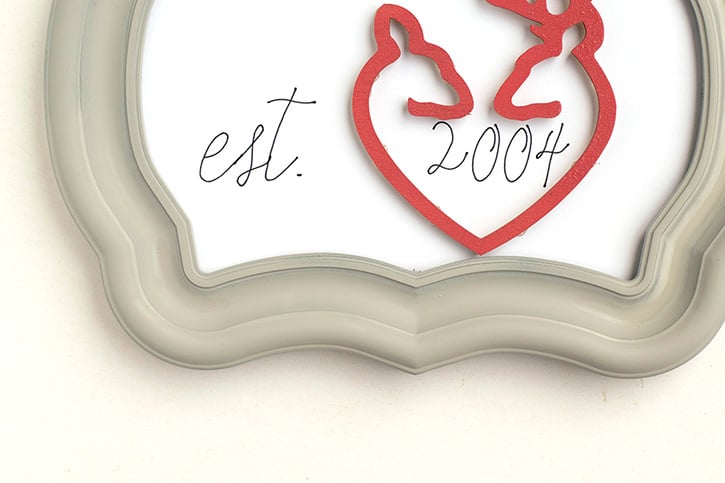 This project can easily be customized for any occasion, simply choose colors to coordinate with a wedding theme or with a loved one's home decor.
~ Melanie

Melanie East is the author of It Happens in a Blink, a space where she shares crafts, DIY, recipes, and home projects. Her inspiration for many of her projects come from nature, caffeine, and her triplet preschool aged boys. While she writes about many topics, her favorite projects to share are those that inspire others to live out their calling.