I love using leaf shapes for fall and Thanksgiving décor. These folded leaf place cards serve the purpose of letting your dinner guests know where to sit and act as a table decoration. These are classy enough for a fancier dinner party, but easy enough to make that kids can help.
MADE BY: SAMANTHA TAYLOR | TIME: 15-20 MINUTES
LEVEL: BEGINNER | SIZE: 4" x 5 ½"
---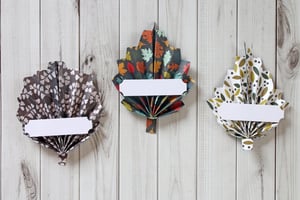 Supplies:
Patterned Paper (amounts will vary depending on how many place cards you need to make)
White Card Stock
Score Board
Scissors
Corner Punch (optional)
Directions:
Cut patterned paper to 9" x 5 ½".




Score paper along the long edge at 4 ½" (directly in the middle of the paper).


Turn the paper 90 degrees and score every ½" along the short edge (1/2", 1", 1 ½", 2", 2 ½", 3",
3 ½", 4", 4 ½", 5").


Fold the paper in half the short way (along your score line from step 2).




Have the folded edge on your left-hand side. Use a scissors and cut in a jagged line from the bottom right-hand corner to the top left-hand corner.


Unfold and place the edge that was on the top side while cutting on the bottom side.




Fold along the ½" score lines in an accordion fashion.


Place Glue Dots® Permanent Glue Squares along the top folded edge. Bring the left and right sides together, using the Glue Squares to stick the sides together.




Cut a piece of white card stock to 3" x ¾". Use a corner edge punch on the corners if desired.


Use Glue Dots® Permanent Glue Squares to adhere the white paper to the leaf. You can write your guests' names on this strip of paper.




Notes: Chose paper that coordinates with your plates and napkins for a cohesive place setting. You can also use Mini Glue Dots® for this project.

My name is Samantha Taylor and I have a passion for combining crafting and creativity to beautify life. I live in a small town in rural Iowa with my husband and 2 boys (all 3 of whom you'll see featured in my projects). I'm a paper crafting fanatic who also loves photography. I enjoy making lay outs, cards, mini albums and home decor items, party decorations, and crafting with my kids. My favorite thing about crafting is getting to connect with so many people all over the world who also love creating pretty things and preserving memories. You can find more from me at www.taylorstamped.blogspot.com. I am so excited to share with you my love for the many uses of Glue Dots®!