Glue Dots International (GDI) is excited to launch a new product under the Glue Dots® brand called, Premium GlueTape™. Premium GlueTape is refillable, provides a paper-thin bond between materials, and is available in both temporary and super-strength formulas.
"Over the years, our customers have requested a refillable Glue Dots product for general crafting and décor," said Global Retail Channel Business Manager, Kelly Tebon. "We have listened to our most avid Glue Dots users and are thrilled to announce a new refillable runner series called Premium GlueTape."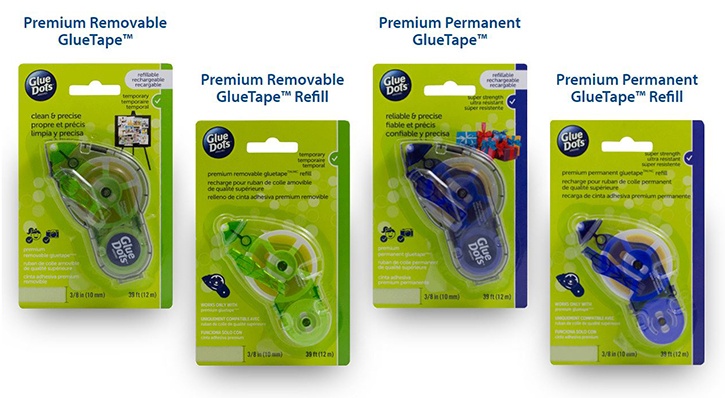 Premium GlueTape is an innovative new product featuring a unique three-layered construction that allows for a precise release of adhesive from the dispenser. It dispenses quickly, cleanly, and more smoothly when compared to other glue runners available on the market.
"Premium GlueTape's innovative product design includes a series of perforations along the adhesive, allowing a clean, precise cut after each use," added Kelly Tebon. "This product is engineered with a thin support structure between two adhesive layers, offering a strong, secure bond in both temporary and super-strength formulas."
Premium GlueTape is available in a durable, hinged dispenser designed for easy drop-in refills.
The precise application and reliable double-sided adhesive is a great addition to any craft room, supply closet, or miscellaneous "junk drawer".
Tebon continued, "As with the launch of the original Glue Dots products 20 years ago, we fully expect our customers to find additional uses for our new GlueTape products around the home, school or office."
Premium GlueTape is non-toxic, photo-safe, easy-to-use, mess-free and will not dry out.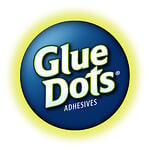 The Team at Glue Dots consists of three highly creative individuals who find new ways and uses for Glue Dots products for every day life. We hope you like what we create. :-)